Spin Zone: 3 Cycling Workouts For The Winter
The off-season is the time to build some bike-specific leg strength, so try any or all of these tough workouts.
Heading out the door? Read this article on the new Outside+ app available now on iOS devices for members! Download the app.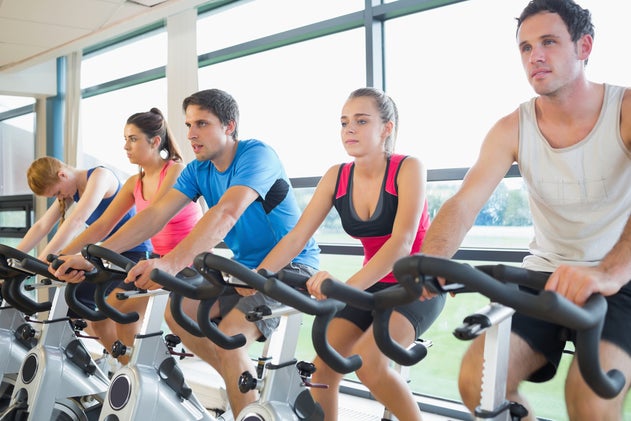 Sprinkle these three workouts throughout your indoor training program this winter to become a better cyclist come spring.
These workouts can be done on any indoor cycling setup that works for you, be it your triathlon bike mounted on a fluid trainer, a spin bike, or a high-end dedicated indoor bike trainer with a built-in power meter.
Tabata Intervals
Named after Japanese exercise physiologist Izumi Tabata, this brutal interval set is the most time-efficient cycling fitness builder ever created. Warm up with at least five minutes of easy spinning. Next, increase the tension or gear ratio and sprint for 20 seconds. Now stop and rest passively for 10 seconds. Complete eight all-out sprints of 20 seconds followed by 10-second passive rests.
If you've done the workout right and held nothing back in those short intervals, you will find yourself breathing harder than you ever have in your entire life after the eighth and last sprint. A cool-down of easy spinning is optional.
In one study, a period of Tabata training increased the VO2 max of trained athletes by 14 percent and their anaerobic capacity by a whopping 28 percent.
RELATED: One-Hour Workout: Trainer Speed Pyramid
Lactate Threshold Test
The lactate threshold is the exercise intensity at which lactate, a secondary muscle fuel, begins to accumulate rapidly in the blood because it's being produced faster than it's being used. Exercise scientists argue constantly over the definition and meaning of the lactate threshold, but one thing is certain: It is a very powerful predictor of endurance performance.
In clinical environments, the lactate threshold is determined through a graded exercise test (a workout in which the intensity increases incrementally every few minutes) combined with blood draws. Typically, the intensity level at which the blood lactate concentration reaches 4 mmol/L is marked as the lactate threshold.
Troy Jacobson, a longtime triathlon coach and the creator of Spinervals, is among the top coaches who believe it's possible for athletes to find their lactate threshold on their own with a functional test requiring no needle pricks. According to Jacobson lactate threshold intensity in trained athletes is roughly the highest intensity that can be sustained for 60 minutes. Since going all-out for 60 minutes is one killer workout, Jacobson instead uses a 20-minute max effort that is then adjusted to estimate the result of a 60-minute effort.
RELATED: Head (Indoors) For The Hills
Hop on your indoor bike trainer and begin with a gentle warmup of 10-15 minutes. To determine your lactate threshold power, you will need to use a trainer with a built-in power meter. If you want to know your lactate threshold heart rate, wear a heart rate monitor. After completing your warmup, run or ride as fast as you can for 20 minutes. Be sure to pace yourself so that you aren't forced to slow down before 20 minutes due to fatigue. Finally, cool down for at least five minutes.
Note your average power output and/or heart rate for the 20-minute max effort. Adjust these numbers downward by 5 percent to determine your lactate threshold numbers. For example, if your average heart rate in the test was 179 bpm, your lactate threshold heart rate is approximately (179 x 0.95 =) 170 bpm.
"This is a repeatable benchmark test that any conditioned athlete can perform every six to eight weeks to assess changes in fitness," says Jacobson.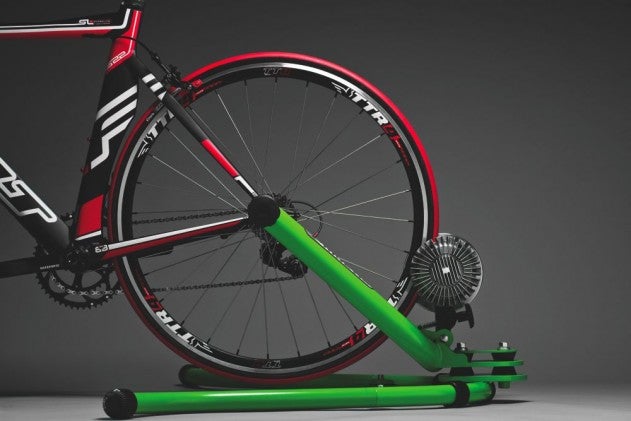 Wattage Hold
Most interval workouts feature intervals of a designated duration. This one doesn't. Instead, the wattage hold workout requires that you select a certain wattage number and hold it as long as you can, or at least longer than you did the last time you did the workout. As fitness improves, the capacity to sustain very high submaximal intensities increases more than the speed that can be sustained for any given period of time, so the wattage hold is a better way to observe your progress and gain the confidence boost that comes with evidence of progress. And because it always terminates with a cry of "Mercy!" the wattage hold is also a great way to build mental toughness.
To do this workout, select a wattage that you believe you could sustain for a maximum duration of approximately five minutes. Ride easy for 30 to 60 minutes and then increase your intensity to the designated level. Hold it until you are pretty sure you could not sustain it for another full minute and then stop at a round minute number. For example, if after sustaining your target wattage for five minutes you are pretty certain you could not reach six minutes, stop at five. Wait two to three weeks to do the workout again and aim for six minutes at the same wattage, and so forth.
RELATED: 'Grand Tour' Trainer Interval
Follow Triathlete on Twitter @Triathletemag for inspiration, new workout ideas, gear reviews from our editors and more.