Mental Mastery with Mark Allen Week 5: A Brain-Boosting Workout for a Stronger Bike Leg
This week's Mental Mastery workout from six-time Ironman World Champion Mark Allen will improve your mind's ability to tell your legs how to get those bigger watts and how to sustain them.
Heading out the door? Read this article on the new Outside+ app available now on iOS devices for members! Download the app.
Of all three sports, cycling is the one that usually evokes an image of strength equating to faster performances. Think of your glutes and quads: If those are toned and able to push, you are going to be a faster cyclist. But if you've also got a strong brain, you can take those strong legs to the next level.
This week's Mental Mastery workout is all about improving muscle recruitment. Some athletes try to accomplish this by doing extended periods in a big gear and low cadence rates. But that mostly just teaches you how to ride in a big gear at a low cadence rate without increasing your ability to push and sustain higher watts. Instead, I've shared a workout to improve both of those things for you. The secret? Staying focused. The Mental Mastery components of this workout will improve your mind's ability to tell your legs how to get those bigger watts and how to sustain them!
I often did this type of workout (but in a much less structured way) during group rides. There would be constant points where I had to suddenly accelerate or get dropped, and often the accelerations were accompanied with a jump up in gearing to be able to go fast enough. These accelerations were so much faster than I would ever go in a triathlon, which reset the gauge of how fast I was able to ride making race pace much more tolerable mentally as well as doable physically.
For one year early in my career, I committed to doing single-leg drills twice a week for almost every single week. That was also the season where I made the largest gains ever in my cycling. At the Ironman that year (1984) I came off the bike with a 12-minute lead on all other contenders. Unfortunately, I didn't have the marathon yet to back up the cycling, but the message was clear: This drill works.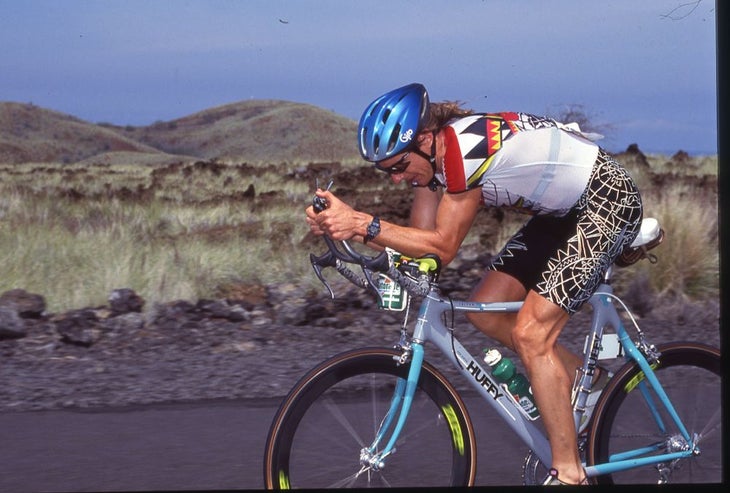 Week 5: Key Strength Bike Workout and Mental Mastery Drills
The workout this week has two parts, just like last week's session in swimming. The first is going to be done on a stationary trainer, and the second can be done on a trainer or on the road. Along with each of these two short workouts will be your Mental Mastery drills that will help you not only gain mastery over the physical workout, but will strengthen your ability to integrate mind and body into one cohesive unit.
Part 1: Single leg spinning
This should be done on a stationary trainer that has variable resistance that you can set.
Warm-up:
10 minutes in an easy gear (about 90 RPM). First 5 minutes in Zone 1, second 5 in Zone 2.
Main Set:
Single-leg spinning, either 3 or 6 minutes per leg
Start by taking one leg out of the pedals and stabilizing it on a low box or chair right next to the bike. Get in the aero position, then spin with the clipped-in leg for either 3 or 6 minutes. Have enough resistance from the trainer that you are spinning at about 80-85 RPM, gradually getting your effort into the mid to upper part of Zone 2 or even low Zone 3 by about halfway through the set on each leg.
Between single-leg sets, 3 minutes low gear, Zone 1 spinning with both legs between the two sets. Then switch legs, spinning with the opposite side for 3 or 6 minutes.
RELATED: The Complete Guide To Setting Your Triathlon Training Zones
Mental Mastery Focus Cue:
First third of the set on each leg (1 minute if doing 3 minutes total, 2 minutes if doing 6 minutes total) work completely on Body Awareness. Focus your effort into getting the hang of spinning with one leg. Dial in the resistance so that there is enough to keep the spin circle smooth throughout but not so difficult that you can't make it through the entire set. At first, you'll notice the dead spots in your spin circle. Try to smooth those out during the first third of this drill on each leg. The result will be a much more efficient spinning capability. It will also bump up spinning efficiency and strength with the result of reducing "spin fatigue" that takes place.
Middle third of the set, build your effort into what will be likely the peak power you can sustain for the set. This is your Race Prep mental mastery, patterning into your body the ability to get faster as you go in a race and to not start out too fast. This requires a moderate amount of patience, which is a big part of Race Prep mastery. Early hard efforts rarely end in strong finishing efforts.
Final third of the set is working on your Inner Dialogue. Regardless of your experience as a cyclist, in this final part of the set adopt a sense of self that says, "I am a strong cyclist". This is a strength move for cycling and it reinforces the mental imagery of you being a strong cyclist. This is positive self-talk. As in all things, form follows thought. Work on this aspect of your inner dialogue during the final third of the set on each leg. This will give you a more solid experience of your cycling capabilities as well as a strengthened self-image that helps you weather the natural dips that can happen physically during training and racing.
Part 2: Accelerations
This workout can be done on a trainer or outside. Most people find it easiest to do on the trainer because as you will see you start from a completely stopped position and then accelerate up to speed.
Warm-up:
10 minutes in an easy gear (about 90 RPM). First 5 minutes in Z1, second 5 in Z2.
Main Set:
6 or 12 accelerations going from a complete stop to Olympic-distance speed (your top speed or power at the top of Z4, or even higher if you feel good).
Hold the peak level for 10 seconds in each interval.
Do the entire acceleration in the gear you will be needing to use at the top end power or speed. As you will see, starting out in that big of a gear will be challenging. Accelerate up to the top speed or power as quickly as you can.
Between each acceleration, recover with easy spinning for 30 seconds.
Mental Mastery Focus Cue:
For the first third of the set work on your Race Prep. Do this acceleration with an aggressive strong mindset and focus. This is not a slow acceleration up to speed, but one that is explosive where you are trying to reach it as fast as possible. As you engage all the muscles needed to hit that peak speed or power quickly (the strength element) draw up that race focus that is one where you know you are working at a level that you would not want to do daily!
The middle third of the set is the Internal Dialogue part. After getting that fast acceleration done with an aggressive race mindset, now shift to a "quiet strength" internal sense. Get up to speed as quickly as you did in the first few of the set but keep the internal space quiet. Aggression is not needed to be putting out huge watts. Relax your internal mental framework. You're like a quiet assailant coming in to accomplish the impossible, whatever that may be. This is seeing yourself having the knowledge of how to do something very difficult, then accomplishing it with silence and without fanfare.
The final third of the set is the time for Body Awareness. This is building on the Internal Dialogue of having an internal silence. Now translate that internal characteristic to your body. Silence any wasted movement, like excessive rocking. Keep your spinning circle round and smooth and powerful – you know how to do that from the one leg workout. Get up to speed quickly, then settle into the aero position and relax your upper body for the 10 seconds that you are holding the top end speed at the end of each acceleration.
RELATED: A Single-Limb Strength and Stability Session for Endurance Athletes