A New Way To Analyze Your Swim Stroke: The GST Swim Power Test
Find out why professional triathletes like American Matt Chrabot are using the GST swim power test to improve their swim stroke.
Heading out the door? Read this article on the new Outside+ app available now on iOS devices for members! Download the app.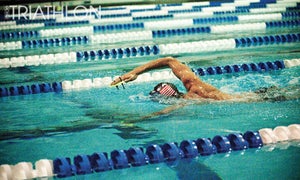 Find out why professional triathletes like American Matt Chrabot are using the GST swim power test to improve their swim form.
If Olympic hopeful Matt Chrabot wants to have a shot at gold in London, he's going to have to improve his 1,500-meter swim time by 10 to 20 seconds. To help him do this, he has elicited the help of Genadijus Sokolovas, Ph.D., who has created what he calls the GST Swim Power Test. (See a video of the test at the bottom of the article)
This test, which has been used by 25 Olympic gold medalists including Michael Phelps, measures the velocity, force, acceleration and power of each phase of a swimmer's stroke. This data is synchronized with an underwater video of the swimmer in real time.
To take the test, a swimmer is connected to a machine via a string. While he swims, the machine is measuring about 30 different aspects of the swimmer's stroke 60 times per second.
After the test is taken, Sokolovas analyzes the swimmer's stroke and can immediately recommend drills. He later provides the swimmer with an in-depth analysis of his stroke, partly by comparing his stroke against a database of many of the world's best swimmers.
Because each swimmer is unique, every swimmer comes away from the test with a different set of drills and different cues to think about. A swimmer can actually worsen his stroke by doing drills incorrectly, so the test is especially beneficial for athletes who have limited information on where they're going wrong.
One of the flaws that Sokolovas found in Chrabot's stroke was that he loses velocity when he breathes. This is partly because he is using his arm to balance himself in the water when he breathes, instead of rotating with his core.
"A lot of swimmers swim with their arms," Sokolovas said. "In fact, swimming should be done from the core. Fish don't have arms, but they're swimming fast."
When swimming, Chrabot should imagine that his spine is a pipe and that it is rotating while he moves forward. Sokolovas recommends that Chrabot swim with a pull buoy between his ankles to help him develop the feeling of swimming from his core.
For more information on Sokolovas' test and what he discovered about Chrabot's swim stroke, pick up the March/April issue of Inside Triathlon magazine, on newsstands now.
If you're interested in working with Sokolovas, you can e-mail info@globsport.org.
See Chrabot participating in the test in the video below:
To subscribe to Inside Triathlon, click here. Follow Inside Triathlon magazine on Facebook and Twitter.