Walking The Tightrope: How To Balance Training And Family
Heading out the door? Read this article on the new Outside+ app available now on iOS devices for members! Download the app.
Written by: Tim Hola
Advice on how to be a competitive triathlete while maintaining enough time and energy for your family.
This is it. The scenic and high-intensity bike ride I've planned on doing for a month is here. All day at work I have been looking forward to it. The weather in Highlands, Ranch, Colo. is a perfect 71 degrees and sunny. With my water bottles filled and Power Gels packed, I give a kiss goodbye to my wife and 2.5-year-old twin boys, as I always do. Then my son Connor shouts out, "Daddy, let's play with my new kite in the park!"  I can't explain how quickly that took the wind out of my sails. Anybody who does triathlons and has kids has experienced this classic situation.  What do I do?  On the one hand I really want to get in my ride, but on the other, I know the right thing to do is to scrap the ride and go to the park. As you might have already guessed, I didn't ride, and loved every minute of it.
Moments like this one make me think about how I balance triathlons with family.  Before having kids, my life was pretty simple. A good job, supportive wife and unlimited training. Sounds pretty good, doesn't it?  It all changed once I learned that Nikki was pregnant with twins.  I always knew that things would change, but I wanted to try my hardest to keep my passion for triathlon alive even after it took a backseat to family. As happy and excited as I was anticipating being a father, I'd be lying if I said I was not worried about my training and racing. It scared me a little, but I knew that the passion for this sport ran so deep in my veins that I would find a way to make it work. When I became a dad in 2006, soon after finishing my eighth straight Hawaii Ironman, I wondered, "Are my days racing on the Big Island over?"
Since then, I have tried my best to not skip a beat in my schedule. Of course, it took some fine tuning, but I have found that, with proper decision making, effective training plans and a little luck, I can make it work and reach my goals. Here are some tips based on my experience that I hope will help you balance triathlon and family and achieve great fulfillment in each. If you are not a parent yet, but plan to have kids soon, read on and you'll be ahead of the game.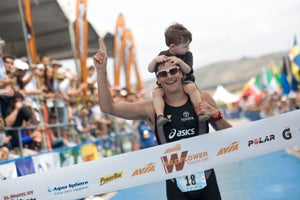 Decide how important is triathlon to you. Answering this question truthfully will be your foundation. Look deep down and ask yourself how important this sport is in your life. When you have a family, priorities can change. But happy parents are the foundation of a strong family. In my experience, attitude is infectious. If you are happy, people around you will become happy. If triathlons are what you want to do and if doing them makes you smile, then ideally they will make your family happy as well.

Communicate. I have learned over the years that a supportive wife or husband is the golden ticket to balancing family and triathlon. Discuss with your spouse your personal goals, always reminding her or him that family comes first. Laying the groundwork ahead of time will make future discussions easier for both of you. A supportive wife or husband will understand your feelings and thoughts.  Open communication is a key element in all facets of a relationship and this situation is no different. As a parent, you have an abundance of daily commitments, so the more you talk about things, the more manageable they become. When I started racing years ago, a friend of mine who raced many Ironmans told me not to tell his wife that he signed up for Ironman Florida. He didn't want her to know that he was committing much more time to triathlon. I saw this as an example of what not to do, and felt that open communication could have possibly prevented the situation in the first place.
Don't rush your important decisions. If there is one tip you take away from this article, this is the one. When you are confronted with a tough decision, slow down and really think through the decision about what is best.  You might be surprised when you realize your instinct might not always be the best decision. When you are training, think about how long you'll be away from the family and what's more important at the time. There is a time and place for everything, but if you are really torn between a family activity and some training, take the extra time to think about what the right decision should be, and who it will affect.
Train early. This is a piece of advice that might not work for everyone, but it definitely works for many athletes. The way I look at it, most people (including the rest of your family) are sleeping at 4:30 a.m. (or should be).  So if your body will allow it, try to get in that workout early. It's a great feeling to start the day knowing the workout is behind you so you can focus your attention on work and family. Just be sure to schedule an occasional morning or two when you can sleep in to allow your body to catch up.  My wife also races and we simply switch off. Each morning I work out first. I come home and Nikki gets in her workout while I look after the twins. When she gets home around 7:30 or so, I've got the suit and tie on and leave for work.

Include the family in your activities. Whenever possible, I take the family to my races.  Sure, it might be easier to go to races alone, but having the family around makes the races more fun. You can't beat getting to take your kids to the podium if you are lucky enough to win an award. I also learned that having the family around a few days before a big race such as an Ironman takes my mind off the race and distracts me. It's less worry time before the race and makes me a little more relaxed instead of thinking about the race. I'm not the only dad who feels this way. Participate in any triathlon at the Boulder Reservoir and you'll see almost more kids than triathletes.
Work out with a purpose. This has a dual effect: It'll make your workouts more effective, and they will seem to go quicker. Until I had kids, I would train hard, but my workouts didn't really have a specific purpose.  Now, each workout has a goal, and that makes them more fun. We have all heard the term "junk miles," and before I had kids this described a lot of my workouts, especially on the bike. Now, when I plan out my day and I know I only have 90 minutes of biking planned, I make sure it is quality. A friend says  that having kids actually made him faster because each workout had a clearly defined goal. Make each minute count, because sometimes when you miss a workout, it might be impossible to make it up later.
Embrace W.I.N. WIN stands for What's Important Now, and it's an old concept from my high school swim team. It embraces the mindset that whatever you are doing at a given time, whether it's getting in a long run, finishing a project for your boss or playing catch with your kids, that is most important now. When you give your attention to that activity and give 100 percent, it makes that time quality, and will help you do your best. For example, when you are on a five-hour bike ride and your training plan specifically calls for interval work, make sure you think WIN and you'll channel your thoughts to that specific task, yielding quality results.
Take race vacations. When planning my race calendar, I try to find not only races that I enjoy, but races that are in location that will accommodate taking the family and giving them activities to do. Many family-friendly races are out there, such as Ironman 70.3 at Oceanside, California.  After all, you run on the beach! It's a win-win situation for you as an athlete, because you get to race in a new place while knowing your family can enjoy themselves as well by participating in the activities the host city has to offer.  One of the most obvious examples is Ironman Florida 70.3 in Orlando. After the race, hang out at Walt Disney World for a few days!

Share the love. We all want our kids to be healthy. Isn't that what it's all about,  having our kids learn and grow? You might be surprised by how your kids embrace your healthy triathlon lifestyle. My kids are certainly dialed into the routine of getting up early and going to races. They aren't exactly using clipless pedals on their tricycles or  wearing aero helmets, but I am already seeing them benefiting from watching their parents participate in sports. What better way to encourage a healthy lifestyle than to have your kids watch you enjoy doing a triathlon? That's my story, as I grew up watching my dad race in triathlons, and now here I am, a 10-time Kona finisher.  Thanks, Mom and Dad.
It's not just wishful thinking. You can balance it all if you really want to. Just make sure the passion is there, and the possibilities are endless. By fitting most of the pieces of the puzzle in place, you can achieve a healthy balance of family and racing. Good communication and decision making are keys in making it work.  In the end, it's worth it to try and balance it all together. Just think about those memories that you'll have forever, even if you have to skip a ride once in a while to fly a kite with your kids.