How to Use Sweet Spot Training to Get Fitter Faster
Sweet Spot Training has the potential to help you make big fitness gains even with limited time to train.
Heading out the door? Read this article on the new Outside+ app available now on iOS devices for members! Download the app.
Over the past few years, the concept of Sweet Spot Training has gained a reputation as being one of the most time effective ways of getting stronger on the bike. Best used with a power meter, but still doable with heart rate, Sweet Spot Training, or SST, is done by doing intervals at 85 to 93 percent of your Functional Threshold Power (FTP). If you do not have a power meter, you can use Lactate Threshold (LT), though it is not as accurate.
Where is the Sweet Spot
Other training zones have very specific names like Endurance or Anaerobic because it defines the system you are working when at that effort. Sweet spot however crosses over two zones and covers the high end tempo to low end threshold zones. To be more precise, founder and head coach at FasCat Coaching in Boulder, Colo. Frank Overton who has been using SST with his athletes for more than 10 years defines it as 84 to 97% of your FTP.
Why Does it Work?
The reason this range is so effective is that it allows you hit a number of key physiological areas at once in a short amount of time, so you get a tremendous bang for your buck. For the time crunched triathlete, SST can be a lifesaver. The chart below from Dr. Andy Coggan shows exactly what types of adaptations SST can provide.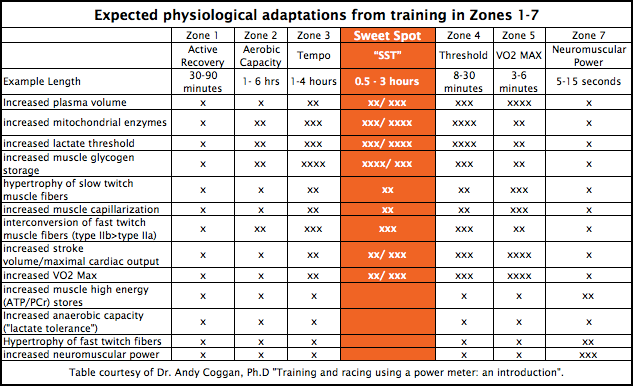 As the chart shows, for all but the most explosive efforts, SST training can be effective at improving your fitness. With SST, you can build your mitochondria (the key to a strong aerobic base), increase your lactate threshold (helping you handle intense efforts), increase muscle glycogen storage (up your body's ability to store energy), and increase your VO2 max (raise your physiological potential). All of this can be done from holding SST for 30 minutes to three hours.
How To Sweet Spot
How is SST best accomplished? Should you do several short intervals? What about one long interval? What about doing it in a group setting? Many athletes start with what has become known as the classic SST workout, 2×20 with 5 minutes of rest.
However, that classic workout may be a bit too hard to start with. When it comes to starting out with SST, or even for athletes coming back after a season break, Overton approaches SST training with a bit more caution.
"I like to start athletes off easier than 2×20 and progress up," he says. "So it may be 3×8, 3×10 , 4×9, 3×12, 4×10, 3x 5, then 2×20 and on up to advanced workouts 4×15,  3×20,  3×25,  3×30 and finally the freestyle SST." This ladder of progression focuses on what Overton believes is the most important aspect for SST- your cumulative time spent in the SST range. In other words, your total time in the range is more important the the length of each individual interval.
The table below shows the cumulative time, in minutes that an athlete should aim for in a session. As for how many sessions per week, Overton says that depends on the time on where you are in the season. "The biggest thing is to start small and gradually work one's way up to more, monitor along the way, and see if you can figure out right where the edge is to push the athlete but not break them."
| | | | |
| --- | --- | --- | --- |
| Sweet Spot for Triathletes | Early Season | Increase Training Load | In Season |
| Beginner/Sprint |         15 |                 30 |       35 |
| Intermediate/Olympic |         20 |                 36 |       60 |
| Half Ironman |         60 |                120 |      150 |
| Full Ironman |         90 |                180 |       60 |
SST in Your Season Plan
Overton points out that for long course athletes, SST is not as necessary during the season as it is during the winter and early season, especially for athletes focused on a full Ironman. "Once you get up into 70.3 and full Ironman distances, we know that athletes actually need to pace themselves below a Sweet Spot intensity (tempo)," he says. "So while Sweet Spot is super good for their training, it is not event specific like it would be for sprint and Olympic Distance athletes." In other words, if your A race is a 70.3 or full Ironman this year, now is the time to do your SST training and raise your FTP. Trying to do this in season will take away from the specific training you need to do, which will be more aerobic based.
This idea falls in line with the concept of reverse periodization. With reverse periodization, long course athletes spend the winter months building power and strength using shorter but more intense rides. Then, as the weather warms up, athletes build their base with longer rides done outside. Using SST in the framework of reverse periodization would cut down on your time on the trainer and maximize your fitness gains.
From the chart above, short-course athletes benefit from adding more time in SST during the season since the goal for them is to increase their ability to sustain a higher intensity. Since SST efforts are short and hard, they naturally mimic the specific needs of a sprint or Olympic bike.
If you are interested in getting started with SST, the first step is to perform a Functional Threshold Power (FTP) test to learn your zones and set a baseline. Then, follow the workout progression outlined by Overton. Every four to six weeks, repeat the FTP test to see your gains and keep your zones up to date.
It may sound like an infomercial, "Get more with less!", but SST has the potential to help you make big fitness gains even with limited time to train.