Tri Training Tip: Recovery Secrets From The Pros
Get recovery tips from some of the top endurance athletes and coaches in the world.
Heading out the door? Read this article on the new Outside+ app available now on iOS devices for members! Download the app.
Get recovery tips from some of the top endurance athletes and coaches in the world.
Written by: Nathan Koch, PT, ATC
No matter which sport a serious athlete is involved in, proper recovery plays a critical part in optimizing performance. It is widely accepted that some form of muscle recovery following hard efforts and intense competition is crucial to allowing the athlete to function on the highest level day in and day out. Lack of proper recovery has been linked to injuries, "dead legs" and fatigue. While there is some research available on different recovery methods, more research is needed. Without a strong consensus for the optimal recovery method, I asked some friends/athletes/experts to share what tricks they utilize for recovery. How do they keep their legs pain and injury-free after repeated days, weeks and months of pounding and stress? Here are a few secrets from some friends who know a little something about training.
Sarah Hammer
Three-time world champion and USA record holder in track cycling
1. Massage with a foam roller to work quads, glutes, hamstrings, ITB and calves.
2. Zoot Compression clothing after training and while traveling, especially overseas travel.
3. Easy 30- to 60-minute recovery rides, also called "active recovery."
Chris Baldwin
Professional road cyclist for United Health Care and two-time USPRO Time Trail Champion
1. Recovery shake, a Muscle Milk/CytoCarb mix.
2. Stretching and a foam roller massage, targeting the spine, hips, quads and calves.
3. Post-ride nap, approximately 60 minutes of "forced relaxing" time.
Krissy Moehl
Ultrarunner, the second female at 2009 Western States, placed as the first female and holds the course record for the Hardrock 100
1. Drink First Endurance Ultragen, a recovery drink that I use after any run longer than 90 minutes in duration. I feel I am able to get back out for another run sooner and feeling better by hitting that key 30-minute window.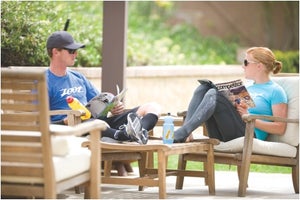 2. My daily supplements are Magma Plus, a green foods supplement, and Udo's Oil, a balanced serving of omega-3 and omega-6 fatty acids through plant-sourced oil.
3. Wear Skins compression tights for traveling home. I'll wear them for three days straight (except to shower) to help reduce swelling.
Samantha McGlone
Professional triathlete, 2004 Olympian and Ironman 70.3 world champion
1. Zoot Compression recovery tights and socks, worn after hard workouts and while traveling.
2. Normatec-MVP compression legs, which is a pneumatic compression device. Multi-segment inflatable boots are placed around the legs and rhythmically inflated and deflated to carefully prescribed pressures that mimic normal physiology.
3. Ice baths, which are simple, cheap and effective, especially when you have friends willing to haul 100-pound ice bags up the steps for you.
Dave Hancock
Director of Training and Conditioning for the New York Knicks and former physiotherapist for Manchester United
1. Ice bath with 10 minutes of cold immersion waist down. A lot of the latest research shows that 10 minutes is the best time, and that pure cold is more advantageous for muscle recovery than combination hot and cold contrast baths.
2. Compression skins to use on post-game flights. If the skins don't work, we give our players specifically made-to-measure recovery socks which are graded like ted stockings you wear after surgery. These have shown to have a great effect on increasing venous return and thus flush the oxidative chemicals left post-exercise. The company we use for these is a British company called Evexar, which tested its compression socks at University College London.
3. Bike flush for 15 minutes followed by a 15-minute "flush" massage, especially calves, and then ice immersion again 24 hours after a game.
Joe Friel
Author of the best-selling "The Triathlete's Training Bible" book series, USA Triathlon and USA Cycling elite-level coach, former chairman of the USA Triathlon National Coaching Commission
1. Carbohydrate within 30 minutes post-workout if it was a high-stress, meaning long and/or intense, session. Consume in liquid form mostly. Drink and eat until feeling satisfied.
2. Compression socks if you can't elevate legs for several minutes after a hard session.
3. Self-massage the legs, working fluids toward the heart.
Ruvell Martin
NFL wide receiver for the Seattle Seahawks
1. Ice bath after every game and after a hard workout or practice.
2. Deep tissue massage from a massage therapist.
3. Daily supplements for recovery, including a breakfast, lunch and dinner packet of different supplements in the form of pills as well as a night-time packet of pills and an amino acid shake before and after workouts, and a protein shake after workouts.
Levi Leipheimer
Professional road cyclist for Team Radio Shack, has won the Tour of California the last three years and has placed third overall in the Tour De France
1. Massage utilizing the foam roller to target glutes, quads, hamstrings and calves.
2. The Massage Stick, which is easy to travel with and is used to focus on ITB, quads and calves.
3. Normatec MVP compression legs.
Although I am not sure the athletes shared their most secret recovery techniques, they are utilizing some methods that we amateur athletes can add to our training programs.
Nathan Koch is a physical therapist at Endurance Rehabilitation in Scottsdale, Ariz. For more information on the Normatec MVP and for tips on how to use the foam roller for muscle recovery, visit Endurancerehab.com and look under Triathlete Magazine Tips.