The World's Best Open-Water Swim Locations
Heading out the door? Read this article on the new Outside+ app available now on iOS devices for members! Download the app.
Lifesport coach Paul Regensburg reveals his top-five picks for the best locations across the world to do an open-water swim.
Written by: Paul Regensburg
During my travels as a triathlon coach I have been fortunate enough to coach training sessions at the best open-water training venues in the world. Each time I was preparing for our next camp my friends would ask me which beautiful location in the world I was going to this time. When I told them and that it would be hard work, I got very little sympathy. It occurred to me one day the reason we are always training and racing in beautiful areas is there are only a certain number of places on the planet where the water is warm enough for a human being to swim comfortably. These places tend to be stunningly beautiful with great weather conditions—possessing the same virtues people look for when planning a nice vacation. Following are the five best places to transfer all of that hard work in the pool to a glorious open-water workout.
Noosa, Australia—Main Beach
Noosa is a quaint resort town on the Sunshine Coast less than a two-hour drive from Brisbane. It is well known for its surfing festivals, shops and the Noosa Triathlon. If you head down to the Main Beach on Wednesday morning you will find a group of more than 50 swimmers gathered at 5:15 a.m., just as the sun is starting to rise on this fabulous beach. It is quite a mixed group of surf lifesavers, age-group triathletes, nippers (young kids) and some of the world's best triathletes including Greg and Laura Bennett and Andrew Johns, who call Noosa home.
The workout is lead by legendary surf life-saving coach Max Pettigrove, who perches on a surfboard. Max's tips cover it all, from how to body surf a wave into shore to how to move forward when a wave comes at you like a wall. If you're fearful of the waves at the beginning, you'll most likely have a few terrifying moments. But by the end of one workout you'll be asking for more.
The workout consists of multiple swim loops on a buoy-marked course and straight swims along the shoreline between buoys. After the workout you can stroll down Hastings Street, where you can relax in one of the cafes and have a post-workout recovery breakfast.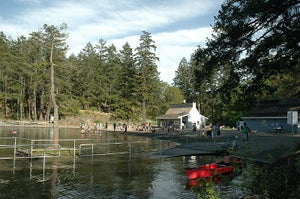 Victoria, Canada—Thetis Lake
Thetis Lake has served as the training grounds for many of the world's best triathletes including Peter Reid, Lori Bowden, Simon Whitfield and Melanie McQuaid. The lake is located in a regional park that includes more than 1500 acres of lakes, forest and hilltops, just seven miles from the Victoria city center. The lake is not open to motorboats and is clean and peaceful.
The lake is surrounded by rocky cliffs and forest with two small islands situated perfectly for training purposes. From the main beach, the swim around the first island is just over half a mile (900m); the swim around the second island is 1500m. If you are looking for a longer workout you can venture your way up a narrow channel under a tiny bridge to discover Upper Thetis, where you will likely have the entire lake to yourself and can reach remote beaches.
You can find triathletes gathering at Thetis' main beach most mornings from June to September and you will usually find a large group heading out for a swim on Fridays at 6 p.m.  While in this park you must also experience the extensive networks of dense forest trails, so take your run gear.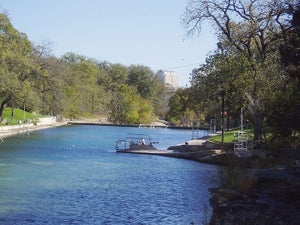 Austin, Texas—Barton Springs Pool
Within Zilker Park's 358 acres lies one of Austin's crown jewels: Barton Springs Pool. The pool is three acres and framed by century-old pecan trees. Concrete has been added to the banks to form uniform sides to this 1,000-foot by 125-foot swimming pool, making it the largest natural swimming pool in the United States located within an urban area.
The pool is fed from underground springs that pump an average of 32 million gallons of water a day. It feels like a hybrid of a small lake and a pool, so you get the best of both worlds. The pool is open year-round for swimming, as the temperature remains a constant 20°C (68°F) all year so you can swim with or without a wetsuit.
You'll have to pay an access fee ($1 to $3) during warmer parts of the year. Lap lanes are not designated, but the swimmers swim early in the morning to avoid the crowds and have an unspoken understanding on how to divide the lanes. You may want to join the Polar Bear Club that swims year-round, but just remember not to show up on a Thursday, as the pool's limestone bottom is closed for cleaning.
You can also explore the Barton Creek Greenbelt, a 7.8-mile trail for hiking and bicycling. The trail cuts through scenic cottonwood trees, limestone cliffs, caves, meadows, swimming holes and waterfalls.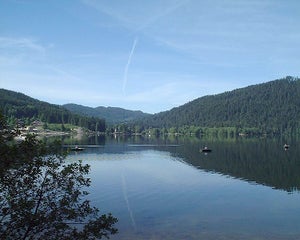 Gérardmer, France—Lake Gérardmer
Gérardmer is a quaint, picturesque multi-seasonal resort positioned alongside Lake Gérardmer in the heart of the massif of the Vosges. The elevation of the lake provides breathtaking views, as a coniferous forest with hills and mountains surround you.
Gérardmer has the whole package for triathletes and there is a very well developed triathlon race series in the area (2008 European Long-Distance Triathlon Championships). The beauty and cycling-friendly terrain attracted the Tour de France in 2005, so be sure to take your bike along, as you'll be enticed to explore the surrounding areas.
Kona, Hawaii—Kailua-Kona Bay
Kona is home to the Ironman World Championships. Enough said.
As you swim through the crystal-clear water of the racecourse you will feel like you are swimming in an aquarium as you pass by tropical fish, coral reefs and turtles. It is sometimes difficult to concentrate on your swim as you marvel at the wildlife below.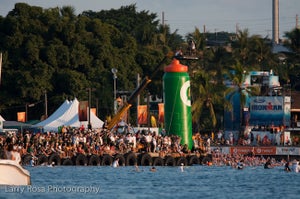 If you start at the pier in Kailua it is possible to swim sections or the entire Ironman World Championship course, as the small buoys remain in the water year-round.
You will see swimmers in the bay daily and a local group often heads out on Sundays. The best time to swim is in the morning when the surf is calmer; the safest route is along the Ironman course parallel to the shore to avoid traffic from the massive cruise ships that fill the horizon. The ocean current often propels you toward shore as you make the turn back to Kailua pier, so don't fret on the way out and enjoy the ride on the way in. You may also encounter spinner dolphins, which have been known to visit the Kailua-Kona Bay and accompany the swimmers.
Paul Regensburg is a senior coach at LifeSport, the Official Coaches of Ironman. Paul is an Olympic, Pan-Am Games and Ironman Coach, and has coached athletes from beginners to world championships at all distances. Visit LifeSport.ca or contact coach@lifesport.ca for more information or coaching inquiries.