Stop Running Long On Sundays
Your training schedule might declare Sunday as your long-run day—but should it?
Heading out the door? Read this article on the new Outside+ app available now on iOS devices for members! Download the app.
Your training schedule might declare Sunday as your long-run day—but should it?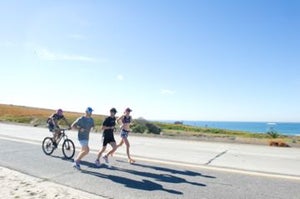 For most age-groupers with packed workweeks, weekends are the prime time for getting in long endurance rides and runs. There are essentially two schools of thought on this training structure: 1) Ride long on Saturday, run long on Sunday to "get used to running on tired legs" and mentally push through, or 2) Don't run long on Sunday because tired legs equals bad form, increasing your risk of injury.
"I avoid long runs on Sunday like the plague," says coach Dale Sanford. "The risk has shown not to be worth the reward to stack the long ride and long run."
Graham Wilson, a USAT Level III coach, agrees: "I consider the benefit of 'running on tired legs' to be complete nonsense. I burned my hand on a hot stove as a child. I do not have to keep doing that to remind myself—psychologically or physiologically—what it feels like."
Try one of these adjustments to avoid the Sunday long run—and hopefully have more quality endurance workouts as a result.
9 days hard, 5 days recovery: Coach Doug Woods believes the injury risk is too great for a run the day after a hard/long ride, so he opts for nine hard days followed by five easy days.
HARD:
1. Saturday (long bike)
2. Sunday (medium bike)
3. Monday (short run/swim)
4. Tuesday (short hard bike/swim)
5. Wednesday (medium run/swim)
6. Thursday (medium ride/swim)
7. Friday (hard run/swim)
8. Saturday (short or medium bike/short run brick)
9. Sunday (long run)
RECOVER:
1. Monday (rest day/recovery swim)
2. Tuesday (half-volume short bike/swim)
3. Wednesday (half-volume medium run/swim)
4. Thursday (half-volume medium bike/swim)
5. Friday (half-volume hard run/swim)
Long run Wednesday, long bike Saturday, shorter hill run Sunday: "I've trained both ways and actually like the Wednesday long run and Saturday long bike better," says coach Diane Stokes. "This way I do the long run faster. I sometimes put hill runs on Sunday, which gives the same tired-legs feeling as a long run."
Two back-to-back mid-long runs (1-1:30) during the week, one longer run (2-2:15) on the weekend: "I have found this to garner the same base building and fatigue resistance benefits of having one really long run during the training week," Sanford says. "It also keeps the quality of the workout much higher, with fewer injuries."
Saturday open-water swim followed by long run, Sunday long bike: Try flip-flopping the days and adding a pre-run swim.
Trade off long runs and rides every other week: Simply shorten your Saturday rides on the weekends you run longer.