Sneak Peek: Inside Triathlon's Look Into How To Train Like An Olympian
The May/June issue of Inside Triathlon magazine features a story that outlines how you can maximize your training time with science used by Olympians.
Heading out the door? Read this article on the new Outside+ app available now on iOS devices for members! Download the app.
The May/June issue of Inside Triathlon magazine features a story that outlines how you can maximize your training time with science used by Olympians.
Below, check out a sneak peek of the article, available on newsstands now.
Written By Aaron Hersh
Photographs by Nick Salazar and Nils Nilsen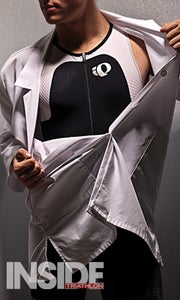 Training for triathlon is an exercise in time management. Juggling a personal and a professional life with the training required to be competitive in three sports means that nearly every person racing triathlon simply doesn't have as much time to train as he or she would like. We have to make the most of our opportunities. If your goal is to reach new levels of performance, getting the most possible benefit from every training mile is critical.
Despite our need for efficiency, single-sport athletes laugh at the collective inability of triathletes to train at the appropriate effort level, regardless of the type of workout. Easy days are done too hard, and hard days are done too easy. We need help.
Training tools can provide that assistance and allow you to maximize your scarce training time, but simply strapping a power meter on your bike isn't good enough. This is because you have to have a precise understanding of your own personal fitness level before you can effectively use effort measurement tools, such as the power meter.
Blood lactate test
There are many ways to determine your personal fitness level, or training zones, but a lactate test is arguably the most accurate and allows you to combine measures of workload—such as power while cycling—to precisely control training intensity with heart rate to monitor your fatigue level and figure out with certainty when you need rest and when you are ready to train hard.
A lactate profile test measures the amount of lactate accumulating in your blood as intensity level increases, and this data allows an athlete to determine the precise exercise intensity needed to achieve a desired training effect.
How it works
A lactate profile test is typically conducted by an exercise physiologist while the subject runs on a treadmill or rides a stationary bike. The test is broken into a series of segments, roughly three minutes in length, with each one more intense than the last until the athlete is no longer able to keep up. For a cycling test, workload is controlled with a power meter. During a running test, treadmill speed is used to control intensity level. At the end of each segment, the tester takes a drop of blood from the subject and measures its concentration of blood lactate. The subject's heart rate and rate of perceived exertion are also recorded. After the test, the athlete's results are plotted and the tester uses a formula to determine the athlete's lactate threshold, the exercise intensity at which blood lactate concentration and fatigue start to increase dramatically. The athlete's lactate threshold is then used to determine all of his or her training zones.
For more on how to use the blood lactate test—either a test conducted by an exercise physiologist and a "poor man's version" of the test—to help you more effectively use tools such as the power meter, cyclocomputer, heart rate monitor or GPS watch, pick up the May/June issue of Inside Triathlon magazine today.
To subscribe to Inside Triathlon magazine, click here. Follow us on Facebook andTwitter.