Sneak Peek: Inside Triathlon's Look Into How To Gain Mental Toughness In Triathlon
Inside Triathlon's look into how to gain mental toughness in triathlon.
Heading out the door? Read this article on the new Outside+ app available now on iOS devices for members! Download the app.
The March/April issue of Inside Triathlon magazine features a story on mental toughness by Torbjorn Sindballe. Below, check out a sneak peek of the article, which uses science and examples from the sport's best pros to give readers insight on how to become mentally tough.
Written by: Torbjørn Sindballe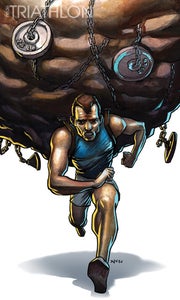 Graham Jones and his team at the University of Wales published an article in 2008 based on interviews with top coaches and athletes on how mental toughness is developed. First and foremost, every interviewee mentioned that building mental toughness is a long process that involves many different elements. But they agreed that the four most important elements are: motivational climate, key people, challenging experiences and a hunger to succeed.
The scientists theorized that the motivational climate within which the athlete works must be centered on the process rather than the end result. There must be a persistent focus on doing the work and mastering the task at hand rather than the dream of winning. Results can never be controlled—only your effort and level of skill can. If you build your fitness to the highest possible level, pace your race well and make sure you are completely spent at the finish line, feeling certain there was no way you could have run an extra inch—you have reached the limit of your potential that day and whatever results you get, you should be proud of. Legendary basketball coach John Wooden expressed this exact mentality in one of his most famous quotes: "Success is knowing that you did your best to become the best that you are capable of becoming."
To put it another way, going into a race with one goal—to race as hard as possible and to the best of your ability—can alleviate much of the pressure and dread that competition can stir up in your mind. You can't control your competitors, so why focus on them and what they are doing?
Jones et al also pointed out that the key people around an athlete are an important part of developing mental toughness. Coaches, parents, team members and fellow athletes play a significant role in developing the values, goals and mental skills that lead to success. When Caroline Steffen began working with coach Brett Sutton, he challenged her belief in her ability, telling her she had a lot more potential than she thought. The end result: she was the 2010 runner-up at Kona in her professional debut.
To read the rest of the article, pick up the March/April issue of Inside Triathlon, on newsstands now. Click here to subscribe to Inside Triathlon. Also, follow Inside Triathlon on Twitter and Facebook.