Everything You Need To Know About The Escape From Alcatraz Triathlon Course
Two-time winner pro triathlete Eric Lagerstrom shares his expert knowledge, ranging from the course, to race logistics, to how to celebrate after the finish line.
Heading out the door? Read this article on the new Outside+ app available now on iOS devices for members! Download the app.
Held in one form or another since 1981, the Escape From Alcatraz Triathlon has a rich history, marked with big-name winners and absolutely epic race-day conditions. There's a reason pros typically win more than one Alcatraz: The course requires respect, and race-day logistics are a huge part of the equation.
Two-time winner (2015 and 2022) Eric Lagerstrom is no stranger to the unique complexities of a race that starts with a long leap off a boat into shark-infested waters in the San Francisco Bay. "Escape From Alcatraz is one of, if not my favorite race I've done, and I've raced on almost every continent in the world," Lagerstrom says.
RELATED: Recalled: A Look Back At the First Escape From Alcatraz Triathlon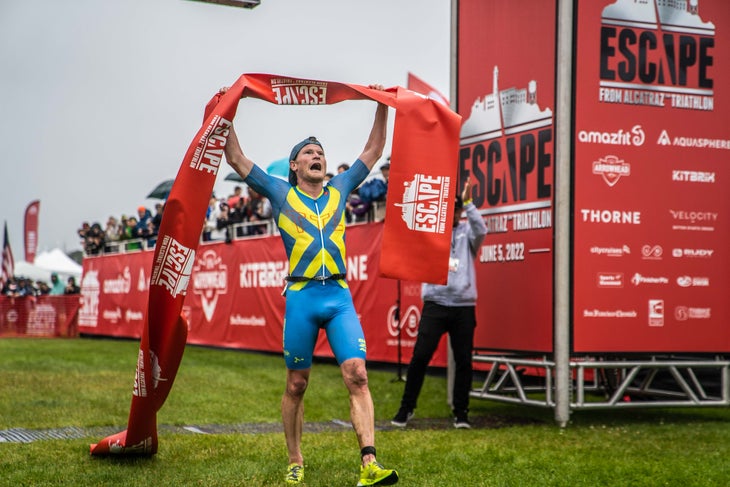 Read on to get the inside scoop from Lagerstrom on the Escape From Alcatraz triathlon's weather, swim, bike, and run course, the gear you'll need, the race-day logistics, and where to go after you cross the finish line.
Looking for more Race Recons? Check out more expert insights on your favorite courses, including USAT Nationals in Milwaukee, Ironman Lake Placid, and more.
Section divider
Escape From Alcatraz Triathlon Weather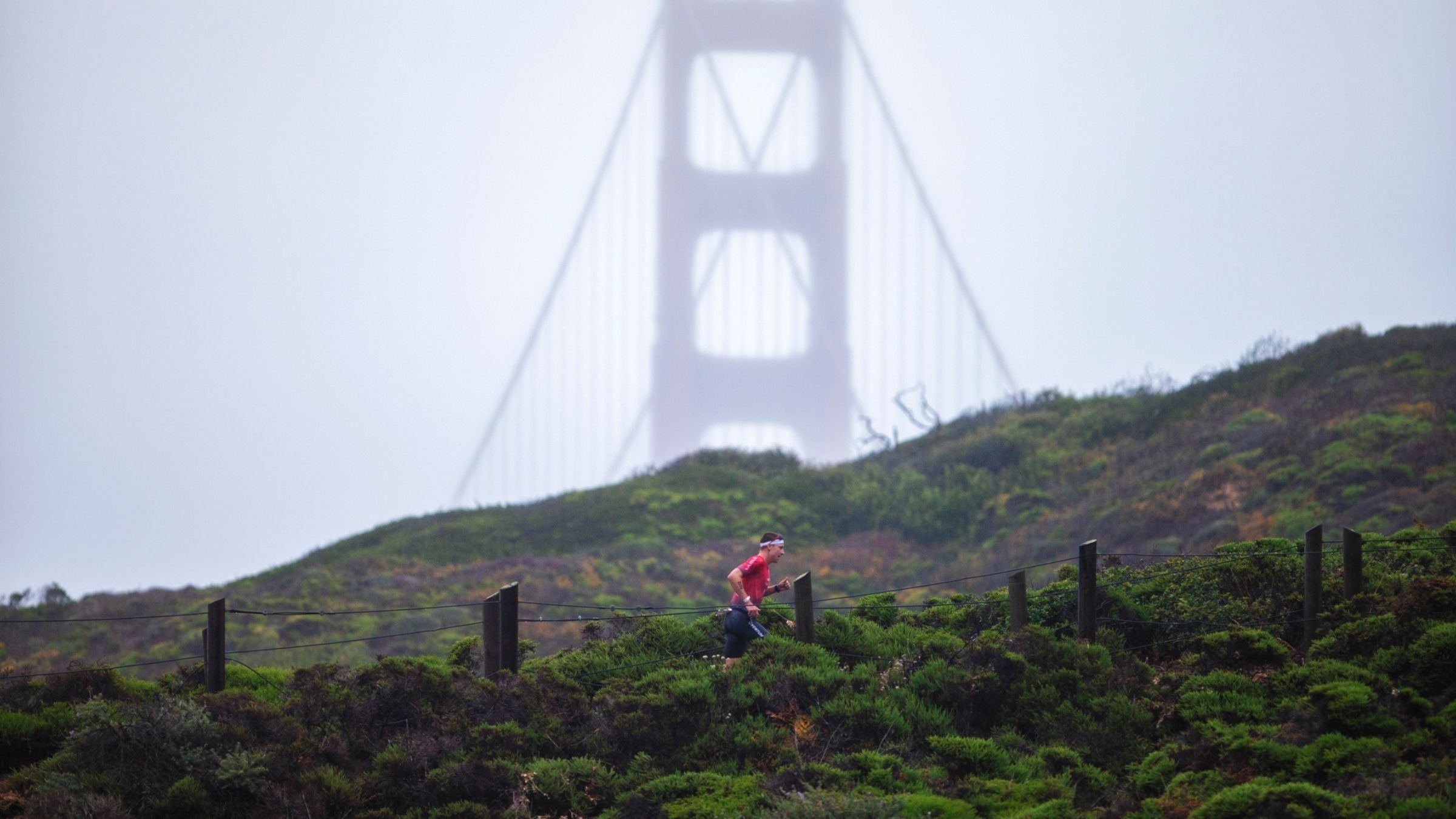 It should be no surprise that weather in the San Francisco Bay area can be unpredictable—especially in the spring. It can be hit-or-miss with rain, wind, and more. I try to be flexible when it comes to pre-race training times each day I'm there and adjust for the weather accordingly.
Come race day, it's historically been a bit foggy (it is the San Francisco Bay after all!), a little cold, but the weather tends to warm up by the time you're running. That said, we've had years with a downpour, so be prepared for anything when you pack for travel.
Last year, for instance, was incredibly wet. I raced in a regular tri suit and was fine, but if you get cold easily, having a rain shell of some sort to throw on in T1 would be a great idea.
RELATED: How to Pack for a Destination Triathlon
Section divider
Escape From Alcatraz Triathlon Swim Course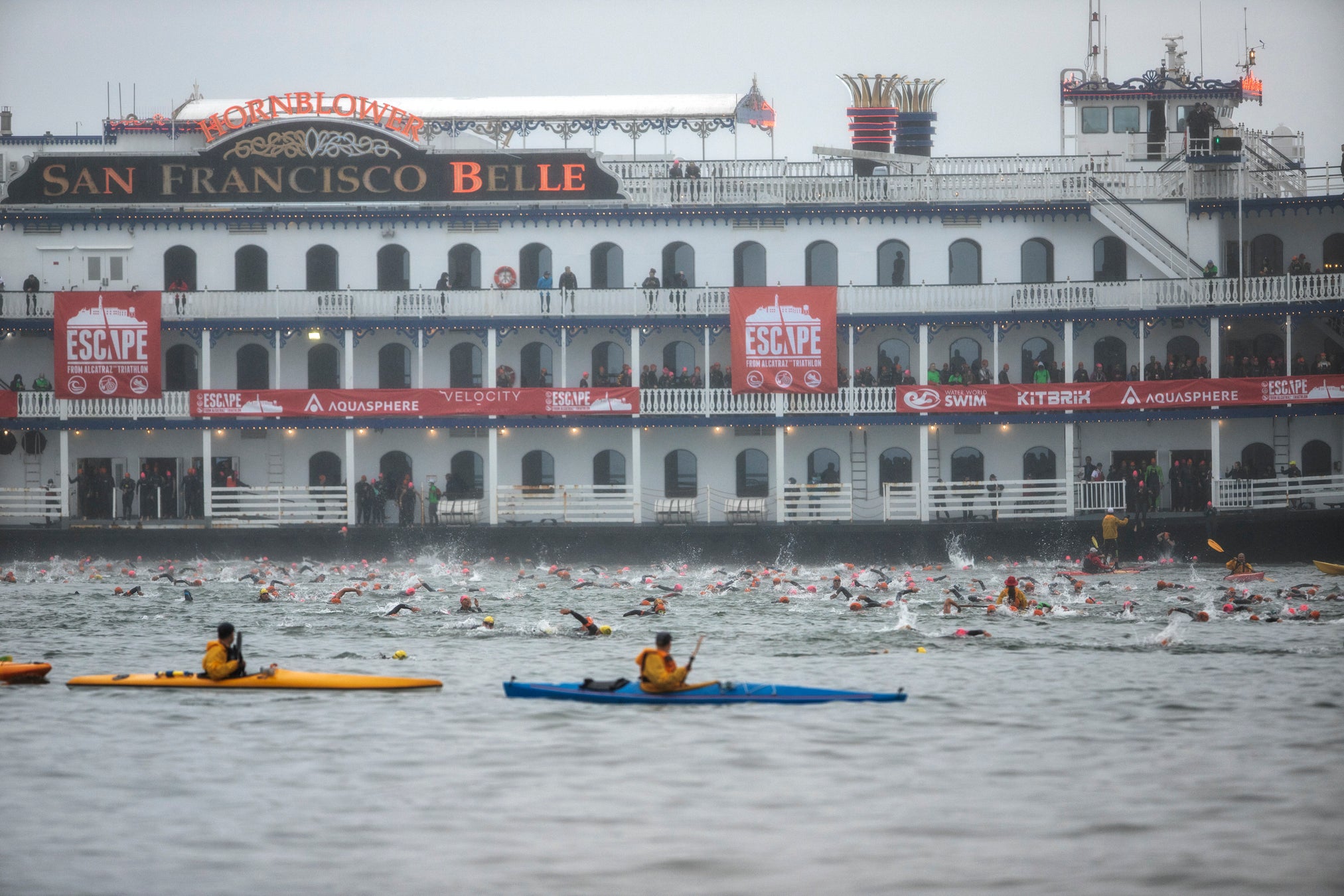 One of the unique things about this race is the ferry ride and the start—by dropping off the deck of the San Francisco Belle. Once in the water, it depends on the year, but be ready for some chop and swell in the San Francisco Bay! There is a boat leading the way for the pro field, so I would recommend just following everyone else and sighting the recommended buildings for the exit and you should be fine. The water can be quite cold, but my experience is that you don't even think about it once you've jumped off the boat and are focused on getting to shore. Even though the swim is technically 1.5 miles long, there have been years when even the fastest pros take over 30 minutes to get to land (when they usually finish the swim just over 20 minutes at that distance). With that in mind, overestimate the distance you'll need to prepare for in your training and mentally on race day.
Swim Gear
Obviously you'll want to wear a wetsuit as temperatures in the bay typically hover around 55 degrees F, but some racers elect to wear a heavier neoprene cap or double up their caps to make a "cap sandwich." Fresh goggles are a good idea, as sighting is both crucial and sometimes difficult—bring a couple of lens options if you're traveling and make the call on what color lens you'll need depending on race-morning conditions. If it's bright out, use a dark lens to prevent glare off the water, if it's foggy, use a colored lens to highlight the shoreline and sighting features.
RELATED: What to Wear for Open-Water Swimming (Even When it's Cold)
Section divider
Escape From Alcatraz Triathlon Bike Course
After exiting the water at Marina Green Beach, there's a half-mile transition to Marina Green. Many racers elect to dry off and put on shoes. Though the bike is only 18 miles with 1,500 feet of elevation gain, it's an adventure and you'll never be bored! The road is a little rough, so you need to pay attention, but the views are awesome, and you'll wish the ride was longer. Physically, it's very demanding, and it's essentially a series of hill repeats followed by fast descents. To prepare for this bike course I would say focus on hill repeats and practice corning. If you can do both at the same time with a technical climb, even better. If you don't have hills, work on some shorter, harder intervals, and practice cornering in an empty parking lot.
The one place I would draw the most attention to is the hard left hand turn after the steep descent as you're headed towards Golden Gate Park. You'll know it when you see it! Be extra careful, especially if it's wet. The same spot on the way back is the steepest part of the course, so save some energy for it.
RELATED: Make Your Escape: How to Nail the Bike Descent
Bike Gear
I would go with as light of a setup as possible. I use a Zipp 858 NSW wheelset, which is incredibly light, and when set up tubeless, can be run at lower tire pressures—smoothing out some of the bumps you'll find on this course and offering more grip on corners, especially when wet. When it comes to road bike versus tri bike, I would recommend whichever you feel most comfortable on. The course is very technical, and feeling confident can save you a lot more time than even the most aero or lightweight setup.
RELATED: 5 Ways to Blow it on the Bike
Section divider
Escape From Alcatraz Triathlon Run Course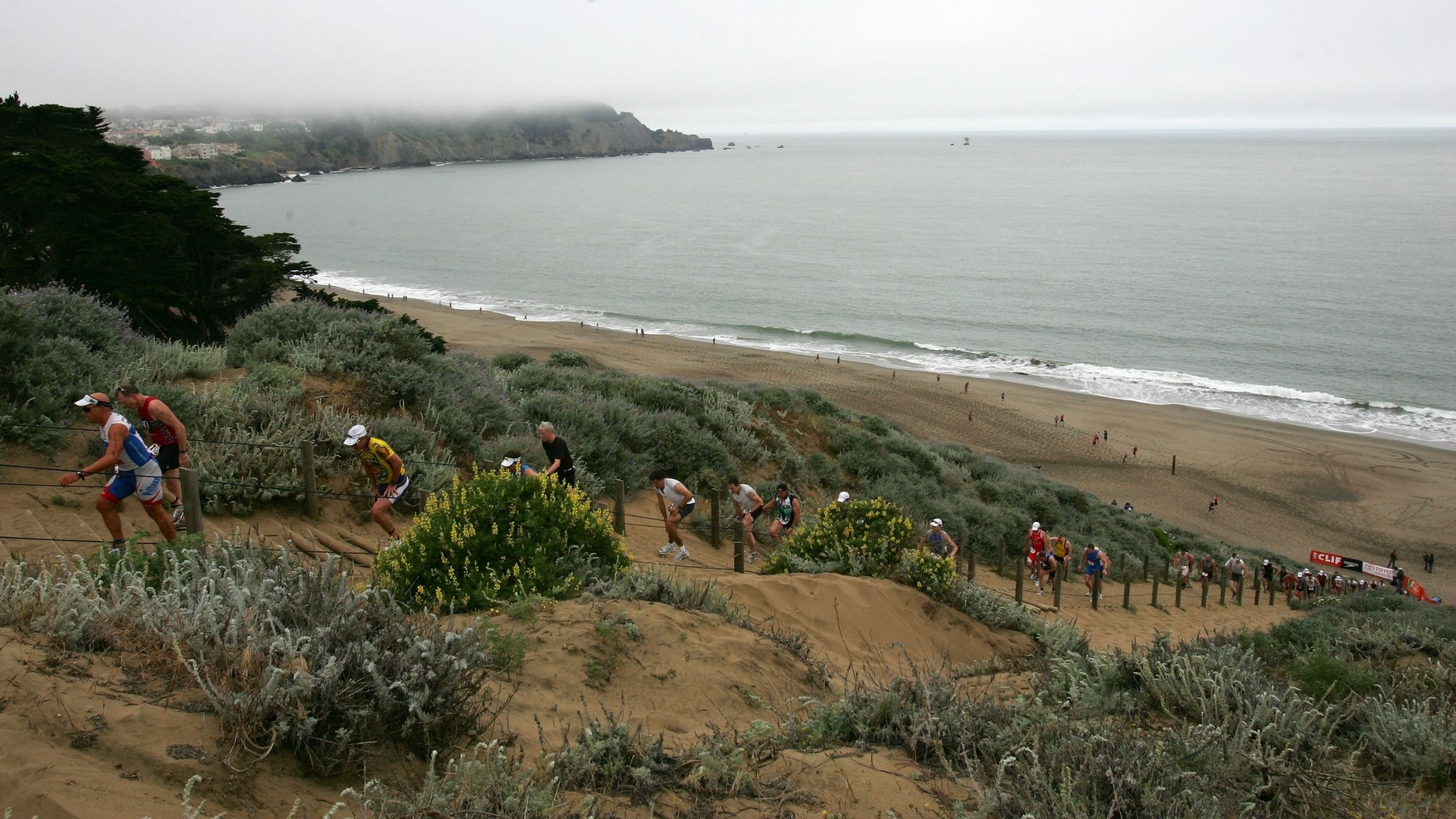 The eight-mile run course is the most varied one I've ever done, in terms of surface, gradient, turns, and views. First, comes a mile-and-a-half flat—a section I would run at a fast-but-controlled pace. But then the fun starts with a big climb up to the bridge, where I like to start to push things. Next you'll head back down to the beach for a quick out and back on the sand, then the sand ladder.
Take your time on the 400-step sand ladder. Keeping moving is the key and starting too hard is very easy to do. It's still a long way to the finish once you reach the top. But everything that goes up, must come down, and I like to recover on the downhills, trying to relax and letting my legs spin underneath me. Then, you'll snake your way around the old fort, then bomb back down to the flat path you started on. That last flat part can feel impossibly long, but you're almost there.
Run Gear
In terms of race-day footwear, I personally wouldn't use a super high-stack supershoe. There are so many turns and areas with loose footing, and if you don't have extremely strong ankles, supershoes could cause more harm than good. I use ON's Cloudboom Echo, because it's got a carbon plate and is a fast race shoe, but is a little lower to the ground and therefore more stable.
RELATED: Why Running On Sand Is an Amazing Conditioning Tactic
Section divider
Escape From Alcatraz Triathlon Logistics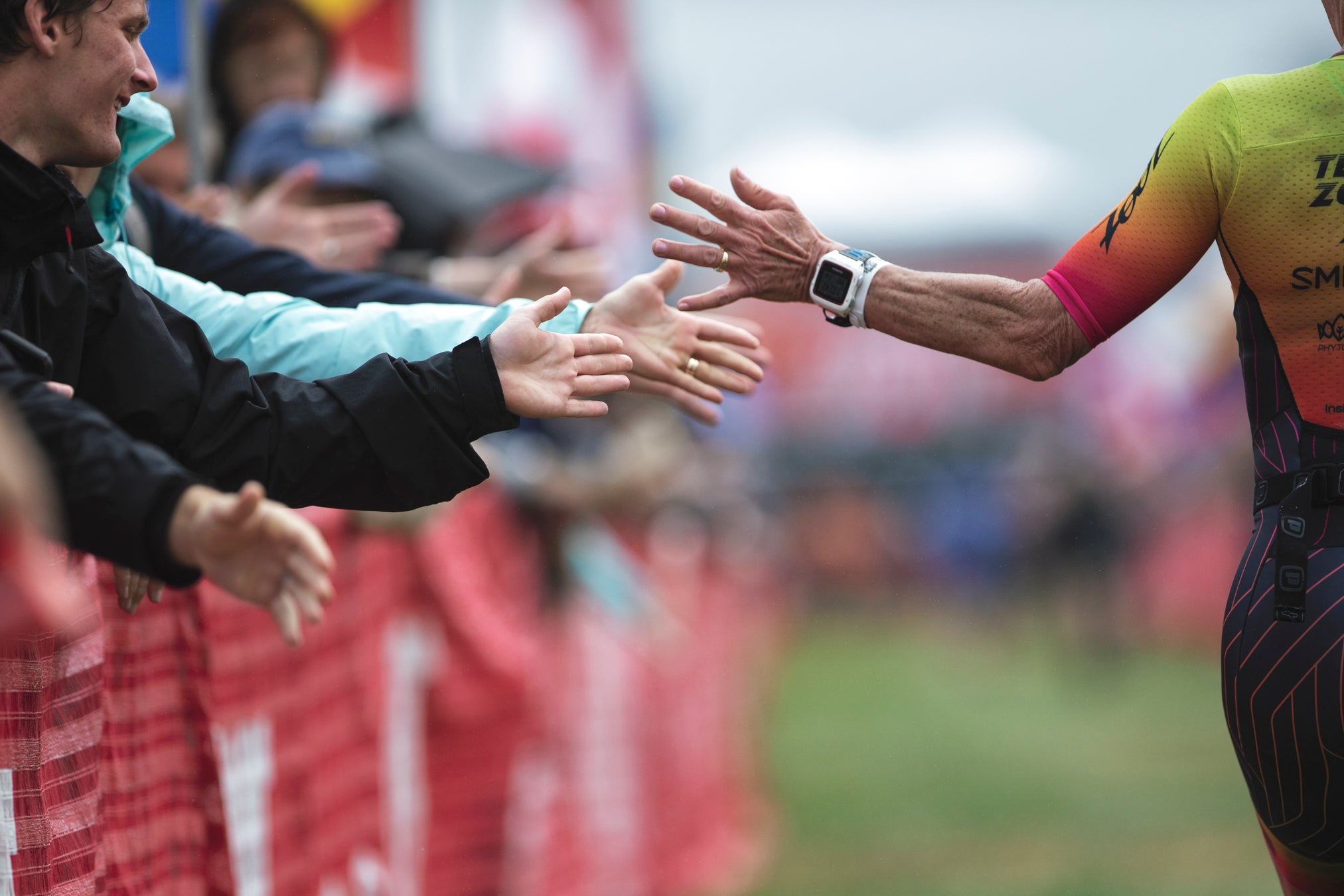 Race Morning
The race makes it very clear what you have to do, but you need to show up at transition very early, set up your stuff, then get on one of the shuttles with your swim gear. It's a ten-minute shuttle ride to the ferry dock, where you'll leave a bag of stuff with everything except what you'll jump into the water with. You'll be warm in your wetsuit for the next 45 minutes as you get ferried out to Alcatraz, where you'll start your day.
Pre-Race
When looking for places to stay before the race, anything around Fishermans' Wharf or Chrissy field is great. I wouldn't rent a car, as parking is wildly difficult. Just take Ubers or rental scooters to get around once you're in town. 
If you're interested in doing some prerace swimming, you can't swim out in the bay, but near Ghirardelli in Fisherman's Wharf, there is a protected inlet where locals swim. 
For last-minute adjustments or gear needs, be sure to check out Sports Basement—they've been longtime Alcatraz supporters.
Best Spots for Spectators at Escape from Alcatraz Triathlon
You can watch everyone get out of the water at the swim exit, and then walk maybe 100 meters to the road, where they'll pass around half-a-mile into the bike. If you want to watch better bike action, go to the top of the first climb, near the bridge. However, you won't be able to watch the swim exit or T1. That's also a good place to be on the run as the runners pass on their way down to the beach, and then you could immediately hustle back to the finish to see them come in.
Post-Race
Because it's San Francisco, there are so many options, it's almost overwhelming! Last year we hit the Ghirardelli flagship store for sundaes to celebrate the victory. If you're interested in some sightseeing, head (back) to Alcatraz for a tour, or check out one of my favorites, the San Francisco Cable Car Museum in Nob Hill.