17 Day-Before-Ironman Questions You Never Thought to Ask
...that is, until you really, really, really needed to know the answer. Never fear, we're here with advice on carb-loading, finding the water temp, and what pressure to set your bike tires in transition.
Photo: Pablo Blazquez Dominguez/Getty Images
Heading out the door? Read this article on the new Outside+ app available now on iOS devices for members! Download the app.
It's the day before your Ironman, and you've got lots of questions: What are these bags for? What am I supposed to do the day before? What am I not supposed to do today? All those unknowns can add to your stress on a day when you should be resting up and preserving your energy – physically and mentally – for the challenge that lies ahead. So let's do a bit of a time warp and answer all those day-before questions well in advance of your Ironman. The questions below – and more importantly, the answers – can settle your nerves in the months, weeks, and days leading into your Ironman and bring calm into what can sometimes feel like a chaotic race prep.
Section divider
What to do (and not to do) the day before an Ironman
Should I do a workout the day before the Ironman?
You don't want to do anything that creates fatigue the day before an Ironman, but some movement to get the blood flowing through your muscles is perfectly fine. That can look like an easy (really, really easy) 10-20 minute jog, a 10-30 minute easy spin on your bike (which also serves to make sure your bike is in working order), or a 10-30 minute easy swim (ideally at the race site).
Is it okay to shop the expo before the race?
As someone who firmly believes in the concept of jinxing but also has sell-out paranoia, I think it's fine to shop the expo pre-race. I do, however, advocate shoving the purchases in the back of a drawer and pretending they don't exist until after you cross the finish line because: jinxing. Do be sure to approach your shopping the same way you approach transition (get your stuff and go) and remember to save a bit of your shopping budget for post-race when the official finisher gear becomes available.
Is it really that bad to do some fun touristy thing with my family before the race?
It's a trade-off. You do want to minimize your time on your feet and in the sun to preserve your energy for race day, but you also may be in a city you want to explore with people who want to explore it with you. A brief outing earlier in the day isn't the end of the world (or your race) but try to defer those all-day adventures until after your Ironman.
What should I do the day before my Ironman?
Other than some light movement in the morning (discussed above) and dropping off your bike and gear bags (discussed below) mostly you should stay off your feet and out of the sun. In other words, mostly you should sit around and do nothing.
There are a few other things you can do that still fall under the heading of doing nothing, though. These things include eating carbs and drinking liquids with electrolytes (discussed way below), charging all your devices, reviewing your race plan, reviewing the course, and binging your favorite Netflix guilty pleasure – or YouTube videos of Ironman finish lines.
Section divider
Ironman gear bags: What, why, when and where
What's up with all the bags?
Most Ironman events provide five bags at athlete check-in: (1) a morning clothes bag, (2) a bike gear bag, (3) a run gear bag, (4) a bike special needs bag, and (5) a run special needs bag. The bike and run gear bags allow for a transition setup in which your transition gear is located near change tents rather than at your bike, as it would be for a 70.3-distance event. The special needs bags allow athletes to replenish or supplement their supplies mid-bike and mid-run, which is a fabulous benefit given the distance of the race.
So what should you put in each bag? Think of your morning clothes bag as your swim gear bag: you can use it to bring your wetsuit, swim cap, goggles, and timing chip on race morning. You'll trade those contents for your morning pre-race gear (sweats and flip-flops, perhaps) when it's time to get ready for the swim. Your bike and run gear bags serve as your transition bags, so you'll put all your bike and run gear in those. Your bike and run special needs bags are for any extra items you want or need at approximately the halfway point of the bike and run, such as additional fuel on the bike or a headlamp for the run. The special needs bags are optional and it's important to know that you don't get the bags back after the race, so use it or lose it. 
Listen, we know this is a lot. That's why we've broken it down into extreme detail with this checklist: How to Pack Your Ironman Bags: A Complete Checklist
When and where should I drop off my gear bags?
You'll drop off your bike and run gear bags, along with your bike, the day before your Ironman. Check your race guide – usually e-mailed to you before the race, and also typically found on the race website – to get specific drop-off instructions for your particular event.
Usually (but not always), you'll drop all three in a single trip to transition, which also provides a good opportunity to learn the flow of transition and specifically where the bike and run gear bags are positioned relative to the change tents. Use the day before the race to walk through the layout of transition from swim exit to bike out, then again from bike in to run out, so you know exactly where to go on race day.
Do I have to put *all* my bike and run stuff in my bike and run gear bags the night before? What if I forget something?
You'll typically have access to your bike and run gear bags again on race morning. While you should put everything you'll need for the bike and run legs in your gear bags in advance, if you forget something you shouldn't have a problem adding that to your bag/s on race morning.
Where and when do I drop off my special needs bag?
Unlike your bike and run gear bags, which you drop off the day before your Ironman, you'll bring your bike and run special needs bags (if you're using either or both of them) with you on race morning. Drop-off locations vary by race, but typically they are a short walk from transition.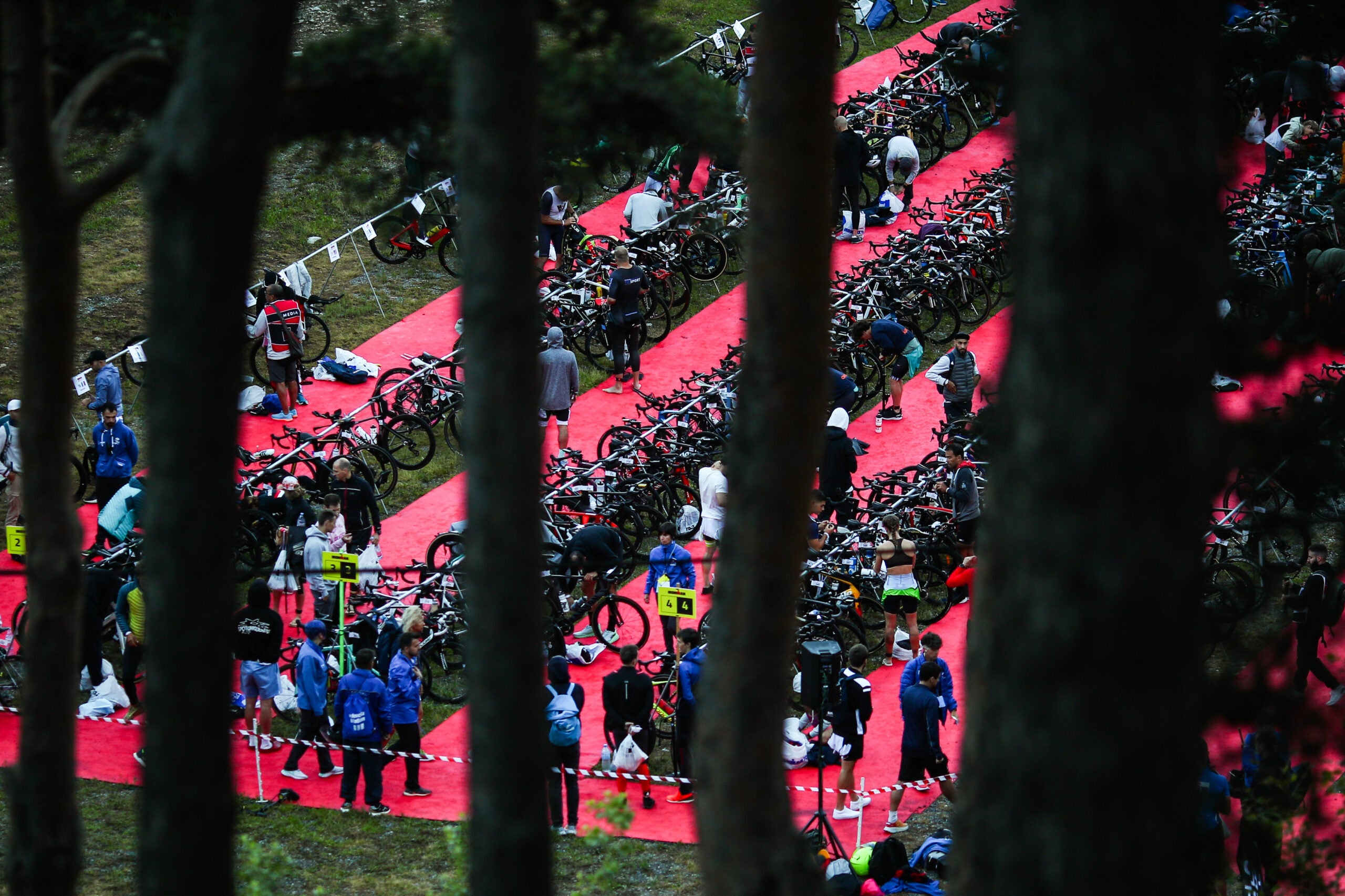 Section divider
Ironman bike drop-off
Should I put my nutrition, bike computer, etc on my bike when I drop it off?
You will typically have access to your bike again on race morning, so you don't need to bring your water, fueling, bike computer, etc. to bike drop off. Your water and fueling, in particular, are better off sitting in a temperature-controlled area for one more day.
At what pressure should I set my tires overnight in transition?
Given that you'll only lose a few PSI of tire pressure over 24 hours, you are typically okay dropping off your bike with your tires set to a few PSI above where you'd like them on race morning (Don't know what that magic number is? This guide can help: Ask a Gear Guru: What Bike Tire Pressure Should I Use?).
High air temperature and increased heat from strong direct sunlight the day before your Ironman can change that PSI equation. While tire pressure only increases about 5 PSI with an air temperature increase of 40 degrees, strong direct sunlight can multiply that tire pressure increase. If you tend to run higher tire pressure and/or you're just generally concerned about pressure increase due to heat, then drop off your bike with a tire pressure of around 70-80 PSI and pump them to your desired air pressure when you arrive at transition on race morning. (There are always pumps available in transition on race morning.)
Section divider
What to eat and drink the day before an Ironman
Should I carbo-load?
By the day before your Ironman, you should be wrapping up your carb-loading. It takes days to fully top off your glycogen stores, so your carbohydrate spree should have started days prior to your Ironman (for more on this, check out Beyond Pasta: The New Rules of Carb Loading).
Breakfast the day before your Ironman, then, serves as your final opportunity to pack in those carbohydrates. So yes, carbo-load your heart out that morning. After that, though, taper down your food intake, culminating on the early side with a light dinner.
Should I hydrate?
Yes. Yes, of course you should hydrate the day before your Ironman. Just like with your glycogen stores, though, it takes days to be fully hydrated. Additionally, it's incredibly important to include electrolytes in your hydration regimen so as not to hydrate at the expense of depleting your sodium levels. The day before your Ironman should be the last of a string of days where you're hydrating with electrolytes.
Should I pre-load my sodium?
Pre-loading sodium – consuming high amounts of sodium before training or racing – causes fluid retention, essentially putting you in a super-hydrated state prior to showing up at the start line. This can be an effective strategy if you've tried it out before your race weekend, since you want to attain just the right balance of retaining fluid without feeling bloated or developing GI issues. If you've tested and determined the correct amount of sodium for you to achieve that, then by all means add that to your pre-race hydration regimen.
Section divider
Miscellaneous day-before-Ironman questions
What's the water temperature?
We knew you were going to ask that, because if there's one thing triathletes obsess over the day before an Ironman, it's water temperatures. Ironman knows this obsession, too, so they typically do a reasonable job of communicating the water temperature in advance of race day. They often post the current water temperature on the official event Facebook page (which is different from the unofficial event Facebook group), sometimes have it posted at athlete check-in, and almost always announce it at the athlete briefings.
What did they say at the athlete briefing?
Please, just go to the athlete briefing yourself. Even if it's your eighth Ironman, and third at that specific venue. Every race is unique and details do change year to year, so if you want the current information on which race bags are being used, where to drop off special needs, and pertinent details like no passing or speed zones on the bike, go to the athlete briefing.
Can I check in the day before the race?
Inevitably, there is someone at every race who plans to check in the day before the race and is dismayed to find out that you cannot, in fact, do that. Unlike half-distance and short-course races, athlete check-in for Ironman events is almost always limited to two and three days prior to the race. So do yourself a favor and plan accordingly when you make your travel arrangements.
Oops! I forgot [fill in the blank] – what do I do?!
Breathe. It's going to be okay. Often whatever you forgot can be found at the race expo or a local shop. If not, the Ironman community does a fantastic job of stepping up to fill even the biggest gaps in race gear needs. This is where the unofficial event Facebook group serves a fabulous role: post your need there (or have someone else do it on your behalf if you're not on social) and prepare to be amazed at the generosity of your fellow triathletes.
What happens if I can't sleep the night before my Ironman?
Don't panic! There is nothing that prevents you from sleeping as much as being stressed about the fact that you're not sleeping. More important than your night-before sleep is your two-nights-before sleep. But given that some sleep is preferable, visualizing your race day from your wake-up alarm to the finish line works just as well as counting sheep. We've put together this handy guide to getting your much-needed ZZZs: How to Sleep Like a Rock the Week Before Your Race.
Alison Freeman is a co-founder of and triathlon coach with NYX Endurance in Boulder, Colorado. She works with a wide range of age-group athletes, but athletes new to long-course triathlon are her favorites because there is no such thing as too many questions.