Race Analysis: How Lionel Sanders Won Oregon 70.3
We break down the Canadian's recent victory and use the data to predict how his race at the PTO U.S. Open might unfold.
Photo: Donald Miralle/Ironman
Heading out the door? Read this article on the new Outside+ app available now on iOS devices for members! Download the app.
After more than a year without a major win, Lionel Sanders dominated Oregon 70.3, winning by nearly four minutes ahead of Martin Ulloa and Trevor Foley. The 35-year-old Canadian has been sharing his training and racing data on Strava since early July, and his numbers are worth digging into.
Known for his wild indoor training sessions, "No Limits" branding, and honest public reflections, Sanders published a post-race recap on his YouTube channel, which he titled "Thoughts after Ironman 70.3 Oregon."
Here, we're going to break down Lionel Sanders' win at Oregon 70.3, including his speed, pacing, and power in each portion of the race as a helpful preview to look at how his performance might end up at the PTO U.S. Open this weekend in Milwaukee.
The Swim
Sanders said that he was excited about the swim because of the strong, fast current. Reportedly as high as 12.5 mph, the current would help weaker swimmers like Sanders, as he said. The Canadian ended up with a blazing time of 17:52 in the 1.2-mile swim, obviously assisted by the heavy current.
The Oregon swim was non-wetsuit, which Sanders said would have helped him break the 17-minute barrier if he had been neoprene clad. He also said that in conditions like that, "the swim would be settled within the first couple hundred meters…however fast you can take it out, for 200 meters, that's it, it's settled."
Lionel Sanders – IRONMAN 70.3 Oregon Swim
Time: 17:52
Position: 17th
Pace: 55 sec/100 meters
Marc Dubrick (leader): 16:14 (51 sec/100 meters)
The Bike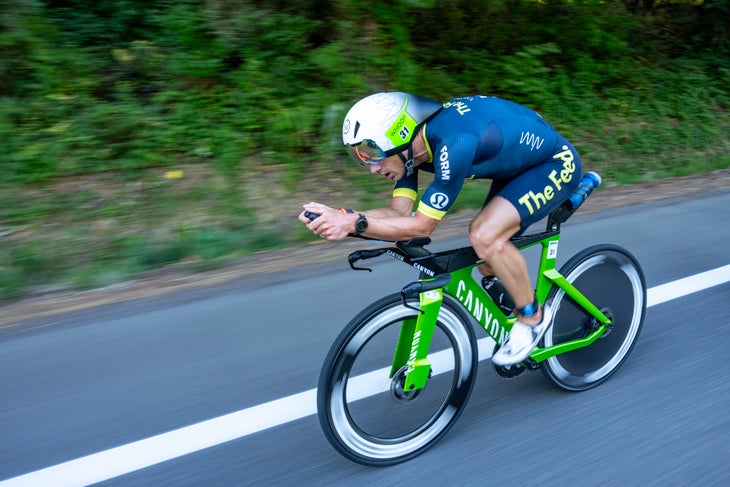 Coming out of the water, Sanders was in 17th place, 1:38 behind the leader, Marc Dubrick. It wasn't long before he took the lead of the race out on the bike.
When describing the bike course, Sanders said there was "some good scenery, some flower fields, some vineyards…" It seemed like Sanders was enjoying himself at 370 watts on the bike.
When you hear Sanders' post-race interview, it's easy to see why he was able to take the lead so quickly on the bike. He set a goal of "15 minutes at 400 [watts], 15 minutes at 380, and then 70 minutes at 360." And yes, his power meter is accurate.
Looking at his power file, we can actually see that Sanders exceeded his own expectations since he felt so good on the bike. He even lapped his computer to sync up with his pacing strategy.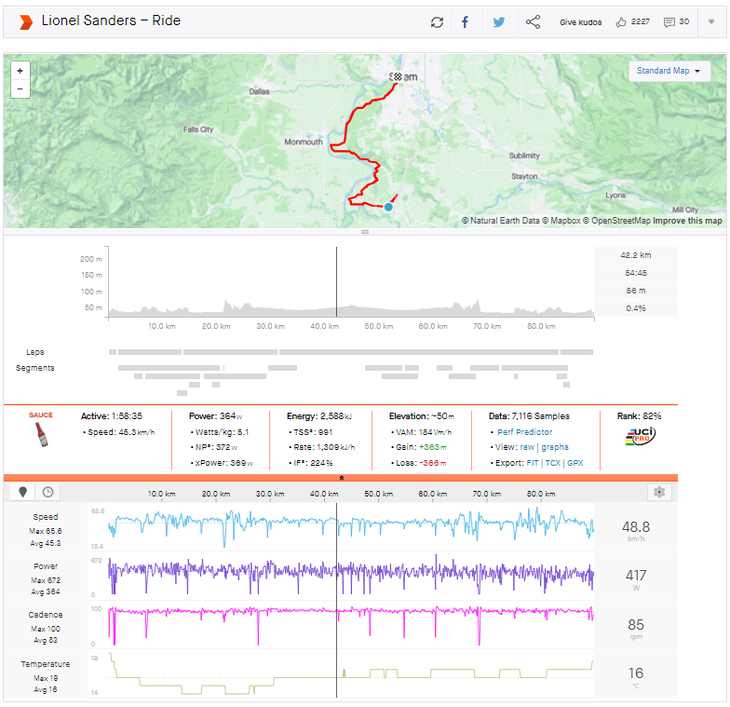 Lionel Sanders – IRONMAN 70.3 Oregon Bike
Time: 1:58:35
Average Power: 364w (5.1w/kg)
Normalized Power: 372w (5.2w/kg)
Average Speed: 45.3 kph (28.1 mph)
Lap 1: 15:01 at 406w (5.6w/kg)
Lap 2: 23:24 at 380w (5.3w/kg)
Lap 3: 1:08:56 at 358w (5w/kg)
The Run
One of the most interesting aspects of Sanders' race strategy is his discipline-specific pacing. Based on his power goals, it's clear that he likes to go out hard on the bike, pushing 40w more in the first few miles than in the last few miles. But on the run, Sanders prefers to start "slow" – his "slow" being 5:20-5:30 min/mile rather than 5:10 min/mile, of course.
But coming out of T2, Ulloa was locked in a battle with Sanders, and the Chilean went out fast. The duo ran side-by-side for a couple of miles until Ulloa suddenly fell behind. Sanders said he thinks Ulloa stopped at a Port-a-John, but he wasn't sure.
When it came to pacing, Sanders had set a goal to run 5:20 min/mile for the first nine miles of the run, and he executed that perfectly. Once again, Sanders hit lap on his computer at the 9-mile mark and then took it a bit easier at the end when he already had over a three-minute lead.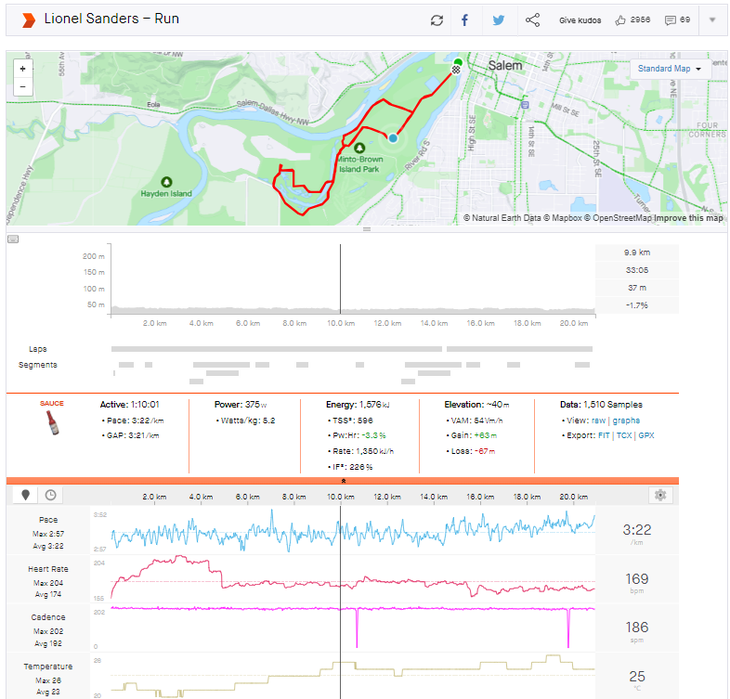 Lionel Sanders – IRONMAN 70.3 Oregon Run
Time: 1:10:01
Average Pace: 5:25/mi
Lap 1 (first 9 miles): 47:58 at 5:20/mi
Lap 2 (last 4 miles): 23:32 at 5:37/mi
What to look for in Milwaukee
Next up for Sanders is the PTO U.S. Open in Milwaukee. With names like Kristian Blummenfelt, Magnus Ditlev, and Ben Kanute on the start list (see our pro preview here), Sanders will have his work cut out for him along the shores of Lake Michigan.
Sanders won't have 12.5 mph currents like in Oregon, because the Milwaukee swim course is a short loop between the breakwater and shoreline.
However, the Milwaukee bike course will be quite different from Oregon because it is a short 7-mile loop that will be ridden seven times. In Oregon, the bike course was just one long out-and-back.
While it won't be hot in Milwaukee – temperatures are forecasted to be 73-79° at race time – the wind will certainly be a factor.
There will be strong (12-15 mph) NE winds on the 7-mile bike loop, which means that the triathletes will be riding straight into a gnarly headwind in the first half of the loop. It's likely that Sanders and the other riders will be averaging over 35mph on the second half of the course, which heads SW.
The Milwaukee run course is a short loop similar to the course in Oregon, which went through Minto-Brown Island Park. In Milwaukee, the run course loops through Veterans Park, first into the headwind, and then finishing with a tailwind section towards the Milwaukee Art Museum.
In his video recap, Sanders said that he did three weeks of high-volume training before Oregon: "25,000 yards of swimming, 13-ish hours on the bike, and 72 miles running each week." Sanders then did a six-day taper before Oregon, getting him in top shape for race day.
His preparation for the PTO U.S. Open has been very different, as Oregon was just 12 days before Milwaukee.
Based on his Oregon strategy, expect Sanders to go out hard on the bike. If he's within touching distance after the swim, the Canadian could move into the lead before all seven laps are completed. But his pacing will be even more important in Milwaukee because of the strong headwind and tailwind sections – a perfectly stable 370w average will not be the fastest strategy on the Milwaukee course.
What else can we expect from Sanders at the PTO U.S. Open? In his own words: "I realized…to be honest with you, the victory, whatever…I have something to prove to myself. I don't even have anything to prove to anybody. I don't care to prove anything to anybody. I want to prove to myself what I'm capable of."
You can watch Sanders race the PTO U.S. Open this Friday, August 4 on Outside Watch, starting at 4 p.m. Central. View the details of the free PTO U.S. Open Livestream here.
Power Analysis data courtesy of Strava