New Season, New Goals
Make 2012 your best year no matter your schedule or ability with these eight tips.
Heading out the door? Read this article on the new Outside+ app available now on iOS devices for members! Download the app.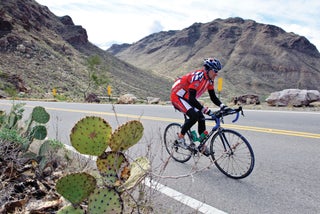 Goal setting is one of the defining characteristics that separates athletes from exercisers; we set our sights on specific targets and we strive for performance. As you get ready to put your 2012 goals down on paper (which I highly recommend), here are some guidelines to keep in mind. I've divided these goal-setting tips into categories based on three groups of triathletes I frequently talk to. You may fit squarely into one category or identify with more than one.
"I want to be a contender."
"I coulda' been a contenda," lamented Marlon Brando in "On the Waterfront." But he wasn't, because as a fighter he didn't have anyone looking out for him and he went for the easy buck instead of the long-term gain. If you want to step up your performance in 2012 and stand atop the podium, get yourself:
A coach. I know I'm biased, but during the natural ups and downs of the training process athletes benefit from external guidance. Coaching is not just a training program or data analysis; it's the relationship that guides you through the dark days, when fatigue causes self-doubt and insecurities to cloud your judgment.
Performance monitors. If you want to win, invest in a power meter for the bike and a GPS-enabled heart rate monitor for your other activities. Even more important: Download the data and use it. You'd be surprised at the number of athletes who have the gear but do nothing with the useful information it provides.
Speed. Endurance gets you to the finish line, but speed wins races. If you want to win you have to put your time into high-intensity speed work on the track, cycling intervals above lactate threshold intensity, and VO2max intervals in the pool.
"I have little to zero time to train."
As a time-crunched athlete with a full-time job, a family and a mortgage, you have to be honest with yourself. When setting goals, be careful to step back and consider what the next year looks like for you in terms of your family and your career. For example, Mark from Denver quit his job in late 2010 to start his own business. Knowing that getting the business off the ground would be time-consuming and stressful, he set his sights on short races for 2011. He stayed engaged in the sport, stayed competitive in his age group, and had a great season. If you're a time-crunched triathlete, think about:
What success looks like. Having limited time to train means you may have to shift your focus from long-course races to Olympic- and sprint-distance races. The distance alone isn't going to be a major hurdle, so you can pay more attention to achieving specific performance goals at these shorter distances.
Big blocks of time. Time-crunched training features higher intensities, but the consequence is that you need about four weeks of moderate-intensity training between build periods that last anywhere from six to 10 weeks. So look at your year; schedule your build periods when you'll be home with a consistent weekly schedule and try to arrange your recovery/moderate-intensity periods for times when you anticipate difficulty fitting in your training.
Swim with swimmers. If you can find one, join a Masters class that has more swimmers in it than triathletes. Why? Swimmers like to go fast; triathletes like to go steady. You'll benefit most from focusing on stroke technique and speed in the water, not steady yardage.
RELATED: Maximizing Your Workweek Training

"I just want to participate and enjoy the sport."
For many athletes, triathlon is a lifestyle and entering races is more about participating and being part of the community than qualifying for Kona. One of the reasons triathlon has the most supportive and positive culture in endurance sport is because finishers and hardcore competitors come together for the same events. Some finishers believe defined goals are only necessary for more competitive athletes, but to continue to grow and develop as a triathlete in 2012, consider:
A training camp. Again, I'm biased, but if you're passionate about triathlon, a weekend or a weeklong camp lets you devote all your attention to triathlon for a relatively short period of time. You don't need to be a fierce competitor to belong or benefit from a camp; they're about learning how to be a better triathlete, not just a faster one.
Incremental improvements. Finishers often do what I refer to as "subsistence training," meaning the workload and commitment level is only high enough to avoid getting out of shape. Faster is more fun, even if you don't care how your speed compares to others', so establish goals to increase your race paces across all disciplines.
PHOTOS: 2011 TriRock San Diego
Chris Carmichael is the author of The Time-Crunched Triathlete and founder and CEO of Carmichael Training Systems, the official coaching and camps partner of Ironman. Trainright.com