Is Your Mind Ready To Keep Up With Your Body?
Heading out the door? Read this article on the new Outside+ app available now on iOS devices for members! Download the app.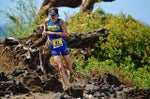 While there is no doubt that physical preparation is key to success in triathlon, you may be surprised to learn how important mental preparation is to the outcome of your next race. Over the next few days, professional triathlete Danelle Kabush uses her doctorate and background in sports psychology to provide a training plan for your mind to bring out your best performance on race day.
Written by: Danelle Kabush
You've put time in the pool, worked on your technique and improved your swim times. On the bike, along with putting in the miles on the road or trail, you may have followed your progression by working with watts, heart rate and lactate testing. Similarly, on the run, you've put in the distance and interval repeats to get stronger and faster. Many aspects of physical training are measurable and can help you "guesstimate" how ready you are for race day. But when physical abilities are equal, the most mentally prepared competitor will have the edge.
How can you prepare your mind as well as prepare your body for race day? One way to look at mental preparation is to use the same approach you use for your physical training. You need to have a good foundation in place, consistently training the skills you need to manage the emotion and anxiety you face on race day and developing the focus you need to bring out your best performance.

Part One – Laying the Foundation: Race for a Reason
Without any aerobic base training in the off-season, your body would not be ready to handle the intensity training you need to get in shape for race day or sustain a suitable level of fitness throughout the race season. You need to be in touch with your motivation: you should know why you train and race. You should develop a specific plan to reach your goals and have the right attitude to carry you through the highs and lows of racing, injury, illness and any other obstacles you may encounter.
In my experience in triathlon, and working with athletes from a variety of sports, the best performances are followed by the athlete saying, "I was having so much fun out there!" On the other hand, not-so-great performance days are often associated with excess stress, self-induced pressure and anxiety. To give yourself the best chance of reaching your full potential on race day, spend some time thinking about what motivates you.
What do you enjoy most about training and competing in triathlons? While reaching the podium, breaking records and recognition are positive motivators to get you out the door on a rainy training day, focusing on the more intrinsic motivators, such as enjoyment and the satisfaction of pushing yourself in a disciplined way, allows you to continue training over the long-term. If you find yourself feeling more anxious than excited for an upcoming race, focus on why you are out there. If you can say you're motivated by fun, the challenge and exploring your own performance potential, you're well on your way to having a blast going fast.
Once you have a clear understanding of your motivation, you can creatively tap into your personal motivators whenever you need them. For example, on days I have to drag myself out the door for a training session, I come up with something exciting about it to look forward to, such as a new set to try in the pool, exploring a new running route or getting together with training partners to socialize during a long ride.
Like physical training, the next key part of laying the mental foundation is setting clear goals with specific plans for how to achieve them. It is usually more fun to work on your strengths rather than your weaknesses, and it takes discipline to tackle your weaknesses head on. To assess your mental fitness, think about your best and worst performance days. It can be helpful to keep a race log. Look for patterns and differences in your pre-race routines (e.g. workouts, nutrition, travel and arousal levels), race plans (how well you could set a race plan and follow it) and your ability to focus throughout the race.
Check back in the next few days for parts two through four of the series.