In Your Skin: The Importance Of Sun Protection
We gathered top experts to offer advice on keeping your skin safe—plus a roundup of the best protective products for triathletes.
Heading out the door? Read this article on the new Outside+ app available now on iOS devices for members! Download the app.

From Macca to Mirinda, Chrissie to Crowie, it seems as though you're not a true triathlete without a tan. If you're lucky—or blessed with good genes—that perma-tan will leave few long-term effects on your skin. But for most people, chronic sun exposure eventually leads to premature wrinkles, lines and weathered skin. We gathered top experts to offer advice on keeping your skin safe—plus a roundup of the best protective products for triathletes.
Written by: Sarah Wassner Flynn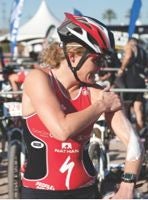 Here's the good news:
Participation in triathlon is hitting an all-time high. The bad news? So are rates of melanoma and other serious skin issues. Dr. Robert Nossa, the director of clinical research and laser services at The Dermatology Group of Northern New Jersey—and an Ironman triathlete—says that he has seen a direct correlation between the growth of endurance sports and patients with skin damage from chronic sun exposure.
"The irony is that I'm seeing more patients who are incredibly active and fit, and completely focused on their aerobic health," says Nossa. "But at the same time, there are more cases of people in their 30s and 40s with skin problems, like premature aging, basal cell carcinomas and sometimes melanoma. I attribute that to the movement toward endurance sports."
Of course, getting burned during a race can adversely affect your performance as you're more prone to becoming overheated and dehydrated. But there are simple steps to keeping your skin shielded from harmful rays, which all start with SPF.
Key Components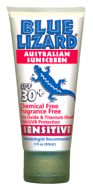 It may be tempting to toss that SPF 100 into your cart. Don't. "The SPF numbers war is mostly a marketing tool," says Dr. Robert Friedman, a dermatologic oncologist and a clinical professor at the NYU School of Medicine. "There really is not much difference between SPF 30 and SPF 80 when sunscreen is properly applied." While you're safe to go with any SPF over 30, make sure the product you pick offers broad spectrum UVA and UVB protection, which will shield your skin from the two types of radiation that reach Earth's surface. Other key components: "Go for water-resistant products that include ingredients like stabilized avobenzone, mexoryl, zinc oxide and titanium dioxide," says Friedman.

Try: Blue Lizard Sensitive.
Spray, Swipe Or Slather?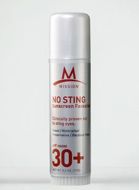 With hundreds of products promising to protect your skin, it's tough to choose which to go for. If that's not hard enough, you then have to pick whether you want it in a cream, stick, spray or a wipe. So which type of sunscreen is best for triathletes? "It's really up to the individual," says Nossa, who prefers the convenience of wipes (like Shady Day's Daily Sun Protection Wipes SPF 30) and sticks (try Mission Skincare Anti-Sting Sunscreen SPF 30+ Facestick, $8.99, Missionathletecare.com). "There's no mess, it's quick, and they're small enough to put in your gear bag and saddle bag," he says. Plus, the thicker texture of a stick sunblock is good for the face, since it won't run in your eyes once you start to sweat.
Friedman recommends mineral-based products, like Ultra Sport Stick ($16, Mdsolarsciences.com) by his own skincare company MDSolarSciences, which are less harsh on the sensitive skin on your face and around your eyes.
Spray-on sunscreens are just as convenient, says Dr. Brooke Jackson, a board-certified dermatologist and founder of the Skin Wellness Center of Chicago. "Sprays are so easy to apply, and the lighter texture is less likely to cause breakouts in those with acne-prone skin," she says. We like Kiss My Face SPF 50 Sport Clear Spray ($16.99, Kissmyface.com) and Kinesys SPF 30 Fragrance Free Sunscreen Spray.
Reapplying Rules
Whatever variety you go for, make sure to apply sunscreen at least 15 minutes before heading outside, which gives your skin the chance to absorb the product so you don't sweat it off right away. Then, you should reapply every two hours you are outdoors. Nossa suggests setting up sunscreen along with the rest of your gear in your transition area. "Before you grab your bike or as you run out of transition, you can quickly wipe down your body in areas that need the most protection, like your cheeks and nose," says Nossa. And don't forget your lips. "Statistically, men have a much higher rate of skin cancer on the lips because most women wear lipstick, which offers some form of protection," says Jackson. As with the sunscreen, you'll want to reapply your lip balm (try Jack Black Intense Therapy SPF 25, $7.50, Getjackblack.com, and Scape SPF 50+ Lip Balm, $3.50, Scapelabs.com) every couple of hours or more if you feel your lips are drying up. "Worse case: Take whatever you're using on your skin and put it on your lips. Just be careful you don't ingest it," says Jackson.

Test It Out
Remember that rule about never trying new gear on race day? Same goes for sunscreen. Pick a couple of products to try out while you're training and go with the one that works best for you. Because the last thing you want is to get nauseous from the smell of coconuts seeping out of your pores.

Extra Coverage
Protecting your skin doesn't stop at sunscreen. You can double your defense against the sun by keeping as much of your skin as covered as possible, especially if you're fair-skinned or prone to sunburn. "As tempting as it is to strip down while you're training or racing—and you probably have the body to do that—keep your clothes on," says Jackson. "A shirt has an SPF of approximately 8, so it's better than nothing."

Built-In Protection
Many tri-focused retailers build UV protection into their fabrics, including Asics, Brooks, De Soto, K-Swiss, Mizuno, Pearl Izumi, CW-X, Salomon and Skins. As you're selecting each item, make sure the knit of the fabric is tightly woven and has a snug fit to maximize its blocking ability, says Nossa. For biking and running, you can slip on arm sleeves, like those made by Tyr ($40, Tyr.com) and SunnySleeveZ ($24.99, Sunnysleevez.com), which work to keep your skin from heating up on warm race days while also blocking rays.

Head Gear
You may love the way your favorite visor keeps the sun out of your face, but it's doing nothing to keep your scalp from getting sun. "A hat made with moisture-wicking, breathable material is a better choice," says Jackson. (Headsweats' Race Hat provides a 40-plus Ultraviolet Protection Factor, $20, Headsweats.com). And if you just can't part with your beloved visor? Jackson recommends rubbing sunscreen into your scalp before heading out, or you can wear a bandana underneath to keep this extra-sensitive area protected.

Eye Care
Even if you can't see the damage done, your eyes can get sunburned, which may lead to serious health issues and, in rare cases, ocular melanoma. "Sunglasses are critical since bikers and runners have an increased risk of cataracts," says Jackson. "They can also protect the 'crow's feet' area." She suggests polarized glasses, like Oakley's Polarized Fast Jacket ($280, Oakley.com) or Smith's Pivlock V90 Max ($139, Smithoptics.com). "Make sure they're 96–97 percent filtered," says Jackson. And for all of those summertime swims in outdoor pools, you can purchase goggles that offer 100 percent UV protection like the Speedo Vanquisher 2.0 ($17.99, Speedousa.com).

Saving Your Skin
So now you're all set to keep your skin safe from the sun. But maybe you've had one bad sunburn too many and are now noticing a new crop of moles and spots on your body. The first step is to see a board-certified dermatologist for a body check, says Nossa. "These should happen annually, and if you are a high-risk patient or have a history of skin cancer, go twice a year," he says. "You should also do self-checks every three months with a hand-held mirror. If you see any suspicious spots or new moles, or a small wound that is not healing, have a dermatologist check it out. Skin cancer is treatable if detected early."
While your dermatologist is the best source for skin treatment recommendations, if you are more concerned with reducing wrinkles, lines or sunspots, make an appointment with an esthetician. "You can discuss various approaches—from anti-aging serums to more dramatic treatments, like chemical peels or Botox," says Renée Rouleau, skincare expert, triathlete and founder of an eponymous skincare line. Above all, Rouleau stresses the importance of taking care of your skin just as you do the rest of your body. "A triathlete's lifestyle is extra hard on the skin and your body. Just as you make a commitment to training, you have to make a commitment to your skin."

Is Your Sunscreen Toxic?
According to the Environmental Working Group (EWG), it may be. Each year, the environmental watchdog group releases its Sunscreen Study, which reviews the effectiveness of more than 500 products on the market, as well as the safety of the chemicals used in them. In 2010, the EWG claimed that up to 60 percent of sunscreens on the market contain potentially harmful ingredients that may accelerate skin cancer instead of preventing it. While the true effects of these ingredients still need to be further explored, Dr. Robert Friedman says it's smart to avoid elements including oxybenzone, PABA, octinoxate, and parabens. "Some of these substances may harm not only the individual, but the marine environment as well," he says. Visit Ewg.org/skindeep to see how your sunscreen measures up.