How You Mentally Approach Injuries Is More Important Than You Think
With so many devices and physical treatments available to injured triathletes, the best way to get better quickly may actually be locked inside your own skull.
Heading out the door? Read this article on the new Outside+ app available now on iOS devices for members! Download the app.
"Nam Myōhō Renge Kyō."
Glen "Boomer" Titan says those Japanese words over and over—"Nam Myōhō Renge Kyō, Nam Myōhō … ." He does it so endlessly and rapidly and quietly under his breath that it sounds like the low-level buzz of a beehive. It's an ancient Buddhist chant, actually the title of the Lotus Sūtra, the central mantra of the religion. But Boomer, a 58-year-old financial advisor and father of two from Los Angeles, isn't Buddhist and has no idea what it means. He's actually Jewish, although his real devotion, his true religion, is triathlon. He's been a dedicated triathlete for 30 years, with over 200 races under his belt. He's a big guy, 6-feet-2-inches tall, muscular with a little belly. He looks like "a gorilla," he says. And he gets hurt all the time.
So Titan (changed from Tatinsky by his immigrant grandfather; "Boomer" came from college baseball teammates razzing his inability to hit a curveball) started chanting a couple of years ago for a very practical reason: to help him recover from injuries.
"Quietly, in my office or on the beach in front of my house, I'll chant 5 to 10 minutes, which a friend taught me a couple years ago," Titan says. "I don't know how or why, but it really made a difference, helping me reduce my anxieties and keep me focused.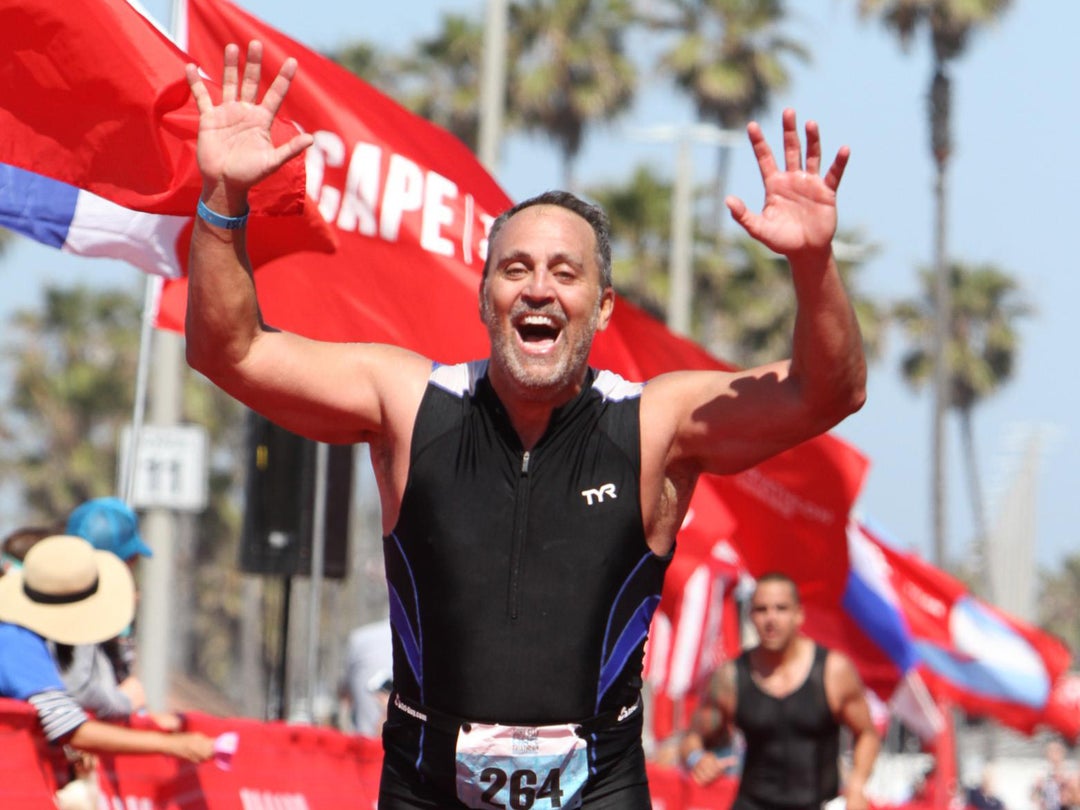 When you're hurt, everything's sour, and it's like 'woe is me.' I can lose sight of the big picture—and this helps bring me back. I had a calf injury recently, before the Escape from Alcatraz, and this helped calm my nerves, calm my soul, help my rehab. I'll sit there with the ice pack on, close my eyes, and chant.
"The chanting lifts me up, reminds me that this is a temporary setback, to do the stretching, the icing, and think positive thoughts and send good energy to the injured calf. Scientifically, does it work? I don't know. But in my little pea brain, it gets me to bed, sleeping well, and thinking, 'You can get back. You've been injured before, you can do it again. Don't push yourself. Let your body heal.'
"And my body heals—with help from Bob."
Of course, merely thinking good thoughts alone does not work without real knowledge about the physical aspects of recovery. "Bob" is Robert Forster, whose Santa Monica physical therapy practice and PHASE IV performance center has been home-away-from-home for triathletes, runners, and cyclists on the westside of Los Angeles since the 80s, when he began treating Olympic track stars like Florence Griffith Joyner and Jackie Joyner-Kersee. Forster is a zealous proponent of stretching, weights, and periodization. Titan uses it all.
"I get injured a lot less and the injuries aren't as bad when I do what he says," says Titan, a patient for 15 years. "I think I helped him buy his second house."
Rehab Zen
Transcendental Meditation and visualization are the go-to mind-body connections for Nell Stephenson, a 16-time Ironman and eight-time Kona finisher from Pacific Palisades in Los Angeles. The 44-year-old mother of two—a nutrition coach who calls herself the Paleoista (she advocates a low-carb paleo diet based on the writings of author and frequent collaborator Dr. Loren Cordain)—suffered a partially torn hamstring 10 days before the 2011 L.A. Marathon, where she had planned to set a new PR.
"For two weeks, I had a non-stop pity party," she says. "I was so angry. I couldn't do the race I'd trained for. Working out and racing has been who I am for 20 years. I spiraled down into the rat hole. Everything seemed so hopeless." When she was younger, Stephenson stubbornly plowed through nagging injuries and gastrointestinal issues, but she couldn't do that this time. The hamstring was partially torn. No getting around it. She had to lay off.
It was the best thing that ever happened to her.
"It was a landmark in my life," she says. The problematic hamstring ultimately led her to regular stretching and weight training. She used water running to fire the same neuromuscular patterns of running on land without the impact, allowing her to stay in running shape and also learn a new running gait.
It taught her how to differentiate between good pain and bad pain. And best of all, it gave her a new overall perspective that made her a better athlete and coach.
"I realized that an injury is not a tragedy," Stephenson says. "In fact, it's the opposite. It's not only part of being an athlete, it's an opportunity to learn something new about yourself and your body."
Rested and healed over the spring—and gradually strengthened, stretched, and water-run back into shape by late summer—Stephenson saw her learning pay off in the fall of 2011 with new PRs in Kona and at the New York Marathon.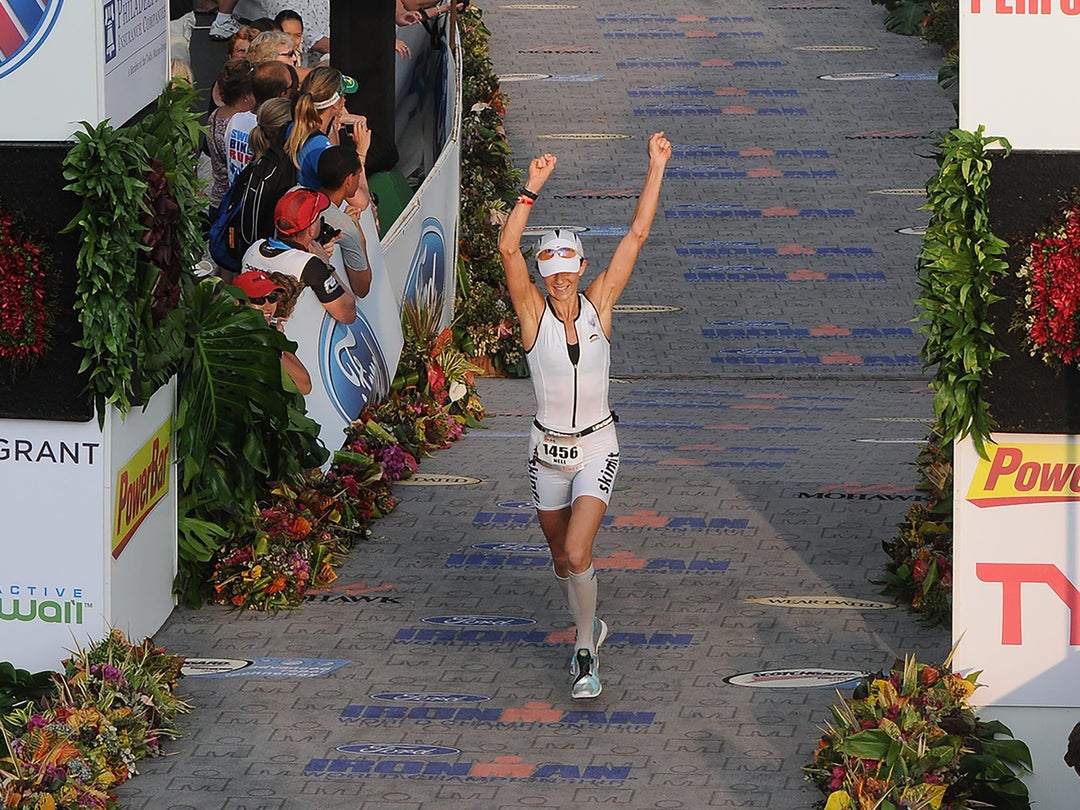 "It all happened because I got my head together," she says. "I learned how to get over my grief and get on with the business of recovery."
As part of her recovery, Stephenson also became interested in the various benefits of meditation for chronic stress relief, brain function, and cardiovascular health. It didn't resonate for her completely until October 2016, when she began daily practice of Transcendental Meditation, founded by Maharishi Mahesh Yogi in the 1960s.
Similar in concept to Boomer Titan's Buddhist chants, Stephenson recites a simple mantra—"Aum" or "Om," a Sanskrit word meaning "it is" or "to become"—that is considered sacred in that tradition and creates a vibrational calming effect. "It feels gentle—great for overall well- being," she says. She's convinced that 40 minutes of it a day, split into two 20-minute sessions, keeps her centered, better rested, and able to recover faster from injuries.
Like many, Stephenson had been toying with visualization techniques for improving race performance, mentally unfolding every detail of an upcoming workout or race. "But my 2011 injury made me realize that the same deal applied to rehab: Instead of 'woe is me, I'm so angry I'm injured,' focus on your whole recovery program, including correct nutrition and a logical healing timetable. Now when you get injured, you know the steps you need to take."
Don't Go It Alone
But sometimes an injury is so difficult to wrap your head around, you need more than just internal motivation. Sometimes it can take a village to raise a triathlete back up. This is what it took for ITU world champion Tim Don to come back from a nearly career-ending injury.
In 2017, three days before the former Ironman world record holder was to start his third Ironman World Championship—where he was considered a strong contender—Don was out doing a light training ride on the Queen Ka'ahumanu Highway. On his way out of Kona, Don says a truck took a left turn in front of him, and he struck the side of the vehicle.
"I knew something had gone wrong, as I was on the ground and people were hovering above me," Don remembers. "I didn't realize how hurt I was, probably due to adrenaline."
Later, reality set in at the hospital: Don was diagnosed with a broken C2 vertebra, also known as a "hangman's fracture." He had a few recovery options, but he chose to be fitted with a "halo"—a large, ungainly, medieval-looking head/neck brace that prevents even the slightest neck movement. Though there were less obtrusive recovery options, Don decided on the treatment that would give him the greatest probability of a full recovery. But it came at a cost.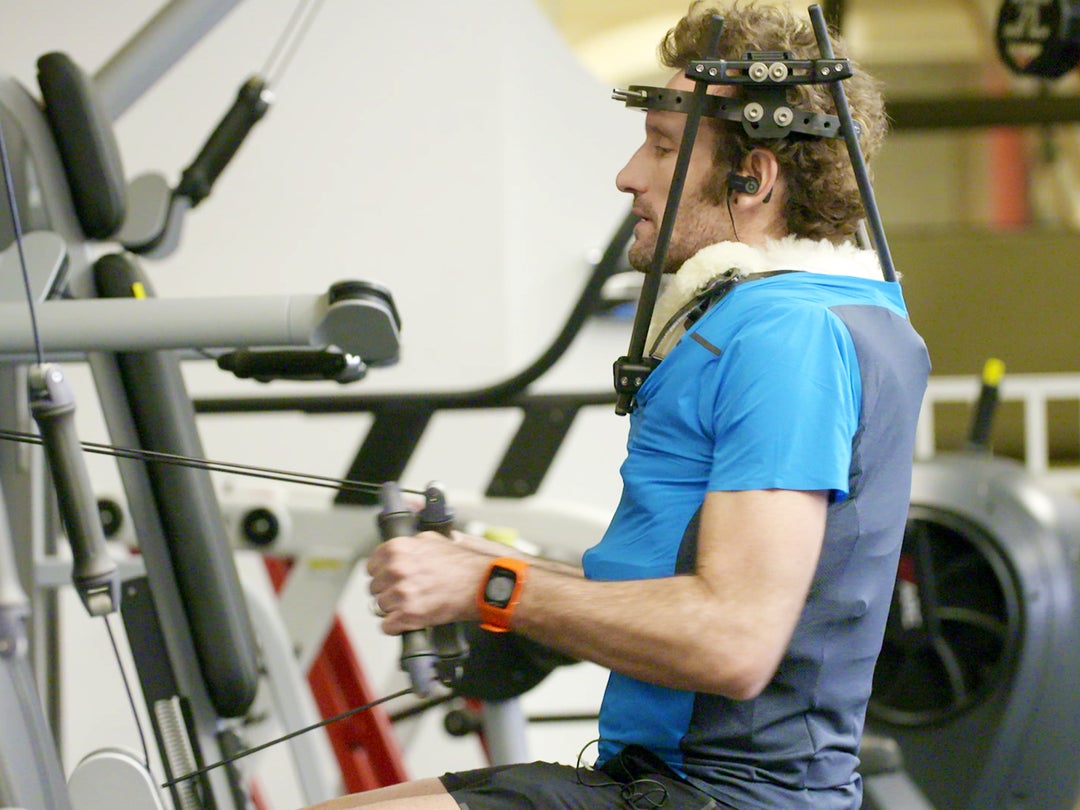 "[The halo] is archaic and intrusive, and it's flat-out intimidating to see a device installed into someone's skull," Don says of the unsightly contraption that was screwed directly into his head. "Definitely there were emotions, and let's face it, it's a reason for some people to stare and others to look away." Though it also prevented him from doing simple things in life—like playing with his two kids—his family and the triathlon community ended up being what got him through.
"One of the best reactions though was from my kids. It's almost like they didn't see the halo at all. Sure, at first they were a bit confused, but quite quickly they just resumed life at our house like nothing had changed," he says.
"In order for triathletes to be great, they are forced to live a bit of an unbalanced life," says Jeff Troesch, a mental training coach based out of San Luis Obispo, California, who has worked with triathletes and clients in the NBA, MLB, PGA, and LPGA. "When that is taken away, that opens up a lot of time and a lot of energy that sometimes gets people a little bit emotionally and psychologically sideways, and so having a support system around can be extraordinarily important." With his system in place, Don was able to set goals that seemed otherwise impossible.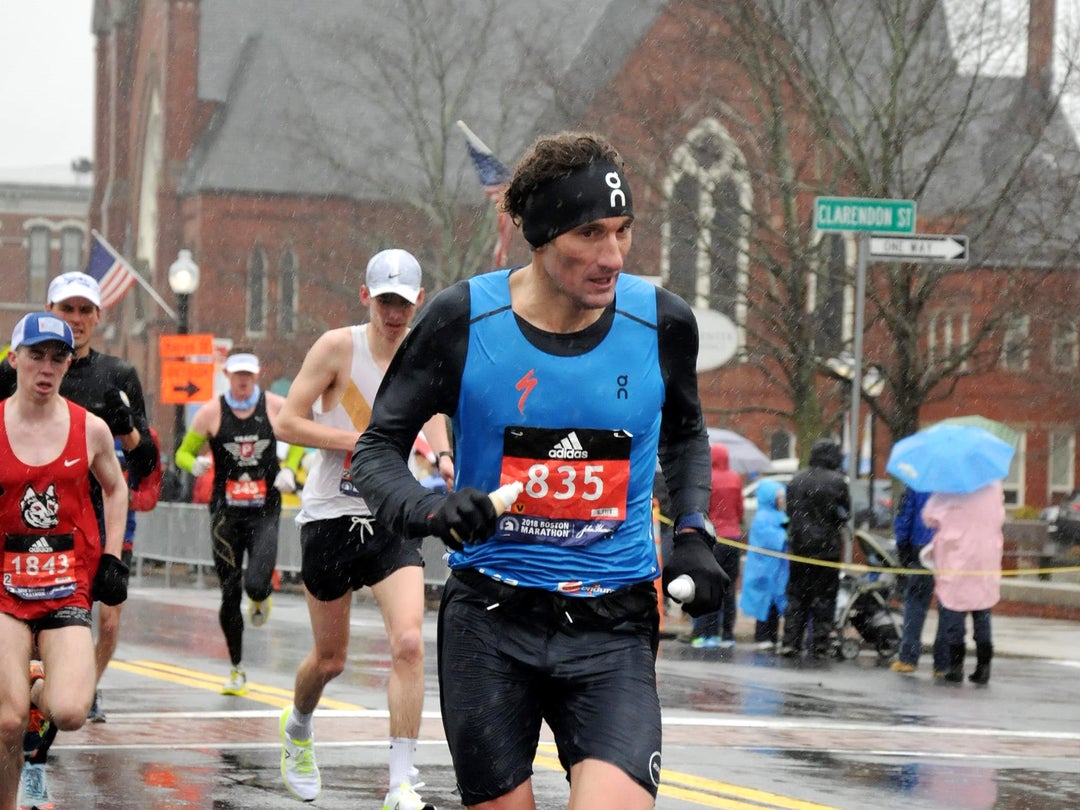 "Knowing that you are way behind in training is pretty tough to deal with," Don says of his road to recovery, which included the goal of breaking 2:50 at the Boston Marathon, only six months after the accident. "We live in the age of social media, where professionals and industry news post every day. I'm stuck in a halo while the rest of my colleagues are starting to race in the early season and fine-tune their form as we lead into worlds.
"The physical pain of the halo was somewhat counterbalanced from the mental strength it took to see and accept the long road to recovery," Don says of his journey back to Kona in 2018. "But anyone who has been through something like this knows, it's all about your support system. Your support system keeps you thinking positive, keeps your head in the game as you go through day-to-day battles trying to get your body to respond when it physically cannot. It's that support that will help get you through any struggle. The more struggles you get through, the more unstoppable you will become."
"There is a value, benefit, and necessity of having quality people in your 'bubble,'" Troesch says. "It's essential—in a sport that's so independent and where athletes can be so alone in their training and in their process—to have the support when things are difficult and pats on the back when things are going well."
Using a combination of internal strength and the backing of his family, friends, and the community, Don achieved the impossible and secured the last spot to Kona—hitting a goal that most found unreachable.
"The circle of trust without a doubt [has been the most important thing]," Don says. "The support of my wife was the foundation of it all, but my family, friends, and inner circle are the key to building a strong recovery structure. No matter how tough you are, going at it alone is foolish. Like training, recovery is most effective when it's done consistently and methodically. Start by finding your foundation."
Do the Investigative Health Hustle
While a support system plays a crucial role, taking charge of your own recovery is also key. Think "psychological self-medication." That's the term that Simon Marshall, husband of three-time XTERRA champion Lesley Paterson, uses for his wife's self- styled "investigative health hustle."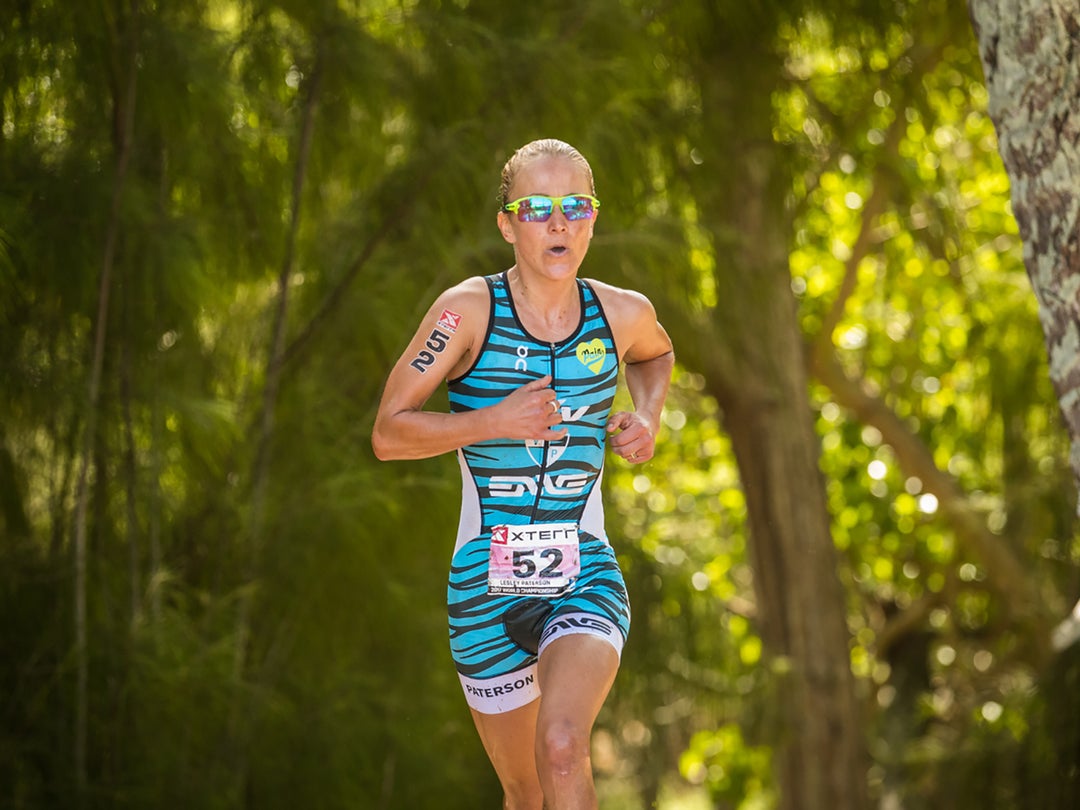 When Paterson, 37, gets injured, she gets to work. The Scotland native launches into a proactive frenzy, consulting everybody, devouring articles, "speed-dating" specialists, and turning herself into a quasi-expert on upper hamstring tendinopathy, Lyme disease, piriformis syndrome, medial tibial stress syndrome, bone-healing biology, and more.
"You have to hustle to find out what's wrong," she says. "But first you need to wallow."
It's a two-step process that is described in the duo's book, The Brave Athlete, which focuses on the psychology of sports performance. Written by Pater- son and her lead co-author and sports psychologist husband, it first recognizes that the "old brain" in your head (the one that handles basic instincts and is focused on fear- and thrill-based activities like survival, eating, sex, and victory) needs to grieve—you cry your eyes out.
"Then after some time period, say a week or two, you get proactive," Paterson says. "Get your 'new brain' into the act—the voice of reason that is focused on facts, truth, logic, values, hopes, and dreams. Educate yourself. Figure out why it happened so it doesn't happen again. Do 'mindfulness' training; ask yourself why this sport is so important to you. Go to a PT. Get PRP (platelet-rich plasma injections). Do stem cells. Give your legs a couple months off to heal as you work on your swim stroke. Launch a multi-pronged rest-recovery attack."
Just be careful, she warns. Learning to calm down after an injury and see rehab as an essential, interesting, and even fun learning experience is easier said than done. "You've got an epic 'inner brain fight' going on in your head," Paterson says. "It's emotional versus rational—old brain versus new brain. And most of the time, to your body's detriment and your injury's continuance, the emotional wins. Don't let it!"
Bottom line: Paterson's investigative health hustle directs triathlon-honed organizational skills and sheer force of will toward the solitary pursuit of an entirely new sport: rehab.
Bake-In Some Preventative Medicine
Cortney Haile of Santa Monica did her own investigative health hustle too—years before Paterson's book came out. Her rehab took a year and a half. Or, as she puts it, "18 months of hell."
A veteran triathlete of 10 years who has completed many 70.3s and two Konas (with a 10:50 PR), Haile tore her hamstring a month before the 2014 Hawaii Ironman and ran the race in severe pain. Back home, the visual-effects producer learned that her injury was the result of tight hip flexors and weak glutes, a common path to hamstring distress. She rested and rehabbed, but jumped back into competition too soon in 2015. After one 70.3, she hurt so bad the next day that she couldn't sit on her bike or on the airplane seat during her flight home. She didn't race again for a year.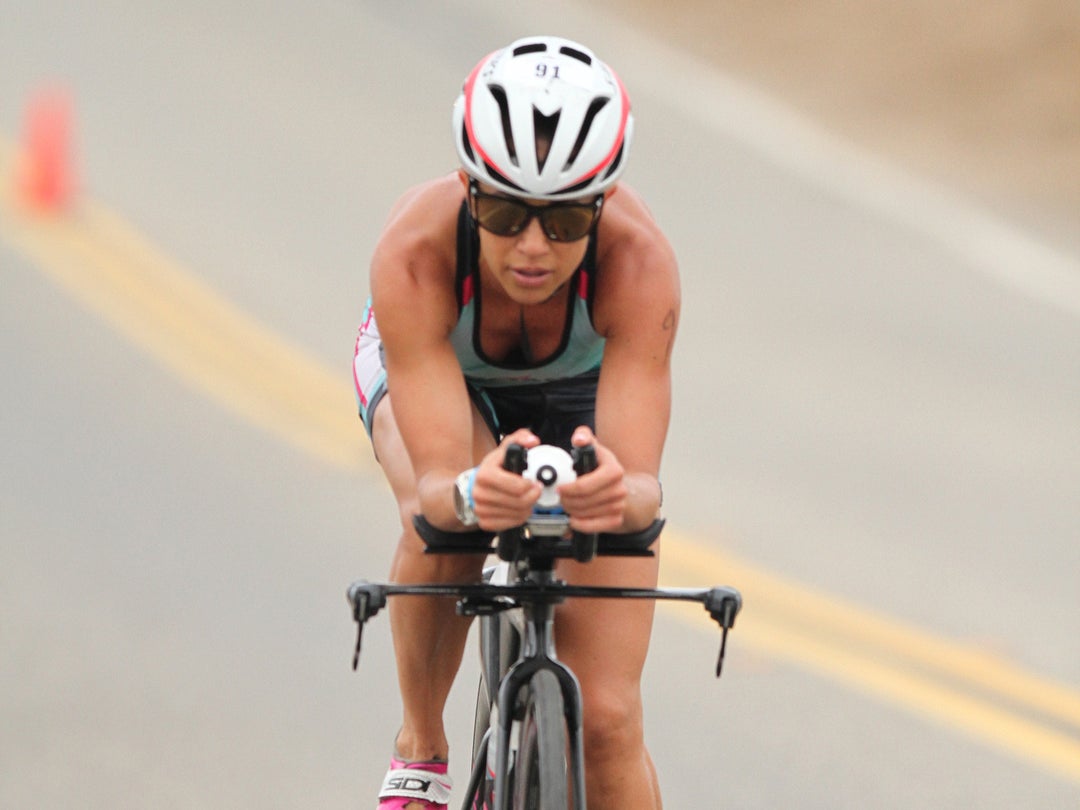 "I'm extra careful now," Haile says. "I'll take a couple days off if I'm not feeling right. Before, I'd never take off if I was sick. Now, I know that a couple of days off has no effect on your training."
Haile now goes to her local PT once a month as "preventative medicine." She's switched to a standing desk at work to prevent hip-flexor tightening caused by sitting; she stretches before and after her workouts, and an hour every night while watching Netflix; and she lifts weights twice a week.
She heavily focuses on her problematic glutes with stretch-band shuffles, glute bridges, and one-legged kettlebell and barbell deadlifts and squats. She "activates" her glutes before she runs or rides, and will even stop for a minute or two in the middle of a workout to blast her glutes if she feels they aren't firing and her form is breaking down.
Sufficiently scared by her painful, lonely 18-month exile in the non-racing wilderness, Haile became an expert in her own body. She doesn't do TM or Buddhist chanting, but she has developed a system that she hopes will eliminate injuries altogether from this point.
"Basically, I now do 10 hours of rehab a week!" she says. "And if I need to, I'll take the time off [from training]—which I now see as a positive, not a negative, like I would have before. I'll fight the urge to push it at all costs. I know my body better now—and I know that resting and re-setting myself, for a minute or a month, is as much a part of my triathlon training as swim, bike, and run."
And by the way, the new fully fixed Haile is faster than ever. She says her activated butt is pushing her to new PRs at age 41.
Write Your Own Triumphant Script
Buddhist chant-meister Boomer Titan leverages Nam Myōhō Renge Kyō and visualization and all manner of self-talk to create something spectacular in terms of dealing with injuries and triathlon in general: his own internal blockbuster movie.
"Whether I'm injured or not, whether it's an Ironman, Olympic, or Sprint distance, or whether it's the night before the race or a week or a month or a year away, I'll sit there with the ice pack on and put on some Grateful Dead—good-time music from my childhood. And I'll imagine myself running pain-free, getting out of the water, pedaling strongly and effortlessly on the bike, starting the run, and floating through the air, feeling no pain. I fill up my brain with all these positive images [from] 30-plus years in triathlon and tell myself, 'You can get back. You've been injured before, you can do it again. Don't push yourself. Let your body heal.' And my body heals."
Then, when Titan is healed and ready to race, he turns the lights off at night and takes it further. He adds way more details.
"I've read stories in all the tri books and magazines about picturing yourself in that happy place in a race as a way to get through the tough spots. So I figure that when you put yourself in that happy place for weeks and months all the way to the night before, it ought to play out according to a script.
"I love certain races, like Malibu, which I've done 30 times, and Alcatraz, where my older brother Steve from New York flies out to race with me every year. I know every inch of those courses.
"So I force myself to do the race in my head, over and over. When I fall asleep, my brain is replaying that movie over and over. In that movie, I wake up at 4:30 a.m., drive to Malibu, park my car, say hi to people I know, and set up my transition area. The air is cool. The sun is shining. The sea is calm.
"The gun sounds. I come out of the swim feeling great. My transition onto the bike is smooth. I suck down huge breaths on the run, but I'm not exhausted. I'm strong and fast as I enter the last 100 yards—the 100 yards I am addicted to. It's so real I can feel it.
"I can hear Eric Gilson, the race director from Alcatraz, screaming out, 'Boomer Titan, you are an Ironman!' And in that last 100 yards, people are wildly clapping. For a split-second, I think back to how messed up my hamstring was four months ago, and how this is even sweeter because I cured it. I cross the line and leap in the air. And they put the medal on me like an Olympic medalist. And the crowd is standing and screaming for the big fat guy at the end of the race."