How Watt-based Training Can Improve Your Cycling
Heading out the door? Read this article on the new Outside+ app available now on iOS devices for members! Download the app.
You've probably heard many fellow triathletes talk about wattage as it relates to their bike training. Christopher Kautz explains what exactly wattage-based training is and how you can use it to become a stronger cyclist.
Written by: Christopher Kautz
Just a few short years ago, wattage-based training was the exclusive domain of professional cyclists and triathletes. The cost and range of product offerings in the power-meter market made entry into this arena difficult for most amateur athletes. However, that is no longer the case, and wattage-based training is becoming increasingly popular among age-group athletes. So this leads us to the question of what is wattage-based training and how does use it?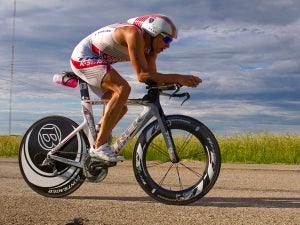 You might have heard people talk about power-based training, particularly in professional cycling, as TV commentators often mention how many watts the athletes can sustain. But just what does this mean? Strictly speaking, a watt is a measure of power per unit time (1 joule per second, to be exact). This can contribute to your cycling training because the objective nature of watt-based training gives you much more precision than either heart rate or perceived exertion since it is a measurement of the workload you've done independent from speed, winds, hills and all the other variables that can change how difficult you perceived a ride to be.
This can be extremely beneficial in a number of ways. From a coaching perspective watt-based training is useful because it provides an actual report of exactly what an athlete's rides are in terms of intensity, duration and total workload. From a training point of view it first adds a level of precision to workouts not otherwise possible. It is also an objective measure of an athlete's progress since the ability to sustain higher or lower watts gives a good indication of fitness. Finally, it can help an athlete develop a better sense of actual workload relative to perceived exertion, which can help an athlete learn to better modulate power output–something essential for effective triathlon cycling. From a racing perspective watt-based training can help an athlete know if she rode a smart race independent of the results, which can be skewed by the performance of other athletes at an event.
With all of the benefits that watt-based cycling has, it is no surprise that more athletes are looking to it as a way to improve their performance. This increased interest has also been facilitated by an increase in the availability of power-based training devices necessary for watt-based training. Since the workload on a bike is not only related to speed but also a number of other variables such as wind force, the aerodynamic profile and weight of an athlete, hills and rolling resistance, it is not as simple as measuring how fast an athlete goes to determine workload. The primary means for calculating wattage on a bike involves measuring torque and angular velocity, or said differently, how hard and fast you push on the pedals.
How Power Meters Work
There are two primary ways to measure this directly, either at the cranks or the rear wheel. In addition, there is a way to measure this indirectly. The power meter that has been around the longest is SRM. It takes its measurement at the crankset of the bicycle, which many people consider the most accurate way to measure wattage as it minimizes potential changes in measured output due to drivetrain losses. The newest power meter to come on the market is also crank based made by a company called Quarq Technology. From an end user's perspective, these units function similarly, with a primary difference: SRM has its own computer and can be also used with a third-party ANT+ compatible computer such as a number of Garmin devices; Quarq does not have a proprietary computer available.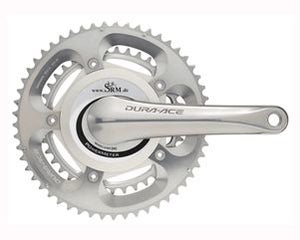 Another direct-force power meter is Saris' PowerTap. This unit is located in the hub of a bicycle's rear wheel. Like the Quarq and SRM, it measures the force applied to it to calculate wattage; it simply does so farther down the drivetrain. So long as an athlete keeps his drivetrain in similar condition over time the measurements will be consistent. Like the SRM, it is available with a proprietary computer and also compatible with ANT+ devices.
An alternative method for calculating power is to indirectly measure watts by measuring all of the opposing forces acting on a bicycle and then calculating the watts necessary to move an athlete at the recorded speed. The only player in this segment of the market is iBike, whose devices capture data such as wind speed, percent grade of the road, and bicycle speed and combine them with inputted variables including athlete weight and aerodynamic profile. One unique feature of this device is that, when paired with any of the ANT+ compatible direct-force power meters, an athlete can measure a real-time drag coefficient, which can be useful for fine-tuning an athlete's position on the bike.
The recent move to ANT+ compatibility by the power-meter manufacturers has been beneficial to users as it has allowed power meters to become wireless and also allowed athletes more flexibility in their computer choices. Opening the door to the use of third-party devices with diverse functionality–such as mapping with a Garmin 705 or multisport use with the Garmin 310XT–has allowed athletes to fine-tune the data capture to exactly what is of interest to them and their training. In the end a number of variables will determine which power meter and computer combination is right for you, but regardless of which one you choose, it is certain that you will take a new approach to your training with all the added information you will have.
Christopher Kautz is president of the Master Bike Fitters Association, owner and founder of PK Cycling and one of the originators of the fit-studio concept. His clients include numerous Ironman World Champions, Tour de France veterans, and Olympians, as well as thousands of age group athletes. You can find him at Pkcycling.com.