Here's What Science Says About Temperature Manipulation Chambers
Post-workout cryotherapy and sauna sessions are having a moment.
Heading out the door? Read this article on the new Outside+ app available now on iOS devices for members! Download the app.
You've probably seen Facebook photos of your friends' shocked faces as they endure frigid full-body cryotherapy chambers post-workout. Or maybe you've seen training partners sweating it out in saunas as they prep for the lava fields of Kona. The promises of these temperature manipulation chambers are steep: Ease pain! Speed recovery! Boost your athletic abilities!
Let's start with cryotherapy—enough cold to cool your skin by 35-40 degrees F in just 2-3 minutes.
The hypothesis for full-body cryotherapy is this: If you get cold enough, blood will shunt away from your arms and legs and into your core. The thinking is that "a temporary reduction in blood ow could decrease the migration of pro-inflammatory leukocytes to the sites of structural muscle damage, in turn decreasing swelling and secondary phase inflammation," says Laura Wilson, a Ph.D. candidate at Middlesex University in the U.K. Wilson authored a study published in January of 2018 in the European Journal of Applied Physiology that looked at whether cryotherapy was more or less effective than an ice bath or a placebo.
But, does cryotherapy—or an ice bath—actually work?
"There is a lot of anecdotal evidence, as well as some scientific articles, documenting positive perceptual responses, in terms of muscle soreness or perceptions of recovery," Wilson says. In her study, participants reported feeling less sore 48 hours after a marathon if they used cryotherapy versus a placebo, though there was no significant difference between cryotherapy and an ice bath.
However, biological measures—things less influenced by the placebo effect than asking runners how they felt—were less clear. Blood draws showed that the only inflammation-related biomarker, out of over 100, that changed for the better with cryotherapy was C-reactive protein—a marker produced by the liver. Furthermore, Wilson and her colleagues found that when it came to actual muscle recovery, neither an ice bath nor cryotherapy session provided any significant benefit.
So why are so many athletes trying this? "The cold has an analgesic effect and can therefore reduce perceptions of soreness," Wilson explains. Keep this in mind though: "There is more evidence emerging that a lot of the reported beneficial results may be due to a placebo effect, as few studies have employed a placebo-controlled study design," she warns.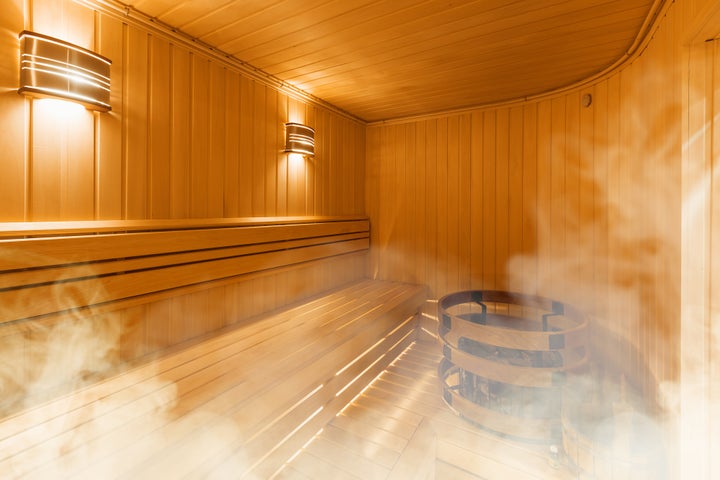 Now let's talk about the other extreme: Saunas.
A growing body of research shows athletes may be able to help their bodies adapt to heat by spending time in a sauna. Julian Periard, an associate professor at the University of Canberra Research Institute for Sport and Exercise in Australia, says it's important to note that a sauna can help you with heat acclimation, but not heat acclimatization. "Heat acclimatization means to train in outdoor or natural settings, whereas heat acclimation means training or being heated passively in an artificial environment, such as a heat chamber or sauna. Ideally Periard says athletes should acclimatize in similar outdoor race-day conditions. But, if you can't get to a hot spot to train, a sauna is a fine option.
To do it right, Periard says, you should work out first, to elevate your core body temp. Then, get your sauna nice and hot and simply sit inside. He recommends aiming for 174 degrees F, slowly working your way up to 30 minutes.
You'll need at least seven days of sessions spent in the sauna to get any real benefit—though 14 days would be better. And you lose any gains relatively quickly. "The bene ts associated with heat training are lost at a rate of about 2.5 percent per day without heat exposure," Periard says.
As for whether time spent in a heat chamber can make you faster even on cold days, that's "the million-dollar question at this time," Periard says.
Some studies show that it does help, while others show that it does not. The one thing they all show, though, is that training in the heat is not detrimental to performance in cool conditions. In other words, if you have a sauna and want to use it, go for it. Just make sure you stay hydrated. Periard recommends weighing yourself before and after a session, so you can replace exactly the amount of sweat you lost.