Head to This Swim Bootcamp to Unlock Next-Level Swim Speed
Here's what happened when triathlete Jon Dorn attended Pool School
My masters swim group is a pretty chatty bunch. When we get together for our long Sunday workouts, we gossip about work, racing, nutrition, the latest triathlon gear—anything to forestall Coach Susan's infamous butterfly sets. But you could've heard a pin drop last week when I told my lane partners that I owe my recent performance breakthrough to The Karate Kid. 
That's right, Ralph Macchio. The erstwhile teenage weakling turned black belt has helped me lower my 100-yard time by a remarkable 6 percent—and in just a few weeks. 
To understand how Macchio replaced Phelps as my personal Swim God, let's rewind to the start of an unlikely triathlon journey. 
Nine years ago, I signed up for Ironman Boulder after incessant encouragement (read: nagging) from a tri-obsessed friend who insisted that my background in marathons and multiday adventure racing would make it "a walk in the park." To be fair, I can ride and run until the cows come home, but I'd never done any serious swimming or pool work, much less traversed miles of open water. My only swim "lesson" had been a second-grade primer that the local YMCA required before kids could play in the deep end of the community pool. 
No matter: the race was four months away, so I had plenty of time to develop basic freestyle form. How hard could it be?
Somehow I picked up enough technique by joining my friend's swim group to stumble out of the Boulder Reservoir 30 minutes under the cutoff. And when I crossed the finish line 12 hours later, I was hooked. Addicted. Thoroughly dopamine-addled. Fourteen full 140.6s and a dozen 70.3s later, I've logged more than 50,000 swim/bike/run miles and enjoyed every bit of the scenery, suffering, and self-discovery.
The problem is that my swim time plateaued a few years ago. While I've never been focused on time-based goals, the lack of progress was gnawing at me. So when offered the opportunity to attend the Pool School and get my first professional swim coaching session, I bought a ticket to San Diego and started my homework: six weeks of muscle-memory prep work.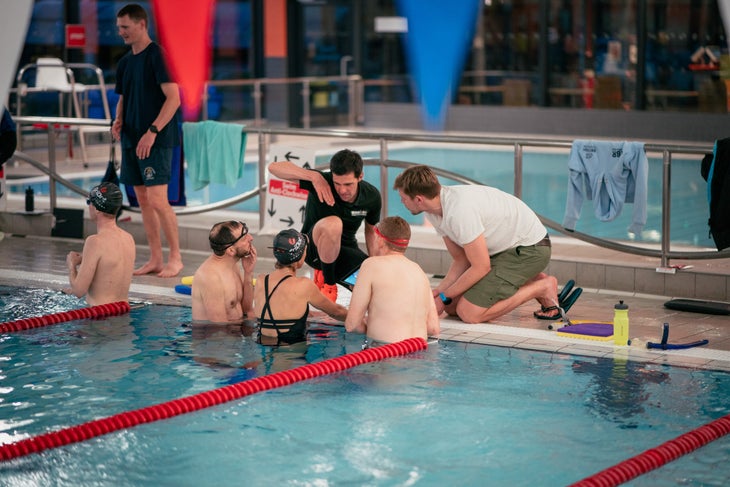 TriDot is the brainchild of multi-Ironman finisher, coach, and systems engineer Jeff Booher, who's pursued his passion for data-informed training plans for the better part of 20 years. Today, the TriDot training platform and companion RaceX app are part of an ecosystem that harnesses artificial intelligence and training data from tens of thousands of athletes to create personalized training programs. 
Triathletes sign up for TriDot because Booher's system helps users set new PRs. By optimizing workouts based on each individual's experience, age, climate, and genetic profile, TriDot is making workouts more effective, which likely leads to fewer injuries. The platform's results have also attracted a growing cohort of top coaches, including the legend himself, Mark Allen, as well as Michellie Jones and, most recently, the dynamic duo of Tim O'Donnell and Mirinda Carfrae. 
As the TriDot community grows, Booher and his team are expanding their offerings through the Pool School to open the door to triathlon and swimming and help existing triathletes blast through their swim plateau. TriDot offers workshops in more than a dozen  convenient locations across the country and select locations in Europe. 
A key part of the Pool School model is a pre-clinic curriculum (prep work) that takes participants back to basics. This is where Ralph Macchio comes in. After registering for the San Diego session, I opened the course materials to find a series of video clips taken from the first Karate Kid movie—specifically, the scenes where Mr. Miyagi teaches Macchio the proper brush-stroking technique for staining his fence. After a momentary chuckle, I realized the genius of these clips, which perfectly mimic the wrist and elbow positioning that are key to a powerful freestyle stroke. This six weeks of prep work establishes muscle memory that is essential to building a flaw-resistant stroke. Through the TPS program, I learned and mastered "functional freestyle," a faster, more efficient stroke.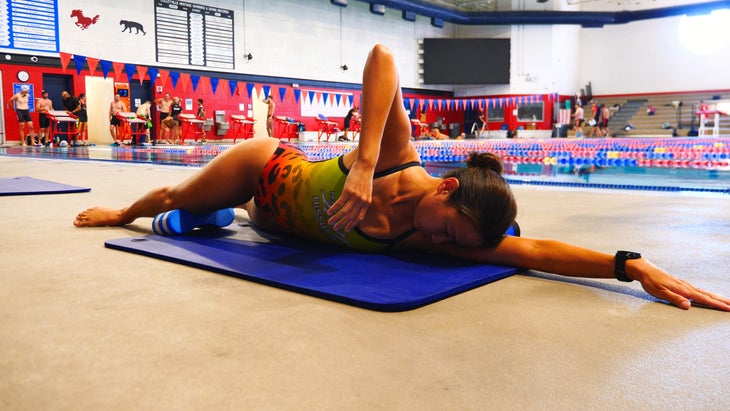 Pool School calls these flowing hand and arm lessons the Miyagi Method, and it's part of a curriculum that includes a required gear list (about $100 total) and several memorable acronyms and mantras. Both the gear and the mantras are proving quite valuable. I'd never bothered with swim toys—after all, you can't use them in races—but now I see how shortsighted that was. My new front-mounted snorkel and long-blade fins have, each in their own way, rectified poor form by enabling me to focus on one technique at a time. And the program's catchy FASST acronym—you'll learn what it means when you sign up—is like a Jedi mind trick for snapping into perfect alignment. I quickly learned through TPS that muscle memory and the focus on FASST with every lap is essential to swimming faster with less effort.
The biggest benefit of Pool School, though, is the in-person experience. Over the course of two days and two four-hour sessions, our group of about 30 swimmers drilled and drilled and drilled—and then drilled some more—both on dry land and in the pool. We practiced one simple motion at a time until we'd broken our strokes down to fundamentals that I'd never formally learned. Then we built our strokes back up again, linking the motions until we could transition from the ideal shoulder position to the ideal elbow angle to the ideal hand entry, catch, and finish. The beauty of this process is that we built a "flaw-resistant" stroke, one that prevents flaws from developing over time.
Coming into the weekend with a 100-yard PR of 1:20, I was one of the faster swimmers in the group, which meant our lane was getting pushed in different ways than the newer triathletes at the other end of the pool. You quickly learn that Pool School doesn't take a cookie-cutter approach to individual instruction. Each lane had at least two instructors who were constantly filming, correcting, and demonstrating proper technique. TPS instructors made the process fun and were very encouraging and creative in helping swimmers of all levels. 
Our lane received commentary after every single 25-yard lap, and not just any old commentary. The five of us were getting tips from none other than Olympic silver medalist and Ironman world champion Michellie Jones and decorated Ironman and Ultraman athlete Kurt Madden. Jones and Madden customized their tough love to our respective strengths and weaknesses. Michellie's reminder to "ride the rails, Jon, ride the rails!" echoes in my head weeks later, along with Kurt's admonitions to keep my head down and still, which did more to unlock new speed than any other advice. 
At the end of Sunday's session, we gathered for a final assessment. It was the moment everyone was waiting for, and you could almost see the waves of nervous energy humming across the pool. Despite deep weariness from so much drilling, almost every swimmer celebrated a new 100-yard PR. Including yours truly. I fought through the fatigue to swim a 1:17, which TriDot says is an average improvement for the swimmers who come into Pool School with PRs of 1:20 or less. Reportedly, athletes continue to improve for months after the experience, leaving TPS with a structured plan of functional freestyle drills and a personalized progress report from their instructors, detailing how to continue making improvements.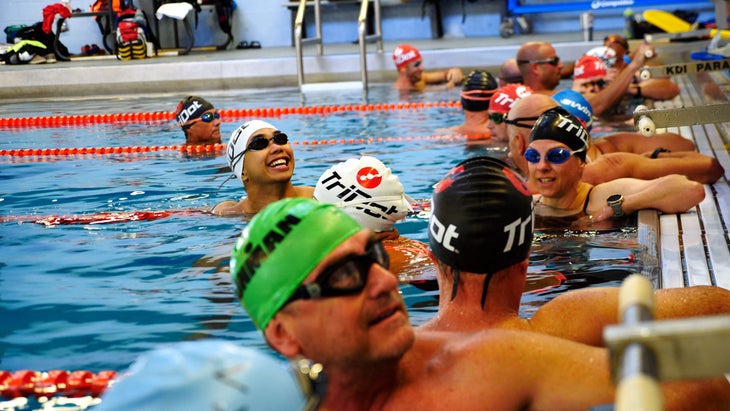 The biggest improvement in the group? A whopping 34 seconds dropped by the kind of triathlete I was nine years ago—namely, a forty-something age-grouper just starting his triathlon journey. 
In retrospect, Pool School was a "better late than never" learning experience that has given me a clear path to exit the plateau I've been stuck on. And my hunch is that the drills will be a gift that keeps on giving. Just yesterday, in fact, I swam a 1:15 after a masters workout where my lane mates were asking me to slow down a bit.
---
Pool School is a 6-week program designed to make you swim faster, more efficiently, and more confidently. The instructional method builds your stroke from the ground up and works effectively for all levels of swimmers – from beginner to advanced. Past participants have improved an average of 13% per 100 yards.