Go Inside One Triathlete's Venture Into Crossfit Endurance
Guy Petruzzelli writes about his journey into a brand new approach to multisport fitness.
Heading out the door? Read this article on the new Outside+ app available now on iOS devices for members! Download the app.
After being hit by a car in June of 2010, Guy Petruzzelli, a professional triathlete in the Chicago area, made the jump to CrossFit Endurance. Petruzzelli was not only shocked by the rapid recovery he sustained but also improved performance. Petruzzelli is featured in a story on CrossFit Endurance in the February issue of Triathlete Magazine, available on newsstands now. Below Petruzzelli writes about his journey into a brand new approach to multisport fitness.
My adventure with Crossfit Endurance began with something that seemed more like a dare than anything. In mid-August I was talking to John Conquest, co-owner of Crossfit DuPage, and we started to talk about CFE. John was, in a way only he can, making it clear that he thought that it would be a good idea to check out what Brian and his crew were doing. So, I went online, and did some research. Honestly, just by dumb luck, there was a CFE certification class in Chicago that weekend. But, I was still skeptical. Although I had made the commitment to Crossfit, understanding the value of strength training, the idea behind CFE was a complete 180 to what I had been taught as an endurance athlete for over 15 years. So, I emailed Brian MacKenzie and asked him to give me more info before I plunked down some decent change on the certification. Brian, sensing my skepticism, offered to comp me the cert class, basically eliminating any excuse I might have for not going. He knew it was in my backyard, so here was his first challenge to me, stated simply, "Can you be open minded enough to consider something different, and are you willing to give the process a legitimate shot?" I emailed him that I'd be there, and on August 13, 2010 my eyes were opened.
It's rare, but in life you sometimes meet someone right off the bat that you know you will be a friend for life. That's what I experienced when I first met Brian. We both smiled and I promised him I was there to learn and to be open. In the next 48 hours I was completely immersed in the class. During breaks, I would talk with Brian about my thoughts on the diversion from the Lydiard method, my long-time preferred method of training. But that was the beauty of it, he had answers and, more importantly, the science and data to support it. Like most multisport athletes I love data and watch numbers like heart rate, watts, etc., but I never really thought much about the science behind them. Sure we all know it's a good thing if our LT goes up, but physiologically, what does that mean? How does that translate into real world use? That's where CFE came in. It explains what happens to your body when using CFE versus using more traditional methods. It was there in black and white. That made it impossible to ignore. I left that weekend feeling more excited about training than ever.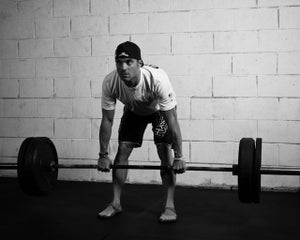 I started to incorporate the CFE method into my training. I was still limited because of my shoulder, but by the end of the week I was feeling something different. I felt strong; and not just physically, but mentally as well. A couple weeks later, I hit the track for my first speed work session in over two months. It was made up of 5×1 mile repeats. The results were stunning. I was faster than I was before the accident. Most importantly, I wasn't feeling exhausted after the workout. It was tough, but the next day I felt good. I couldn't just chalk it up to luck. I promptly emailed Brian and needless to say, he wasn't surprised at all. He provided, as he always does, words of encouragement, with some good-natured ribbing, and sent me off to keep it up. I continued to intersperse CFE workouts in my training plan and by the end of September I had my surgeon stunned. I had 85% bone growth and was declared fit enough to race. When he asked what I had been doing, I wrote down two web sites, Crossfitendurance.com and Crossfitdupage.com, and told him I would see him in a month. I raced twice in October and had fantastic results.
The next time we saw each other I was given a clean bill of health. I had 100% bone growth and full rotation, nine weeks ahead of schedule. I had been training with little discomfort and gaining more strength than I had pre-accident. My surgeon was so shocked he asked me to write an article about what I did to recover and asked if I would speak to other patients recovering from similar surgeries. He also asked for Brian to write a piece explaining what CFE is about and how it can help someone not only recover, but improve fitness simultaneously. You finish a tough day of CFE workouts and suddenly you start to feel more confident and begin to recognize that you are capable of more than you ever thought. That's probably the biggest gift of CFE – you will start doing things you never thought possible. Your toughest day of racing isn't as bad as your hardest CFE workout. And just like that, you are mentally stronger because of it.
Speaking with others is my way of giving back to people who have given, and continue to give so much to me. I look at the last four months and realize that I've changed physically, mentally and emotionally because of my work with CFE. People like Brian, Nate, John and Kelly Starrett give themselves because they want to see people succeed. They know there is a better way to train and to live. They know that people won't change overnight. Which is okay with them. Why? Because they know their athletes will come out on top. I recently made a coaching change to Max Wunderle because I recognized that to be able get the full benefits of CFE, I had to work with a seasoned CFE coach and someone who speaks with Brian and Kelly on a regular basis. This way we are all speaking the same language moving forward.
I know that my opinion will garner criticism from the multisport world, and that's okay. But I challenge those who are skeptical, or believe they "know better" to get over themselves and make an effort to learn about CFE and CF. Walk into a CF gym and make sure your ego stays in the car. Maybe it's not for you, but do your homework before you put forth an opinion. And in this case, doing your homework means actually trying it. Not simply reading off the Internet and regurgitating someone else's opinion. Who knows, you just might discover you like it.
For more, pick up the February issue of Triathlete magazine, available on newsstands now.