Four Steps To Develop Physical And Mental Acuity Through Cycling
Heading out the door? Read this article on the new Outside+ app available now on iOS devices for members! Download the app.
Written by: Mark Deterline
Cycling equipment, setup, training and competition all represent a unique aspect of endurance sports in general. For example, to ride a mountain bike, especially full-suspension rigs, athletes require a basic understanding of how to adjust each moving part in order to dial in desired performance characteristics. Road bikes are relatively straightforward as well as low-maintenance, but knowing how to handle oneself in traffic and especially on group rides is crucial, with good riding companions to serve as mentors.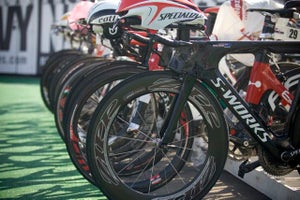 Time trial bikes add complexity to road biking because in order to benefit from what is often very expensive aero gear, it's important to spend as much time in a biomechanically and aerodynamically efficient position on a race-day bike as possible. And being aero on a TT bike means an athlete's hands are holding the ends of aero extension bars, not brake levers, and the rider can never take his eyes off the road, other riders or cars for even a second.
Equipment and technical considerations aside, bike time represents a significant amount of your workout volume, and time spent in the aero position is crucial to your comfort and performance. More and more, experts argue that comfort directly affects performance, so it should be a primary consideration when it comes to training and race preparation. Comfort will likely play a role in how much you enjoy time on the bike, thereby staying fresh, motivated and sticking to your plan.
Even if your bike split or overall time entering T2 is not ostensibly the key factor in your final placing, the time you spend on the bike very well could be. In other words, if you are uncomfortable, inefficient or simply do not have the kind of cycling fitness you enjoy in the water or on the run, you could be undermining your final charge to the finish line. Morgan Nicol of Oval Concepts, in a recent discussion regarding which aero extension bends were best for which kind of rider or event, explained that one type of extension was "usually faster in the [wind] tunnel and for maximum one- to two-hour efforts like road TTs" but that it created "a natural tension in your arms that improves power but constantly saps energy," which could undermine performance if you still had a run segment to the finish. This is not intended to create fear, uncertainty or doubt, but rather to inform; it is another reminder of how symbiotic the three disciplines are, as well as individually specialized.
Cycling is also a deceptively low-impact sport, both physically and mentally. Unless you're in the midst of periodization mandated by yourself or a coach, cycling is generally and only potentially hard on your tenders and your neck/shoulder area, and even then only if you haven't yet dialed in your position or equipment needs. Pedaling is often the physical therapy prescribed by sports medicine experts to relieve pain or promote healing. Additionally, much of what cycling coaches prescribe as part of a training program is on-the-bike recovery. Cycling is so low impact and the exertion level can be controlled to such a degree by the individual athlete that a two-hour ride can be used to loosen up muscles and joints, enabling active recovery, as opposed to breaking down the body with higher levels of exertion that force the body to become stronger by adapting to correspondingly higher levels of physical stress.
Then there are the less tangible but arguably just as important aspects of bike training.
Kristin Keim, who has a Master's in sport psychology and is currently working on her doctorate, explains, "One of the keys to improving performance, whether it be in the swim, bike or run, is the ability to sustain a high level of motivation throughout the year during training, racing and even in the off-season. An important piece of this puzzle is an athlete's own sense of self-efficacy, achieved by maintaining confidence in her abilities as a competitor. This can be done in many ways, and one of the best is training and surrounding oneself with other teammates or athletes who help foster an environment that is fun, challenging and rewarding. By training with others, an athlete can actually simulate race situations that foster competitive instincts, as well as rehearse race scenarios both physically and mentally, which in the long run can improve confidence and lead to enhanced overall performance."
Here are some building blocks to physical and mental success in cycling, and to athletic acuity in general:
• Tools of the Trade. Set aside some time and allocate some budget to get sized and fitted before you purchase a bike. Sounds obvious, but you'd be surprised how many newbies start with a purchase only to find that a fitter determines that a different bike size or geometry would work better for them. Do as much as you can to dial in your basic position, including thoughtful choice of saddle, base bar and aero extensions. Then find a TT bike that meets all the fit criteria and that makes you feel fast and capable.
• Friends and nemeses. Ride with one or more training companions capable of pushing you, but whose company and discourse you enjoy. If you are one of the stronger cyclists in a group, spend as much time at the front as you can and try to incite other riders to challenge and take turns attacking you. Friendly, competitive rivalries can be healthy, but avoid getting caught up in grudge matches with individuals you don't like or respect, or who make you want to prove that you're superior. Healthy rivalries or established best-times on specific ride segments can provide good metrics and motivate, getting everyone excited and focused for the next group ride smackdown.
• Test course. Choose rides with natural fast-pace or interval sections that will encourage you and others to go hard, enabling you to compare your time splits and power output from one ride to another, as well as over time. It will also afford you specific parameters in which to assess your fitness and progress against others who are hopefully doing the same. Establishing a personal record along particular stretches of road is a convenient and effective way to assess performance.
• Models and mentors. Seek advice and help from mentors. There will always be local know-it-alls who may offer useful initial thoughts on equipment, training techniques and group riding protocols, but you will quickly recognize their biases and limitations. After getting that kind of preliminary information from those who "just want to help," continue to broaden and deepen your understanding of tech gear and practices by seeking second and third opinions. Become familiar with what several different experts are saying, as there are always differing perspectives and approaches. Whenever possible, attend lectures, listen to podcasts, watch video interviews and read what the world's best have done to get where they are.