Eight Reasons Your Coach Hates You
Although they love their athletes, these coaches—who shall remain nameless—told me some of the things you do that they wish you would stop doing
Heading out the door? Read this article on the new Outside+ app available now on iOS devices for members! Download the app.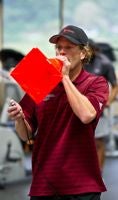 As a triathlon and running coach, I've had my fair share of frustrating athlete experiences. One that comes to mind was a girl who, against my and her doctor's wishes, insisted upon running her first marathon after being too injured to get through more than an 11-mile training run (she somehow hobbled through). Or there's the guy who refused to do hill repeats I assigned until he built up his leg strength in the gym. Seriously.
I knew other USAT coaches would have some pet peeves to share, and I was right. Although they love their athletes, these coaches—who shall remain nameless—told me some of the things you do that they wish you would stop doing.
RELATED: Do You Have A Triathlon Coach?
1. You lie about workout results.
You may have missed a workout or wished you had run faster, but inflating your workout numbers drives your coach nutty—and hurts your future training. One coach discovered her client's true habits via social networking. "When I see unexpected performance drops and bonks when they should be doing great, it's time to start probing them for answers. I have found Facebook can tell me a lot about their habits. They don't realize that I see all those drunken photos and the pictures of the giant food plates!"
2. You're too needy.
You can expect your coach to care about you. But some athletes need a little too much handholding. "It's amazing to see very successful, intelligent people who are leaders in their field becoming clueless and needy," says one coach. Adds another, "Clients talk about doing the workouts, how and when they are going to do the workouts, how they are going to communicate with me in regards to doing the workouts, talk, talk, talk, and then, the workouts don't even get done. Then they call or email hourly wondering why they aren't improving!"
RELATED: Should You Hire A Running Coach?
3. You think you're a better coach.
Questioning your coach's decisions can be useful for learning the methodology behind their training approach. But if you're interrogating every single workout and switching the plan to be the way you want it to be, you may need to look in the mirror and ask: Who's the expert here? "There are always those who think they know more so they adapt what they want to do to our training method and ultimately end up over trained, under performing, injured … and then they wonder why they aren't qualifying for Kona and blame us!"
4. You suck at communicating.
Coaches base future workouts on the feedback you give them. So if you're not telling them how everything is going, you're doing yourself a disservice. "Clients expect you to help them improve performance but there are the few that give little to no feedback and wonder why things aren't working well. This could be as simple as not responding to emails, not uploading HR/pace/power data, responding in an untimley manner and not fully answering important questions that you ask."
RELATED: Finding The Right Coach
5. You listen to your friends' advice instead.
That's great that your friends are fast and are such experts in the sport of triathlon. But if BFF Johnny Triathlete runs a 50K this weekend, should you run a 50K too? "I hate when athletes ask their friends for advice (often absurdly wrong) and then take it without first discussing it with me. This is often displayed when you see their Facebook post about the awesome 14-mile trail run they did last weekend with their friends when they were supposed to be resting up for an important marker set the following week."
6. You do extra workouts.
There are rarely "extra credit workouts" in triathlon training. Your plan is (hopefully) based on smart periodization, peaking and recovering at the right time. By adding in bonus work, it shows that you're not listening to your coach's advice. To a more specific degree, you favor your favorite sport over your weaker one. "I coach a triathlete who is a 2:58 stand-alone marathon runner. She rarely does the bike work I want her to in favor of running, and she struggles on the bike. In her spring Ironman she asked me 'why?'— I showed her the training log. You can't run well off the bike if your legs are toast."
RELATED: How Would You Coach Lance Armstrong For Kona?
7. You're too Type A.
"I had one client that would email me every week by Friday that his next week was not planned out for him yet. I always look at the previous weeks workout comments before working the next weeks plan and never go further than one week in advance to customize to the clients needs. After explaining this to him a couple of times, he still sent me the emails." You think you're laid-back and low maintenance, but you may be just as Type A as the next age grouper. Your coach is operating the way he/she does for a reason. If it doesn't work for you, learn to relax or find a new coach.
8. You disregard the race plan.
Ahh… the race plan. A coach's time to put together all he or she knows about your training into a smart, executable strategy to get you to your next PR. Instead of listening, you go willy nilly and swim/bike/run how you want and end up walking the last few miles. One coach experienced this with a marathoner whose original plan was to "run fast and hang on." She instead gave him several different scenarios to get him to his 3:20 goal in a more comfortable, logical fashion. "He agreed and was excited about having a 'smart plan.' Unfortunately, after mile one he said he couldn't control himself and just wanted to run fast, so he reverted to his original plan and ended up with a 3:29. He told me afterward that he 'did the opposite of what you told me to do and paid the price.'"