Building Mental Toughness In Triathlon
When it comes to exhaustion, fatigue may not be the only culprit to caving in. It just might come down to putting your mind over matter.
Heading out the door? Read this article on the new Outside+ app available now on iOS devices for members! Download the app.
When it comes to exhaustion, fatigue may not be the only culprit to caving in. It just might come down to putting your mind over matter.
Written by: Matt Fitzgerald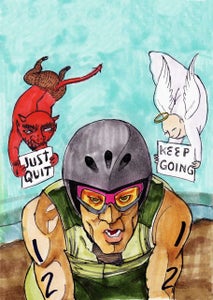 Triathlons are hard. That's one of the reasons we do them. If they weren't hard, crossing the finish line would not feel so deeply fulfilling. We want races—and even many of our workouts—to be hard.
Yet we also want them to be trouble-free. Avoiding unnecessary pain and suffering is instinctive. What makes triathlons so hard is that, to complete them, we must overcome not only pain and suffering but also our natural resistance to pain and suffering. On the mental level, doing a triathlon or hard workout is like being subjected to an argument between a devil on your left shoulder shouting, "Just quit!" and an angel on your left shoulder pleading, "Keep going!"
The ability to keep going under such circumstances is often called mental toughness. There is solid scientific evidence that mental toughness is trainable—that is, we can learn to tolerate greater discomfort in physical exertion. Developing mental toughness is an important means to improve in the sport of triathlon because the more discomfort you can tolerate, the longer you can swim, bike and run at desired speeds before giving in to exhaustion.
New sports science research suggests that mental toughness in endurance sports is even more important than was previously believed. Samuele Marcora at Bangor University in Wales has proposed that endurance fatigue is not caused by physiological events below the neck; instead, it is caused by psychological suffering. In other words, we start to slow down toward the end of workouts and races not because there is too much lactic acid in our limbs, but rather because the effort to continue moving at the same pace has become too painful to bear, so, in effect, we give up.
It sure doesn't feel like giving up. When you struggle mightily toward the finish line and yet you slow down despite your best efforts, it seems as though it is your body that has reached a limit, not your mind. However, Marcora has performed some elegant experiments that prove the contrary. In one of them, he had a bunch of cyclists pedal as long as they could on stationary bikes at a fixed high intensity. When they could no longer sustain that intensity, he had them stop and then immediately pedal as hard as they could for just five seconds.
In the first part of the experiment, the cyclists were able to sustain an average power output of 242 watts for roughly 12 minutes before bonking. But immediately thereafter they were able to crank out 731 watts for five seconds. If the cyclists had stopped their high-intensity ride to exhaustion because they were no longer physically able to sustain 242 watts a moment longer, then they could not possibly have hit 731 watts afterward without any rest opportunity. The fact that they were able to briefly triple their previous power output after reaching "exhaustion" proves that their quitting was essentially voluntary.
If mental toughness is the true performance limiter in triathlon, and if it is trainable, then how do we train it? There are two ways. The first and most obvious way to develop mental toughness is to routinely expose yourself to the discomfort of extreme fatigue in workouts. The more familiar these unpleasant sensations become, the better you will be able to push through them toward your true physical performance limits (although you will never reach these limits, as fatigue is "quitting" even for the mentally toughest triathletes).
Obviously, you don't want to exhaust yourself too much too often in training, as this will cause fatigue to accumulate in your body over time, compromising your ability to perform. Instead, limit yourself to judicious doses of suffering in a handful of key workouts each week. These may include short, high-intensity intervals, sustained, moderately intense tempo efforts and long endurance workouts that are not especially intense but last long enough to tire you out nevertheless.
The second way to increase your mental toughness is to do everything possible to increase your motivation for training and racing, as the more motivated you are to perform, the more suffering you will be willing to tolerate. There is no bad source of motivation.
Matt Fitzgerald is the author most recently of "Run: The Mind-Body Method of Running by Feel," Velopress.com.