What Your Body Feels When You Run
Jay Dicharry helps us visualize the pressure and load we put on our bodies with every running stride.
Heading out the door? Read this article on the new Outside+ app available now on iOS devices for members! Download the app.
Running Rewired author Jay Dicharry helps us visualize the pressure and load we put on our bodies with every running stride. 
The thrill of running can distract us from the reality of what is happening to the body with every stride. Your heart beats harder, pumping blood throughout the body. Sweat drips down your forehead as your body temperature rises. You feel the wind on your face as you turn round the track, up the trail, or down the road. These are the images that running conjures up in our heads and they are real, but while your heart and lungs are driving your engine toward redline, your chassis is under a lot of stress. Like it or not, your body must deal with 2.5 to 3 times its body weight with every single stride.
Think about this for a minute. If you stand up on both legs, you have half your body weight on each leg. And if you stand on one leg, that's 100 percent of your body weight on one leg. Now take a barbell, add about 150 percent of your body weight to it, and hoist the load up and onto your shoulders; then stand on one leg.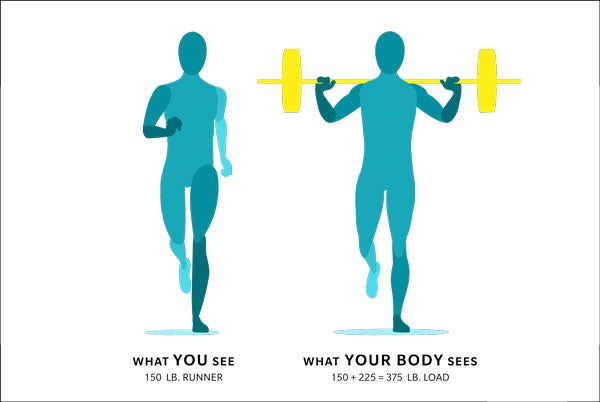 Like it or not, this is how much stress your bones, tendons, muscles, cartilage, and ligaments support with every single stride you take. As runners, we've been told that distance running is a small amount of stress applied to your body for a long period of time. Well, we just shot that idea into oblivion. If anything, we could say that running is large stresses acting on our body for a long time.
Further complicating matters, running isn't just a single-plane sport. In addition to these vertical forces, we also have to deal with braking and acceleration forces that amount to 40 to 50 percent of our body's weight. And that's while our body is kicked laterally by forces of around 15 percent body weight just from the effort of running. Running creates huge amounts of stress that act on the body from all sides with each and every step. No wonder running is hard!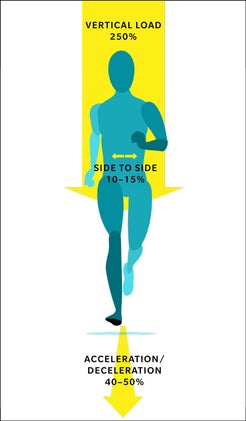 This load acting on your body is absolute and somewhat mechanical. But your body's response isn't just mechanical. Imagine a rubber ball. If you throw a rubber ball off the roof, it will first accelerate to the ground. When it collides with the ground, the energy of the impact will flatten the ball out a bit and then the ball will rebound off the ground and spring back up again. The ball is passive—it compresses and rebounds based on the density of the rubber from which it is made. This is a simple illustration of how a passive object responds to load.
Now imagine you are soaring through the air in mid-stride and the same gravity that accelerated the rubber ball takes you back to earth. That's where the similarity ends, because the body isn't passive. It's a complex system of parts with a neuromuscular system that actively moves, adjusts, and coordinates these parts in response to the mechanical forces of running.
[velopress cta="See more!" align="center" title="More from the Book"]