Ask Aaron: Prepping for Wildflower
It's one of the oldest clichés in the sport, but it really is true: you can't improve your fitness the week before the race, but you can ruin it.
Heading out the door? Read this article on the new Outside+ app available now on iOS devices for members! Download the app.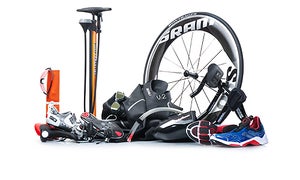 The Avia Wildflower Triathlon festival is this weekend, which is one of the most historic, challenging and fun races in the sport. There is the half-iron distance Long Course race on Saturday, followed by the Olympic distance and off-road races on Sunday.
Thousands of triathletes flock to Lake San Antonio in the rolling hills of central California, but there isn't a single hotel within 30 miles of the race, so everyone camps out, and turns the lakeshore park into a sprawling triathlon festival.
Racing away from civilization is a great way to reduce the stress level that can come from organizing the logistics of racing triathlon, but it adds its own challenges. This week's column is about how to get the most out of a race weekend, especially one spent camping rather than staying under a roof.
Taper properly to race well
It's one of the oldest clichés in the sport, but it really is true: you can't improve your fitness the week before the race, but you can ruin it. Training too much, too little, too fast or too slow can all screw up months of carefully controlled preparation. This plan can help you arrive at the start line feeling both fresh and sharp, and complete a great weekend.
For the final week leading up to an Olympic distance race:
Sunday: Race!
Saturday:
S- Off
B- 30 minutes easy, with 4x 1 minute at race pace
R- 20 minutes easy, with 4x 1m inute accelerations up to race pace
Friday:
S- 30 minutes total, with 3×100, 3×75, 3×50 at race pace
B- Off
R- Off
Thursday:
S- Off
B- 60 minutes easy
R- 40 minutes easy
Wednesday:
S- 30 minutes easy
B- 75 minutes total, with 15 minutes race pace, 5×1 minute faster than race pace, but not sprinting.
R-Off
Tuesday:
S- Off
B- Off
R- 3x 3 minutes at 10k race pace, 3x 2 minutes at 5k race pace, with 90 seconds standing recovery between each interval
Monday:
S- Masters
B- Off
R- 40 minutes easy
Tips for camping out at a race, Wildflower or elsewhere
• Bring food
o Nothing raises the blood pressure before a race like being forced to eat food that isn't nutritionally ideal. Bring your food of choice, whatever that may be, in a big enough quantity that will last you through lunch, dinner and breakfast before the race. Canned tuna is a great substitute for cooked meat if you don't have a camping stove.
o Bring a ton of water. Stop by the gas station and grab several gallons of water, more than you think you need.
o Unless you have trained with the on-course nutrition, bring your own stuff to use during the race.
• Stay comfortable
o Bring a camping chair. After sitting on the ground for a day, a $10 camping chair can feel like a reclining armchair.
o A pillow, or at least a rolled-up sweatshirt, makes sleeping on the ground much more tolerable.
o Bring layered clothing, and you will be prepared for rain, cold and heat. A rain jacket is a necessity.
[sig:AaronHersh]