Ask A Pro: What Are The Craziest Questions You've Been Asked By Non-Triathletes?
"Where do you keep your horse/gun/skis?" And more of the humorous questions Samantha McGlone's been asked by non-triathletes.
Heading out the door? Read this article on the new Outside+ app available now on iOS devices for members! Download the app.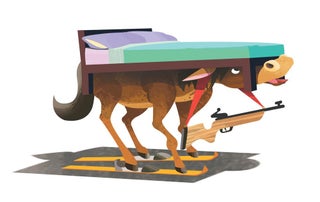 "Where do you keep your horse/gun/skis?" Any variation of the above indicates that the word "triathlon" has not quite sublimated into popular culture. People hear the word "thon" and assume I either compete in the ski/shoot sport of biathlon (I get this more in Canada, where we Canadians have snow on the ground for six months) or occasionally, modern pentathlon, an obscure five-event competition dominated exclusively by Swiss ex-military and the British royal family. So where do I keep my horse? Under the bed with my guns and skis.

"What happens if you need to, you know, 'go' while you're out there?" Most normal people cannot fathom the idea of public evacuation, perhaps rightly so. For better or worse, triathletes are fairly in-tune with their body's needs and are comfortable answering nature's call whenever they see fit. A few tips: On the bike, do a courtesy check behind you and move to the back if you are in a pack of riders. If you see someone sit up and stop pedaling during a long race, you may want to move to the side. As for No. 2, unless you're winning Kona by a slim margin, you have time to find a Porta-John. Please use one.

"Pros go faster 'cause they get all the best gear for free, right?" Nope, pros go fast because they train long hours and sacrifice friends, money and any semblance of a Friday night in order to do so. And then, if they go fast enough, yes, they get the latest gear for "free." The fastest gear definitely provides an advantage, but that's putting the cart before the horse. Chrissie Wellington could still beat you on a Huffy.

"In a race, do you get a break between disciplines to rest?" It's a race, so, no, there aren't breaks. But you can take as long as you like in transition. I believe the record for the longest T2 in Kona is something like 1.5 hours. Dude had a sandwich and a massage, then finished 1467th overall.

"Triathletes look so fit, they must eat perfectly all the time." Most triathletes are pretty conscientious about nutrition. The exception here is the long ride, where calories don't count. Who hasn't seen the horror on faces of gas station employees as the fittest people they have seen in their lives inhale thousands of calories of Coke, candy and Little Debbie products? Most of the time you couldn't pay me to eat some of the crap that suddenly looks like manna from heaven after four hard hours on the bike.

"Are there a lot of drugs in your sport?" I hope not. My theory is that drugs cost money, and most pro triathletes don't have any. If athletes start believing that drugs are prevalent, our sport will just go down the road of pro cycling, where everyone thinks they have to do it just to level the playing field. My assumption is that everyone is clean and I just need to train harder.

"Is it safe for women to train so much?" I wish I were kidding; I have been asked this question. My response: That's why we wear those tight suits, so our ovaries don't fall out!

"That sounds painful…why would you want to put yourself through that?"
Everyone has their own answer to this question: "It feels good when you stop." "I want to look good in skinny jeans." My favorite answer to that question is from pro cyclist Kathryn Bertine, author of As Good as Gold: "Real pain is sitting around all your life wondering what pain tastes like."