Andy Potts On Racing After A Disappointment
Heading out the door? Read this article on the new Outside+ app available now on iOS devices for members! Download the app.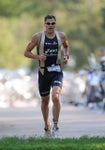 In his monthly column from Triathlete Magazine, professional triathlete Andy Potts addresses how he personally deals with recovering from a disappointing race.
Written by: Andy Potts
Let's face it; no one has a great race every time he steps up to the start line. Even the all-time greats have bad days. Now to be fair, their bad day may be the race of a lifetime for you, but it is all about perspective. We all start a race with our goals in mind: complete the race, have fun, challenge myself, break 10 hours, set a course record, etc. If you race often enough, though, you are bound to have a disappointing race.
Bouncing back from a disappointing race can be tricky. Sometimes you want to get right back out there the very next weekend and other times you want to go back to the drawing board. My experiences have fallen everywhere on that spectrum. A disappointing race can mean that your preparation was off, or it could mean that your execution was off. Whether it was physical, mental or a little bit of both, the key to racing after a disappointment always starts with your mind.
If you didn't accomplish your goals this time, then it is time to look how you mentally approach each race. There are so many variables involved with racing, especially racing triathlons: water currents, wind, temperature, bike issues, etc. The list can go on and on. After a disappointing race, I look inward.
For a change in my mental approach, I break down my next race into smaller, more manageable goals so that I can have a successful day. Instead of saying that I want to win my next race, I take it step by step and outline what I specifically hope to achieve during each leg. As an example, I try to come up with at least two objectives for each leg:
Swim: Keep my elbows high for the entire swim and go to the legs with 200m to go.
Bike: Maintain a high cadence throughout the ride and negative split.
Run: Run tall and build each mile.
As you can see, my goals combine both objective and subjective material. The main thing to note is that my goals are self-centered. To simplify matters, I do not dwell on the race course, the conditions or my competition. If the work that you put into your training doesn't get a chance to shine through on race day, you might just need a fresh mindset to have the race of your dreams.
I have had more good races than bad ones, but I must admit that I learn more from the bad races than I do from the good ones. I always take something away from every race experience to build upon my knowledge. However, after a disappointing race, my goals are a lot more specific. That way, no matter the outcome of the race, if I go after my goals for my own satisfaction, I know I will be happy at the end of the day. A big part of the solution is looking within yourself and doing the race for personal gratification. Often, I find that when I'm disappointed in a race it is because of the outcome not because of my effort. Ultimately, I can't control if someone else beats me. I can only control my own race and my own preparation.
A huge philosophy in my book is that no matter how often I fall down, I need to get back up one more time. I believe that how one handles adversity speaks more about his character than how one handles success. I'm going to get knocked down sometimes, but the key is that I get back up, learn from the experience and have it make me stronger in the end.
Racing is supposed to be fun. If all else fails, I go to the next race with the knowledge that a bad race isn't the end of the world. So, I try to smile more the next time and remind myself why I signed up: for another chance to see what I'm made of.