Andy Potts: Keep Your Strength, You're Going To Need It
Heading out the door? Read this article on the new Outside+ app available now on iOS devices for members! Download the app.
Professional triathlete Andy Potts explains why he disagrees with the coaching mentality of taking time away from your strongest sport in order to focus on the weaker disciplines.
Written by: Andy Potts
I always find it funny when people suggest that I take some time off from my swimming so I can ride or run more. That would take my strength away and leave me with being pretty good at all three disciplines. Bottom line is that I don't think like that. If I swim at a world-class level, then the challenge is to bring the other disciplines up to that level so that my whole game improves. We all have a go-to strength in triathlon. As you improve and look toward bettering yourself, there is no need to let your strength suffer. You should have the mentality of bringing everything up to the level of your best discipline.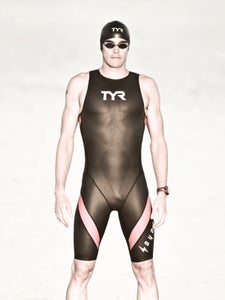 Letting your strength in triathlon diminish while you take time to improve another discipline is a philosophy I cannot subscribe to. Triathlon is not a zero-sum game; you do not have to sacrifice one sport to benefit another. I know through personal experience that it is possible to improve your weaknesses while keeping your strength.
I started this sport known as a swimmer. That put me in a unique position to be a player in every race that I entered, at least until we reached the bike. Had I let my swim training go by the wayside, then I would have struggled to influence each and every race. Instead of letting my swimming go and focusing on biking and running, I did the opposite. I tried to bring my cycling and running up to the level of my swimming. In each competition, I was able to hold on a little bit longer until finally I started winning races. I had some early success because of my swimming, but I had continued success because I raised the level of my riding and running.
You've heard the saying, "Race to your strengths and train to eliminate your weaknesses." This saying holds a lot of truth for me. For swimmers I take that to mean hitting the swim hard and trying to hold your position on the bike and run. If you adhere to this philosophy as you train and get stronger, you will continue to exit the water in the front but start to hold off your competitors deeper into each race.
For cyclists, racing toward your strengths means making up time lost on the swim and then trying to put as big a gap between you and the others by T2. A bonus for cyclists is that you are able to take advantage of the biggest leg of the race. Using that to your advantage is a great weapon to have, and it's optimal for success.
And for you runners out there, this means minimizing your losses on the swim and the bike so that you can keep the gaps manageable for your blazing run. The less time you give up on the swim and the bike, the faster you can close those gaps on the run. If you keep your running strength, you'll never have to worry about being caught from behind.
We all have a discipline that we do better than the other two; if you aren't out splitting your opposition heavily on your leg then maybe the key to success is being the most comfortable during your specialty. Why would you want to give up that advantage or that comfort level? To race toward your strengths you need to have that go-to leg. Plus, we all gravitate toward what we like and do best; it is human nature. With that in mind, you know that when you are working on your strength, you are improving as a triathlete. There is no need to fight that urge to do what you like best.
Another way to look at it is to walk away from each race experience with something positive. If you have a strength that you can exploit during a race then you can build upon your positive experiences right away. That adds to your confidence. The best foundation for continued success is to add all of your good race experiences together. When things get tough in your next race, you have something to look back on so you can tell yourself that you'll be OK because you have experienced this scenario before.
By adopting the goal of bringing up your weaker disciplines to the level of your strongest one you'll have that go-to strength in a race. Knowing that, you will excel at your best discipline. I've never understood the mentality of forgoing your strength to work on something else. To find real improvement, you need to make your weaknesses your strengths while at the same time keeping your strengths. That way you improve the whole package and take your game to a new level.