Why the Aging Athlete Has a Fit Future
Think your best fitness is in the past? Think again.
Heading out the door? Read this article on the new Outside+ app available now on iOS devices for members! Download the app.
Think your best fitness is in the past? Think again. Jeff Horowitz, author of Ageless Strength: Strong and Fit for a Lifetime, shares why you may have never reached your full fitness potential and how you can close that gap.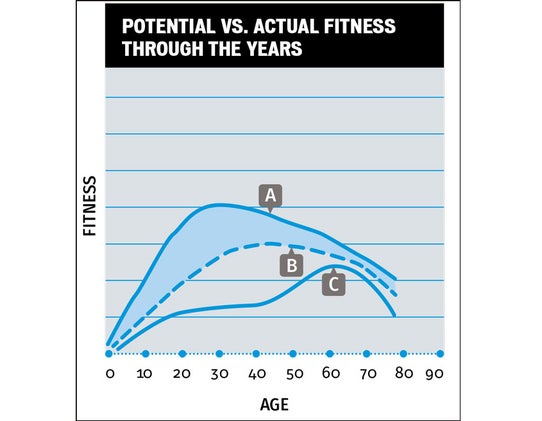 The vertical axis represents fitness, and the horizontal axis represents age. The higher the point on the chart, the greater the fitness, and the farther the point is to the right, the older the person is. A single point on this chart represents a person's fitness level at a particular point in time, and a connected series of dots—the arcs in this chart—represents a person's fitness during the course of his or her lifetime. In a chart like this, the person whose fitness is being measured has two arcs: one representing potential fitness and another representing actual fitness.
We'll define potential fitness as the theoretical upper limit of a person's strength and fitness. In the chart, the arc Arepresents our collective potential fitness. In reality, potential fitness varies from person to person, mirroring the differences in our physical gifts and life situations. But in general, the shape of this arc reflects potential fitness for nearly everyone.
As you can see, arc A peaks in our mid to late twenties, and then it begins a steady decline, with a sharp drop-off late in life. You might look at this curve and conclude that your physical peak was early in life and that you'll never be as strong and fit as you were back in your youth.
In all likelihood, you would be wrong. That's because most people don't come close to their potential fitness. This is particularly true earlier in life, when the temptations of junk food and alcohol, combined with a lack of knowledge about healthy choices, can leave many people well below their ideal fitness levels.
Now look at arc B. That curve represents a hypothetical person's actual fitness throughout his or her life. The gap between A and B is shown by the blue shaded area, which represents our fitness gap. It marks the difference between where we actually are in life and where we could be if we worked to improve our health and fitness.
For some people, late-life changes in their actual fitness can be even more dramatic. Look at arc C. This line represents the fitness of a person who had an unhealthy lifestyle for many years but then resolved to get her health back on track later in life. This athlete began exercising regularly and eating better in her 50s. By the time she hit retirement age, she was actually healthier and more fit than she'd ever been, and feeling great.
The key fitness goal for each of us is to reduce the difference between our potential fitness arc and our actual fitness arc, at whatever age we find ourselves. Whatever new level we achieve allows us to enjoy our lives to the greatest degree possible. Instead of spending our golden years complaining about aches and pains, we can spend them pursuing new adventures and challenges.
This article is an excerpt from Ageless Strength: Strong and Fit for a Lifetime, the newest book from personal trainer and coach Jeff Horowitz.