A Neuroscientist Explains How to Invoke the Power of Clutch and Flow States
It turns out "the zone" is a very real, very specific psychological thing, and for triathletes who learn to harness clutch and flow states, it can be the key to massive performances and workouts.
Heading out the door? Read this article on the new Outside+ app available now on iOS devices for members! Download the app.
Maybe you called it a runner's high, or perhaps you said you were "dialed in." Or maybe you have no words to describe it all – but you know how it feels: those sweet moments in the water, on the bike, or on the trail when everything just clicks, and you feel really darn good. While rare, those experiences provide enough fuel to keep us in the game. As athletes, we chase after the feeling of being "in the zone" or racing "out of our mind." We ride the high of a "clutch" performance or enjoy "finding flow" in a training session.
So, what exactly is this feel-good mental state that we're seeking? It turns out that it's not a singular state at all. There are actually two distinct, and very real, psychological states that underlie those blissful moments: Flow state and Clutch state. Both states produce a positive and rewarding experience, and while there are several common characteristics, both terms are often misused, as there are quite a few differences as well.
RELATED: Lessons from the Pros on Building Your Mental Game
"Flow" and "Clutch" states, defined
Flow state is characterized by an effortless, immersive, and pleasurable experience. In this state, athletes experience a strong sense of control over their movements, but self-consciousness dissolves. There is an absence of negative thoughts, altered perception of time and space, and a general sense that performance is going well. Flow state is energizing and athletes feel a strong motivation to continue engaging in whatever task is yielding this sense of flow.
Clutch state occurs when an athlete performs exceptionally well in a pressure situation. Unlike in flow, clutch feels less pleasant in the moment. It requires purpose-driven, effortful concentration, as well as intense physical effort, which often leaves the athlete feeling energetically drained. While there is also an absence of negative thoughts, the ego is much more involved in this psychological state.
Interestingly, flow and clutch states cannot occur simultaneously, but they can happen at different times within the same event. For example, a triathlete may feel in flow during the middle miles of a race. They're completely immersed in the present moment and their movement feels effortless. Then, as they approach the final miles of the run, they realize that a podium finish is within their grasp and they dial it up a notch. They increase their intensity, hit a faster-than-average pace, and sprint across the finish line, cementing their place on the podium. A clutch performance. Interestingly, a study with runners found that while some runners were able to transition from flow to clutch states, no runner reported transitioning from the effortful clutch state to the ease-filled flow state.
RELATED: The Mental Tools You Need For An FTP Test
The neuroscience underlying optimal psychological states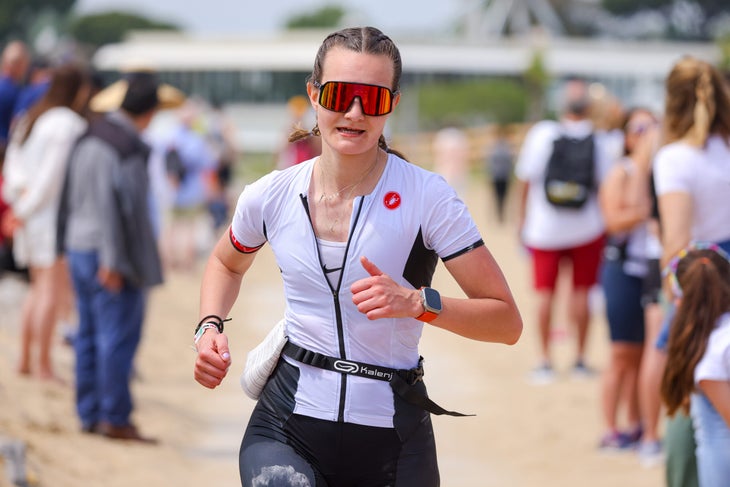 Flow and clutch are optimal states because not only do they contribute to higher levels of performance, but they also enhance our mental wellbeing. The neural basis for these benefits is not entirely clear, and in fact, the two leading theories of flow are somewhat contradictory. First, the transient hypofrontality hypothesis (THH) posits that in flow state, brain activation shifts from the left prefrontal cortex (where executive control functions, like thinking and planning, take place) to more posterior regions of the brain, particularly on the right side, that involve less self-referential thinking and more automatic processing. Simply put, during flow state, brain activation shifts from the more analytical, "let's get after it" left hemisphere to the more intuitive, "let's be present" right hemisphere. The second predominant theory is the synchronization theory of flow (STF). STF suggests that instead of a major hemispheric shift in activation, there is instead a synchrony that takes place.—networks of neurons bind together, which leads to more efficient brain activity and "higher-order" experiences of consciousness, like flow state.
Whichever theory ends up on top (either a hybrid of the two or something entirely new, as science would have it), one thing is clear: These psychological states involve the brain's intrinsic reward pathways, which helps explain why these experiences are so fulfilling – and why we chase after them.
How can we experience "Flow" and "Clutch" more often?
This question lies at the center of current research and while there aren't any simple hacks, there are some evidence-based theories for how to increase the likelihood of entering one of these states.
How to get into a clutch state
Let's consider a clutch state first. Here, it's all about "making it happen." The three requirements for (potentially) shifting into a clutch state are:
A pressure situation
A specific goal
A clear path to achieve that goal
If you aren't laser-focused on a specific target, and if there isn't enough pressure to intensify your effort, then you're unlikely to activate a clutch state. For example, let's say you're aiming for a 2-hour-and-30-minute Olympic distance time. On the day of the race, swim currents are unusually strong and you get a flat on the bike. Obviously, you need to make up for lost time on the run. If you know the pace you must hit, then you might ratchet up your effort, access higher levels of output, and potentially clutch your performance goal.
Triggering a flow state in training and racing
So, what are the possible triggers for flow state? The prerequisites for entering this psychological space are quite different than for clutch. Instead of a laser-focused objective, it's more beneficial to have an open and exploratory mindset.
Instead of setting a fixed goal, you might simply get curious, saying something like, "Let's see what I can do today." The mindset here is one of "allowing" versus "forcing." Play around with exploring your capabilities. For example, don't limit yourself to a specific time goal. In fact, you might want to ditch the watch or bike computer completely. Your intention should be total presence and complete absorption in your movement, for movement's sake.
Keep in mind that flow is not possible if the challenge far exceeds your skill level. You're more likely to slip into a flow state in high-challenge, high-skill situations. For example, if you're a strong open-water swimmer, then you may be able to find flow during an Iron-distance ocean swim. If you thrive on hills, then you may be able to find flow on a hilly training ride. However, if running is a miserable, pain-inducing struggle that even the most positive self-talk can't pull you out of, then you're unlikely to tap into flow during the run.
While we eagerly await more neuroscience and psychology research on these optimal mental states, spend some time collecting your own data. When you slip into flow, notice how it feels. What preceded your flow state? How long did it last? When you achieve a clutch performance, recognize the object of your focus and celebrate your masterful effort. These states are transient, but by paying attention and articulating your intention, they may very well happen more often.
RELATED: Afraid of the Swim? Here's How Mindfulness Can Help
Daya Grant, Ph.D. is a certified mental performance consultant (CMPC), neuroscientist, and yoga teacher who empowers athletes to get out of their own way and tap into their greatness. She swims, bikes, and runs in Los Angeles, where she lives with her husband and their young son.