Recipe: Gwen Jorgensen's Gold-Medal-Winning Bowl
In our July/Aug magazine issue, we highlighted a taper-ready meal from gold medalist Gwen Jorgensen. Get her full daily schedule, nutritional guidelines, and recipe here.
Heading out the door? Read this article on the new Outside+ app available now on iOS devices for members! Download the app.
As Gwen Jorgensen fuels during her final two weeks heading into a major event—whether triathlon or now running—her nutrition plans look a lot like the rest of the year, with some minor adjustments to keep the meals interesting by using locally available and fresh ingredients wherever the family may be based at the time. Sometimes that's rotisserie chicken and spring greens from Whole Foods, and other times it's grilled chicken from Chili's.
The food also has to be nutritious and work for the whole family, otherwise it simply would be too much and unsustainable. It also helps to have a full-time Patrick in your corner! They keep dinner prep simple by using an affordable and easy-to-find Aroma rice cooker—like in the recipe below. (At $40, it really is a life-saver.)
Some key principles:
Jorgensen is not afraid of calories and most observers would be shocked by how much she consumes—on average 3,600 calories on a normal day as she leads into competition.
Most all her calories are from carbohydrates, very little from added fat as she doesn't overdo oils, nut butters, coconut cream, nut milks, etc.
Lunch and dinner are heavy on fresh greens, lightly steamed and seasoned vegetables, and with added skin-on/high-fiber veggies at dinner. Her favorites are sweet potatoes and yams.
She also adds about 8 ounces of lean meat for dinner.
She drinks mostly water and decaf tea throughout the day, and Skratch products when training or competing.
Routine and controlling what she can are big contributors to her success. Stick with the same schedule, and use the rice cooker to control timing, method, and portions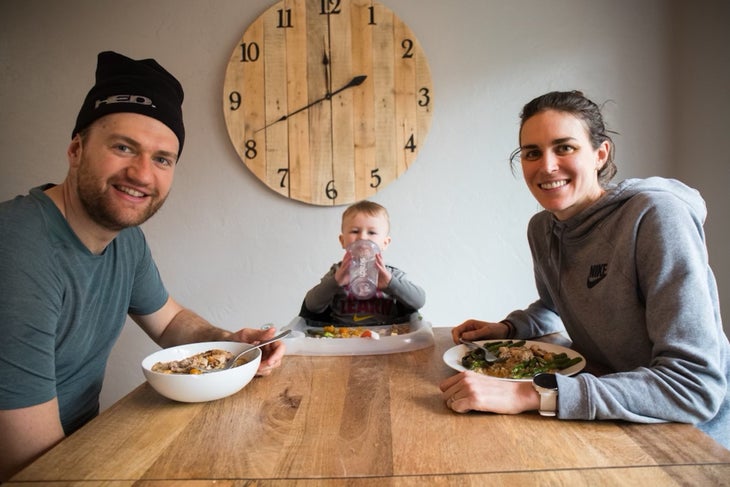 Jorgensen's daily routine in the week leading up to a big race
6:45 a.m. – Wake-up.
7 a.m. – Fasted run.
8 a.m. – Breakfast: Jorgensen loves her oatmeal, cooked in water with cinnamon and fresh berries—no added fats or sweeteners; plus eggs two times/week.
10:30 a.m. – Swim.
Noon – Lunch: Huge salad with 2-3 medium/large sweet potatoes and grilled chicken.
2 p.m. – Nap, while baby sleeps.
4 p.m. – Longer run or bike time.
6 p.m. – Dinner: One-pot rice bowl (recipe below).
9 p.m. – Lights out.
Ingredients
Olympic bowl
Rice
Spinach
Mushrooms
Asparagus
Grilled chicken
Cilantro
Lemon juice
Parmesan (or plant-based cheese)
Preparation
Bowls allow for the ultimate in culinary creativity for the whole family. You want more rice? Your kids want fewer mushrooms? Adjust as needed. Jorgensen likes to have the above ingredients in her bowl, but make swaps and create portions that will make your stomach happy.
Put the rice into the rice cooker and throw the veggies into steam; season with salt and pepper.
Grill the chicken, or pick up a rotisserie chicken. Cut into pieces.
Build the bowl starting with rice, top with veggies and chicken.
Sprinkle on some fresh cilantro, squeeze on little lemon juice, and top with parmesan cheese. And you're ready to eat!