Triathlete-Chef Recipe: A Sundry Salad for Winter
"What you put in affects what your body will put out."
Heading out the door? Read this article on the new Outside+ app available now on iOS devices for members! Download the app.
We're sharing recipes from world-class chefs who have turned endurance fueling into a delectable art.
Meet the Triathlete-Chef: Justin Cogley
Executive chef, Aubergine
Carmel, Calif.
Three years ago, Chef Justin Cogley hit a personal wall in his life and career. He woke up and didn't recognize the man he saw in the mirror. He'd poured 10 years into a career that took up 18-plus hours a day. He worked for famous chefs, including the late legend Charlie Trotter. He'd had amazing culinary opportunities, earning the distinction of Food & Wine's Best New Chef in 2013 and the role of executive chef at swanky L'Auberge Carmel's Aubergine; however, he neglected his health and personal life.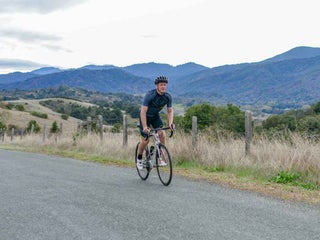 Then in 2014, Justin won an entry into the Big Sur Marathon from Treadmill, a local running store, and his life changed completely. First, he completed the marathon, then he went on to finish three Ironmans and ultra-distance trail races.
"Racing is an escape," he says. "It reminds me how to stay positive even when I want to quit. Think you can and you can, and don't let the other thoughts creep in."
How he fuels: Pre-workout, "I like to have a bowl of steel–cut oats filled with as much of the local farmers market berries as possible," he says. "If I am in a rush, I make a power smoothie: frozen bananas, almond milk, maca root, bee pollen, and then some fruit." Post-workout is more varied. "My day is very packed, so I eat many smaller courses," he says.
Chef's choice:  "Salad, because I find if I eat more small meals, I can zip out for a run at any hour, and I am fueled all day," Cogley says. "I don't want to eat one large massive meal my body takes hours to digest and I feel sluggish. It is important to me to be on my game all day. What you put in affects what your body will put out."
Grapefruit, Bok-Choy, Pecorino & Roasted Almond Salad with Shallot-Thyme Vinaigrette
Salad
4 stalks of celery (peeled to remove "strings"), thinly sliced
1⁄4 cup celery leaves (use yellow leaves)
1⁄4 cup parsley leaves
4 scallions, sliced
1⁄4 pound Pecorino cheese, shaved with a vegetable peeler
2 baby bok-choy
2 grapefruit, segments removed 1⁄2 cup marcona almonds
Shallot Vinaigrette
2 shallots
1 tsp Dijon mustard
2 T flat-leaf parsley
1 T thyme leaves
2 T lemon juice
2 T white wine vinegar 1 tsp crème fraîche
Sea salt and pepper to taste 1⁄3 cup extra virgin olive oil
Directions
Preheat the oven to 400 degrees. Rub the outside of the shallot (skin-on) with olive oil, and wrap loosely with foil. Place in the oven,and roast for 20 minutes until soft. Let cool, and peel away the skin and coarse ends. Lower the oven to 350 degrees. Bake the almonds for 10 minutes, tossing once. Let cool, and then rough chop. Combine the shallots in a blender or food processor with the parsley, thyme, lemon juice, vinegar, creme fraiche, salt, and pepper until mostly smooth. Drizzle in the olive oil, and blend until smooth. Season to taste. Note: Keep the dressing in a sealed container in the fridge for up to a week. To prepare bok-choy, blanch for one-minute in boiling water. Immediately remove to a bowl of icewater to cool completely. Slice into thin pieces. To prepare salads, arrange the celery, grapefruit, bok-choy, and cheese in a decorative pattern on 4 plates. Scatter the celery and parsley leaves, scallions, and almonds over the top. Drizzle with the vinaigrette.