2 Healthy Party Recipes for Time-Crunched Triathletes
Race season and warmer weather are here, and for social athletes it means the party's on with post-training barbecue hoedowns, tri club potluck picnics, and after-race campground feasts.
Heading out the door? Read this article on the new Outside+ app available now on iOS devices for members! Download the app.
So grab the cornhole board and your crew, and check out these simple, healthy party recipes that are perfect for whatever friendly tri gatherings are on your calendar.
Healthy Party Recipe: Spring Veggies with Ginger Soba Noodles and Roasted Chicken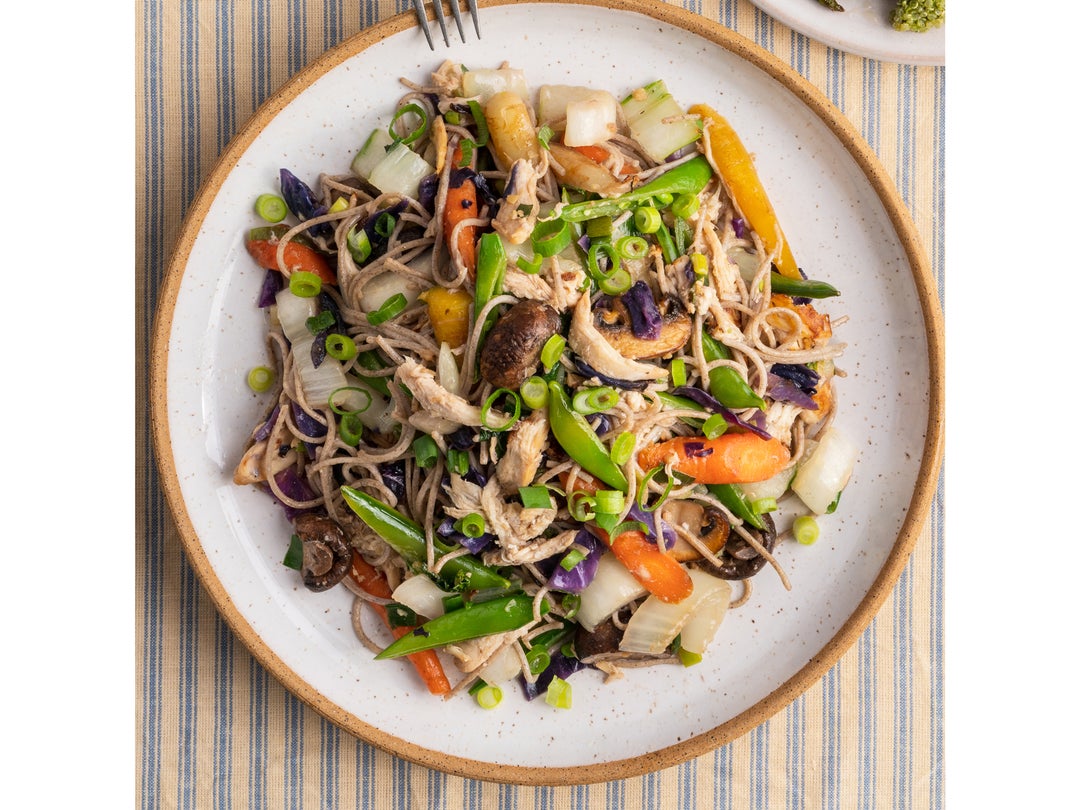 Ingredients
Serves 4-6
1 8- to 10-ounce package buckwheat soba noodles
1 rotisserie chicken, meat removed and shredded
2 T coconut oil
2 cups red cabbage, roughly chopped
2 cups petite spring carrots
2 cups morel or cremini mushrooms
1 heaping cup sugar snap peas, cut in half on the vertical
4 heaping cups bok choy, chopped (leaves and white stems)
1⁄2 cup diced scallion
2 T pureed ginger
Salt and pepper
1⁄2 cup ginger salad dressing of choice
Preparation
Cook the soba noodles according to package instructions.
Heat a large wok or skillet over medium-high heat. Add one tablespoon coconut oil, along with the cabbage and carrots; season with salt and pepper and sauté for 8 minutes, until soft and golden. Add the chicken and ginger during the last 2 minutes of cooking. Remove ingredients from the pan, and set aside in a large bowl.
Add the other tablespoon of coconut oil to the wok/ skillet, along with the mushrooms; season with salt and pepper. Sauté for 5 minutes until a golden crust forms on the mushrooms; add mushrooms to the bowl of cabbage and carrots. Immediately add the sugar snap peas, bok choy, scallions, and ginger dressing to the bowl, and combine.
Gently toss in the soba noodles.
Hot Tip
Soba noodles are traditionally made from buckwheat which is surprisingly gluten-free. However, read nutrition labels carefully because some brands are not authentic and do use flours that contain gluten.
Food Fact
Bok choy — a key ingredient in this noodle dish—is rich in vitamins A, C, and K, as well as folate, vitamin B6, and calcium.
Healthy Party Recipe: Asparagus with Almond Pesto and Quinoa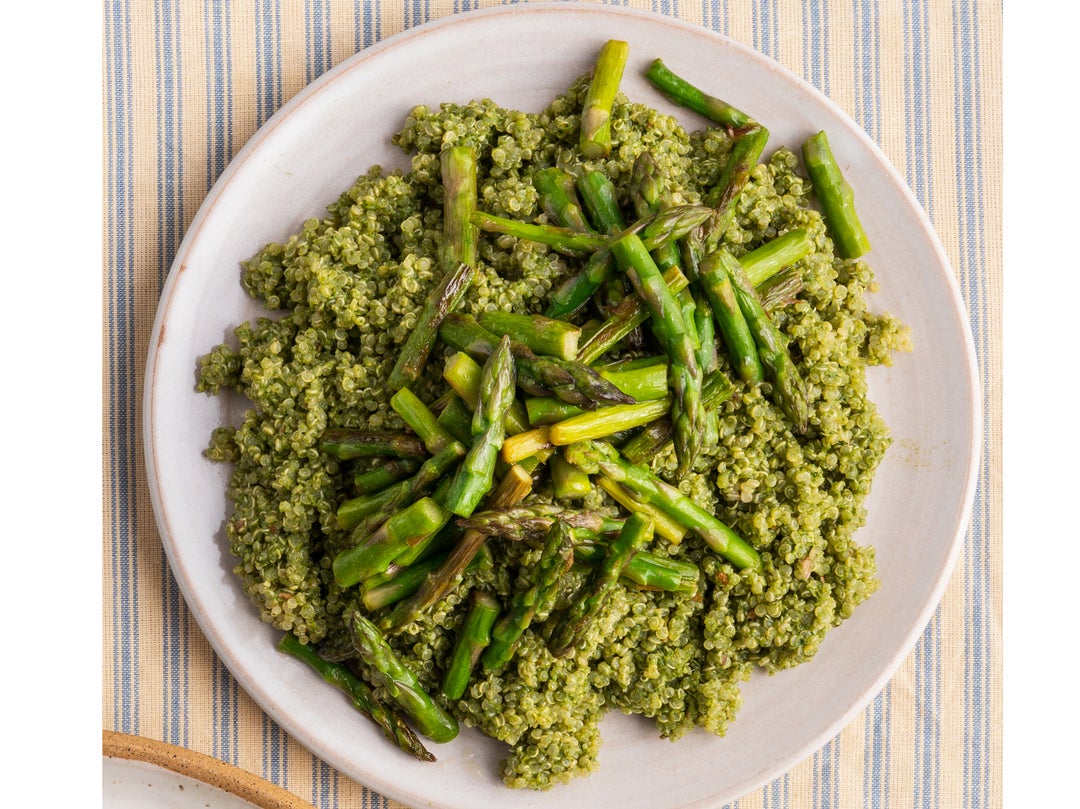 Ingredients
Serves 4 — But go for bigger if the occasion goes for it.
2 pounds asparagus (about 2 bunches)
12 ounces fresh spinach
5 T olive oil
1⁄2 cup packed, fresh basil
1⁄2 sweet yellow onion, diced
1 1⁄2 T minced garlic
3⁄4 cup dry white wine
1/3 cup Marcona almonds (or roasted almonds)
Salt and pepper 11⁄2 cup dry quinoa
Preparation
Prepare quinoa according to instructions on the package.
Discard the white bottoms of the asparagus stalks. Cut the tips off the asparagus and cut the remaining stalk into 1-inch segments. In a large, deep sauté pan, heat one tablespoon of the olive oil over medium-high heat. Add half of the asparagus, season with salt and pepper, and sauté for 4-5 minutes. Do not overcook. Remove from heat, place asparagus in bowl, and set aside.
Using the same pan, add another tablespoon olive oil and the onion; season with salt and pepper, and sauté 5 minutes until onion is translucent. Add the garlic and sauté another minute.
Add the uncooked asparagus and wine, and simmer for about 8 minutes, stirring occasionally.
Add the spinach, season with salt and pepper, and let cook down until the spinach is completely wilted and the water has been absorbed. Let cool from hot to warm.
Pour this mixture into a blender with the basil, the remaining three tablespoons of olive oil, and the almonds. Purée for 30 seconds or until smooth.
Pour this pesto mixture over the quinoa. gently toss, then top with the sautéed asparagus.
Hot Tip
Try something new by replacing the quinoa with another protein-dense option, such as farro, or a noodle made from chickpeas, quinoa, or red lentils.