Get The Benefits Of Berries With These 4 Seasonal Recipes
One of the most antioxidant-dense foods and loaded with vitamins (but low in calories), berries are a smart addition to your diet.
Heading out the door? Read this article on the new Outside+ app available now on iOS devices for members! Download the app.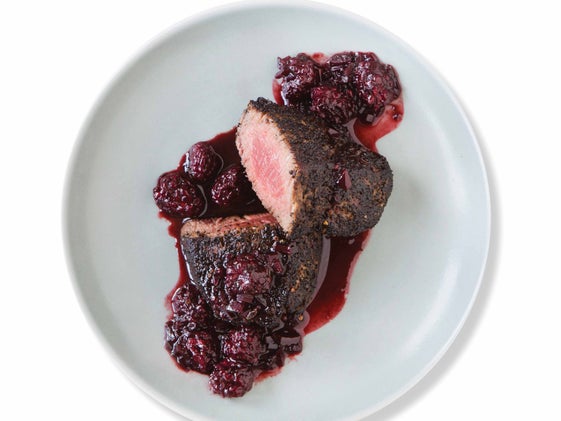 One of the most antioxidant-dense foods and loaded with vitamins (but low in calories), berries are a smart addition to the triathlete's diet. Now is the time to tuck into these seasonally inspired recipes.
Coffee-crusted Steak with Blackberry Sauce
A rich coffee crust paired with blackberry sauce makes for a delicious savory-sweet spin on steak.
Makes 4 servings
Ingredients
4 (6-ounce) sirloin or filet mignon steaks
2 T olive oil, divided
¼ cup finely ground coffee beans
1 T coarsely cracked pepper
1 tsp salt
2 shallots, finely chopped
½ T fresh thyme, chopped
¼ cup balsamic vinegar
1½ cups fresh blackberries
¼ cup red wine
1 T agave or honey
Directions
Heat oven to 450 degrees. Pat steaks dry and rub with 1 tablespoon olive oil. Combine the coffee, pepper and salt, and coat both sides of each steak. Let rest while preparing the sauce. In a small saucepan, heat 1 tablespoon olive oil over medium heat. Sauté the shallots and thyme for 2 minutes. Add the balsamic and cook down for 5 minutes. Add the blackberries, red wine and honey, and let simmer for 10 minutes, until sauce thickens. Heat an oven-safe pan or cast-iron pan over high heat. Sear the steaks 60–90 seconds per side. Place pan in oven and cook 4–6 minutes longer, depending on thickness (for medium rare, a meat thermometer will read 135 degrees). Let steaks rest on a plate, tented with foil, for 5 minutes. Pour the juices from the plate and pan into the blackberry sauce and stir gently. Pour sauce over the steaks before serving.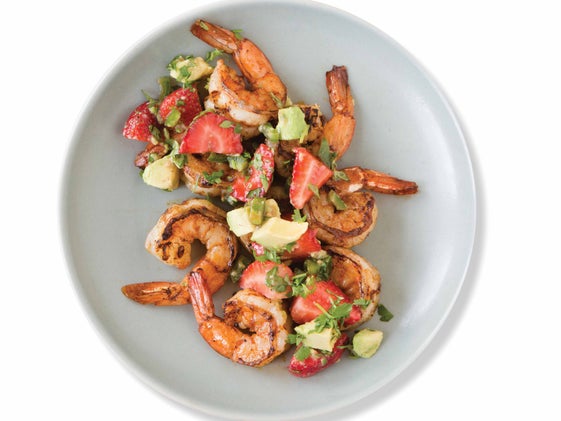 Strawberry-Avocado Salsa with Chipotle Grilled Shrimp
Super versatile, this salsa complements grilled chicken, fish, summer salads and side dishes.
Makes 4–6 servings
Ingredients
1½ pounds (about 24) jumbo shrimp, peeled and deveined
1 T olive oil
1 T chipotle seasoning
3/8 tsp sea salt, divided
2 avocados
2 cups strawberries, quartered
1 jalapeño, finely chopped
2 T fresh cilantro, chopped
2 T fresh lime juice
2 tsp agave

Directions
Toss the shrimp with the oil, chipotle and ¼ teaspoon salt. Let marinate for 15 minutes. Cut the avocados in half, remove the pits and cross-score the avocados using a knife. Scoop the pieces into a medium bowl and gently combine with the strawberries, jalapeño, cilantro, lime juice, agave and 1/8 teaspoon salt. Heat grill to medium high. Cook shrimp about 90 seconds per side (lid closed), until just cooked through. Remove from grill and serve warm with the salsa over the top.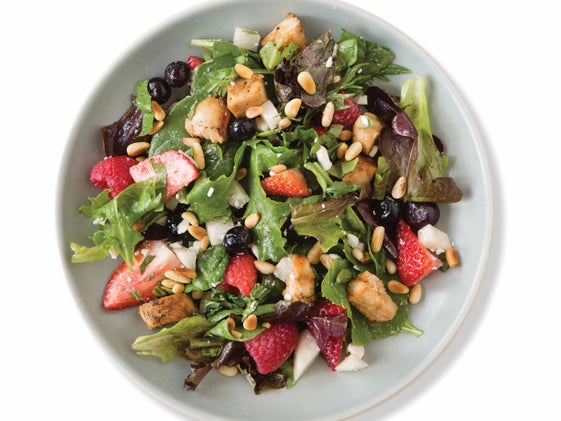 Mediterranean Chicken and Berry Salad
This colorful salad is so addicting you may find yourself making it multiple times per week.
Makes 4 servings
Ingredients
1 pound skinless boneless chicken breasts
3 T olive oil, divided
½ tsp sea salt
¼ tsp pepper
3 T pine nuts
3 T fresh lemon juice
1 T 2% Greek yogurt
2 tsp agave or honey
¼ tsp salt
6 ounces mixed greens
6 ounces fresh spinach
½ cup strawberries, quartered
½ cup raspberries
½ cup blueberries
1/3 cup jicama, finely diced
1/3 cup crumbled feta cheese
2 T fresh mint, chopped
2 T fresh basil, chopped

Directions
Heat grill to medium. Toss the chicken with 1 tablespoon olive oil, sea salt and pepper. Grill 6–8 minutes per side, until the internal temperature reaches 165 degrees on a meat thermometer. Let rest on a plate. Toast the pine nuts in a small pan over medium heat for about 5–7 minutes and let cool. In a small bowl, whisk the lemon juice, 2 tablespoons olive oil, Greek yogurt, agave or honey and salt to make the dressing. Place the mixed greens and spinach in a large salad bowl. Toss with a conservative amount of the dressing. Finely chop the chicken and toss with the lettuce and spinach. Add the rest of the ingredients and toss gently until the ingredients are well distributed. Serve immediately with extra dressing on the side.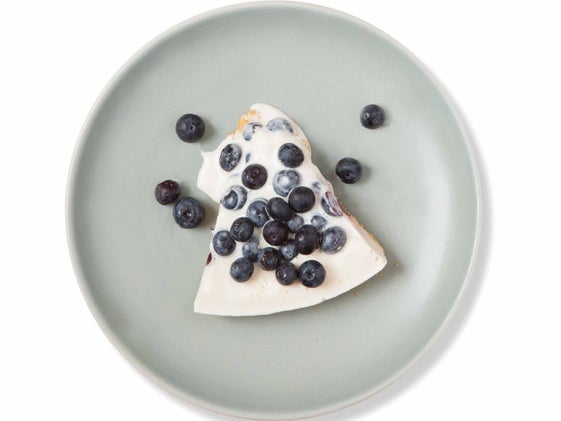 Huckleberry Greek Yogurt Pie
A no-bake dessert that is simple, scrumptious and reminiscent of a light, fluffy cheesecake.
Ingredients
1½ cups graham cracker crumbs
2 cups fresh huckleberries (or blueberries)
2 T agave
2 cups 2% Greek Yogurt
2/3 cup light cream cheese
¼ cup light sour cream
½ cup pure maple syrup
1 tsp vanilla extract
¼ tsp sea salt
Directions
Scatter the graham crumbs evenly into a large pie dish or 9×9-inch dish. Toss the huckleberries with the agave. Using a food processor or mixture, combine the rest of the ingredients for several minutes, until smooth and fluffy. Pour the yogurt mixture over the graham crumbs. Top with the huckleberries. Refrigerate for 60 minutes and up to overnight to let set.
Jessica Cerra is the owner of Fit Food by Jess, a private chef and catering company in Encinitas, Calif., and the co-founder of Harmony Bar. A former professional XTERRA triathlete, Cerra now races for Twenty16 Women's Professional Cycling Team. Find 150 more of Cerra's recipes online at Triathlete.com/recipes.