Four Ways To Use … Peaches
Peaches are the ultimate treat during the summer months—that's when they peak in flavor and sweetness.
Heading out the door? Read this article on the new Outside+ app available now on iOS devices for members! Download the app.
Peaches are the ultimate treat during the summer months—that's when they peak in flavor and sweetness. And as a powerhouse of vitamins A and C, which are both strong antioxidants known to boost immunity, they're good for you too. Peaches also contain a significant amount of selenium, a mineral that has been shown to lower the risk of certain cancers as well as promote thyroid health. In addition to being a tasty ingredient in green salads, smoothies and fruit salsas, there are other creative ways to take advantage of this in-season stone fruit. Make sure to explore the varieties of white and yellow peaches, as they both work well in these four recipes.

Summery Peach Couscous
Juicy peaches make a great addition to rice, quinoa, farro and couscous salads.
Cook 1½ cups dry couscous according to the instructions. Let cool slightly and toss with 2 tablespoons extra-virgin olive oil, the juice and zest of 1 orange and 1 lemon, 1 teaspoon sea salt and ½ teaspoon freshly cracked pepper. In a large bowl, gently toss together the following ingredients, all finely diced: 2 peaches, 1 cup English or Persian cucumber, ½ cup red pepper, 1 small Serrano pepper (seeds removed), and 2 tablespoons mint. Add ½ cup crumbled feta cheese and the couscous, and toss until well combined. Serve slightly warm or chilled.
RELATED RECIPE: Summer Couscous Salad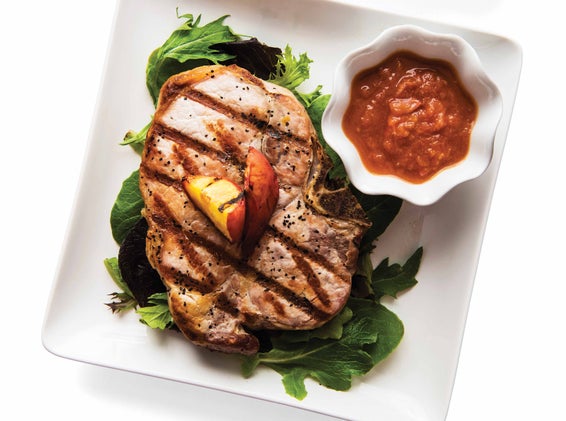 Pork Chops with Peach BBQ Sauce
Peach barbecue sauce has a special combination of sweetness and tang that makes it a mainstay for more than pork chops. Try it with grilled chicken and fish, in tacos, or on barbecue pork sandwiches.
For the pork chops, select 4 bone-in, center-cut pork chops (about ½- to ¾-inch thick). Toss with a small amount of olive oil, salt and pepper. Grill on medium 2–4 minutes per side until an instant-read thermometer inserted in the middle reads 145 degrees. Transfer to a plate, tent with foil, and let rest 5 minutes before serving. For the sauce, halve and remove pits from 3 large peaches. Spray with non-stick spray and grill face-down over medium heat for 2 minutes. In a blender, combine the grilled peaches with 1 tomato, 3 tablespoons apple cider vinegar, and 1 tablespoon agave until slightly smooth. In a saucepan, sauté half finely chopped sweet yellow onion and ½ teaspoon salt for 8 minutes over medium heat. Add 1 teaspoon, each, garlic and minced ginger, and ¼ teaspoon cinnamon and sauté for 1–2 minutes, until fragrant. Add the peach mixture from the blender to the skillet and cook over low heat for about 20 minutes, until the sauce has reduced by half. Serve over the grilled pork chops.
RELATED – RECIPE: One-Pot Wonders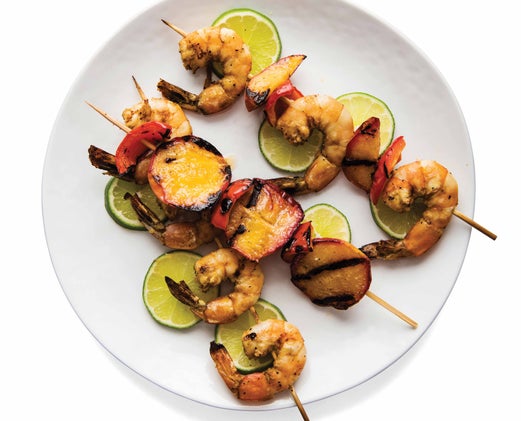 Cumin Grilled Shrimp and Peach Skewers
The toasty, earthy taste of cumin perfectly balances out the sweet peaches.  
In a small bowl, whisk together 2 tablespoons cumin, 1 tablespoon canola oil, juice of 2 limes, ½ teaspoon, each, sea salt and fresh cracked pepper. Place 24 uncooked, jumbo shrimp (shell removed, tail on and cleaned) in a large plastic sealable bag. Pour the cumin mixture into the bag, seal and toss the shrimp until well coated. Place in fridge for 20 minutes. If not using metal skewers, soak 8 large, wooden skewers in water during this time. Chop 2–3 peaches into 24 large pieces. Chop 2 red peppers into 24 pieces. Alternating with one shrimp, one piece of peach, and one piece of pepper, repeat this three times on each of the skewers. Heat grill to medium-high, and brush well with canola oil. Grill the skewers for 60–90 seconds per side, and serve immediately.
RELATED RECIPE: Cumin Crusted Shrimp Skewers With Mango-Avocado Salsa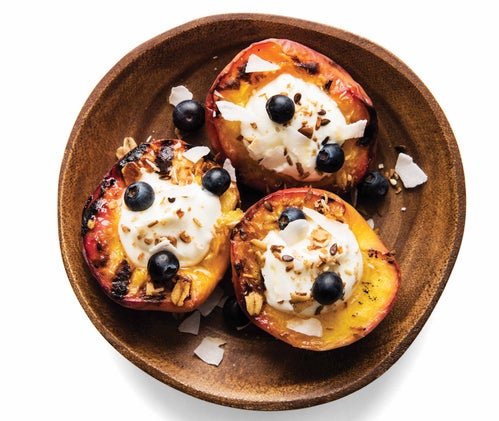 Grilled Peach Cups with Yogurt
If you haven't tried grilling peaches, you are missing out! They can be grilled ahead of time and stored in the fridge, ready for salads or breakfast, but are especially yummy when warm, like in this recipe.
Heat grill to medium. Cut 2 large (or 3 small) peaches in half and remove pits. Brush with canola oil and grill cut side down for 2–3 minutes, until tender. Remove from grill and top with ¼ cup Greek yogurt. Sprinkle granola, nuts, and unsweetened coconut over the top of the yogurt. Blueberries and raspberries also make great additions.
Jessica Cerra is the owner of Fit Food by Jess, a private chef and catering company in Encinitas, Calif., and the co-founder of Harmony Bar. A former professional XTERRA triathlete, Cerra now races for Twenty16 Women's Professional Cycling Team. Find 150 more of Cerra's recipes online at Triathlete.com/recipes.