4 Recipes for Fueling Workouts with Whole Foods
Making your own ride food is an ideal way to control exactly what is going into your body.
Heading out the door? Read this article on the new Outside+ app available now on iOS devices for members! Download the app.
As an endurance athlete, refining your training diet should be a top priority. Making your own ride food is an ideal way to control exactly what is going into your body. Here are four recipes for fueling your workouts (and recovery) with whole foods.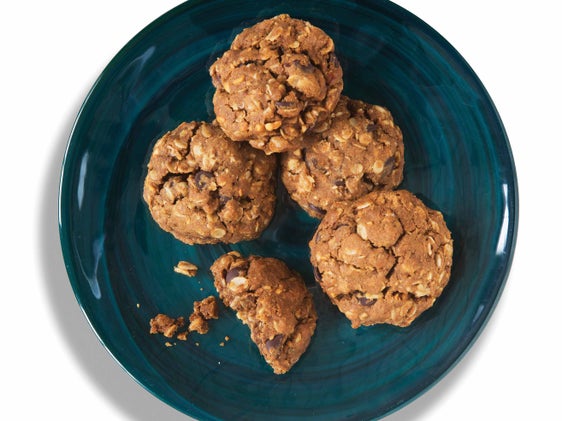 Cookie Bombs
These are more than your average cookie in shape, taste and nutrition. (Bonus: They're gluten-free!)
Makes 18–24 cookies
Ingredients
2½ cups gluten-free rolled oats
1½ cups white rice or gluten-free flour
¼ cup fresh ground coffee or espresso
1 tsp baking powder
1 tsp baking soda
½ tsp salt
1 cup all-natural peanut butter
¾ cup coconut oil, melted
¾ cup coconut sugar
½ cup vanilla almond milk
2 eggs
1 egg yolk
2 tsp pure vanilla extract
1 heaping cup dark chocolate baking chips/chunks
Directions
Preheat the oven to 325 degrees. Line two baking sheets with parchment paper. In a medium bowl, stir together the dry ingredients (oats through salt). In a large bowl, stir together the wet ingredients (peanut butter through vanilla extract). Add the dry ingredients to the wet ingredients and stir to combine. Stir in the chocolate, until well incorporated. Using an ice-cream scoop, place large scoops of dough onto the baking sheets. Each sheet should contain 9–12 scoops, depending on size. Bake for 12–15 minutes, until the outside of the cookies start to turn golden but the center is still soft and slightly underdone. Cool completely before wrapping in foil. Store in the fridge.
RELATED RECIPE: Chocolate Cherry Quinoa Super Bites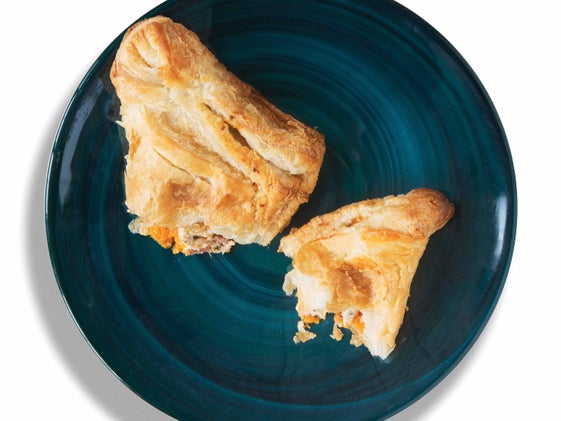 Savory Pie Pockets
These pockets are the counterbalance to too much sweetness on your long training days.
Ingredients
1 package pre-rolled pie dough sheets (2 sheets per package)
2 medium sweet potatoes
6 pieces turkey bacon, finely chopped
9 egg whites
3 eggs
2 tsp fresh thyme
1 tsp salt
½ tsp pepper
Directions
Preheat oven to 425 degrees. Line a large baking sheet with parchment paper. Poke holes with a fork in the sweet potatoes, and microwave until soft (start by cooking for 5 minutes, then rotate and cook another 5 minutes). Prepare a large skillet with non-stick spray, and heat over medium heat. Sauté the turkey bacon with the thyme for 5 minutes. Whisk together the eggs, egg whites, salt and pepper in a bowl. Add to the pan with the turkey bacon and scramble until eggs are soft and fluffy. Remove the flesh from the sweet potatoes into a bowl, add the egg mixture and stir together. Sprinkle flour on a large cutting board or counter top. Lay one pie sheet on the flour, and gently roll to thin out into a slightly rectangular shape. Cut into 6 equal segments. Repeat with the other pie sheet. Scoop equal amounts of egg-sweet potato mixture onto each of the 12 segments. Take one corner and gently fold over to another corner, creating a triangle pocket shape. Gently seal the edges by folding the bottom edge over the top edge. Place pockets on the baking sheet and bake for 20–25 minutes until dark golden brown on the top and bottom. Cool completely before wrapping in foil. Store in the fridge.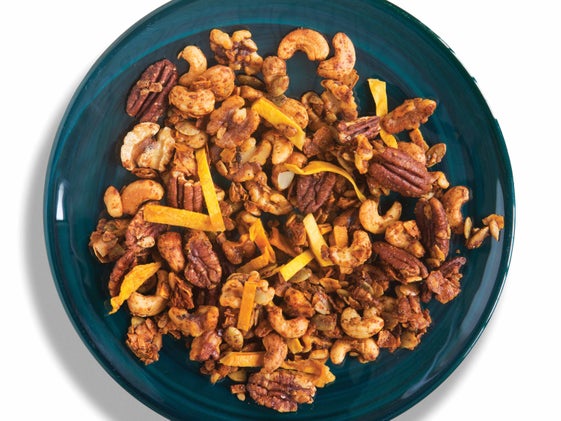 Sweet & Savory Trail Mix
Whether for training, entertaining or snacking, this trail mix is seriously addictive.
Ingredients
1 cup walnut halves
1 cup pecan halves
1 cup cashews
½ cup pumpkin seeds
1/3 cup sunflower seeds
1 cup unsweetened coconut flakes
1 T chili powder
1 tsp ground cumin
1 tsp ground coriander
1 tsp ground ginger
½ tsp ground cloves
½ tsp sea salt
2 T coconut oil, melted
2 T honey
2 T pure maple syrup
½ cup sugar-free dried mango, finely sliced
Directions
Preheat oven to 300 degrees. Line a large, rimmed baking sheet with parchment paper. In a large bowl, whisk together the ingredients from chili powder through maple syrup. Add the nuts, seeds and coconut, and toss until well coated. Spread the mixture onto the baking sheet. Bake 25 minutes, or until the mixture starts to caramelize. Let cool and then toss with the mango slices. Divide and store in small plastic bags.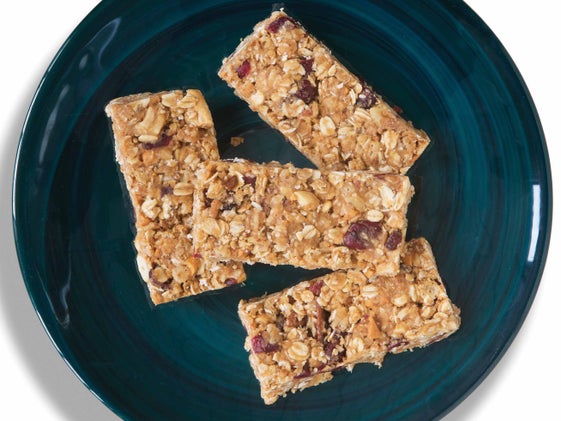 10-Minute Granola Bars
Customize these quick-made granola bars with your favorite ingredients and add-ins.
Ingredients
2 cups gluten-free whole rolled oats
1 heaping cup puffed rice cereal
1 cup pumpkin seeds, slivered almonds or chopped nuts
½ cup dried cranberries, raisins or white chocolate/chocolate chips
2/3 cup almond butter (or favorite nut butter)
2/3 cup honey, agave or brown rice syrup
1 tsp cinnamon or favorite spice
¼ tsp sea salt
Directions
In a large bowl, stir together all of the ingredients until well combined. Line a 13×9-inch baking dish with foil or parchment paper and press the mixture into the dish. Cover with foil or plastic wrap and press until flat. Refrigerate for 4 hours or up to overnight, cut into desired size of bars, wrap individually and store in the fridge.
Jessica Cerra is the owner of Fit Food by Jess, a private chef and catering company in Encinitas, Calif., and the co-founder of Harmony Bar. A former professional XTERRA triathlete, Cerra now races for Twenty16 Women's Professional Cycling Team. Find 150 more of Cerra's recipes online at Triathlete.com/recipes.