Boost Your Fall Menu with These Unique Root Veggies
Let some of nature's heartiest, vitamin-soaked veggies change the way you build your fall menu.
Heading out the door? Read this article on the new Outside+ app available now on iOS devices for members! Download the app.
There's something inherently comforting about fall cooking: A warm oven; soup simmering on the stove; chopping and roasting hearty veggies; serving a rustic, nourishing meal.
Making root veggies a key part of your seasonal menu is not only comforting—these autumn gems also offer a nutritional edge that translates into performance benefits. Plus, they are versatile, easy to use, full of fiber, and absorb an excellent amount of valuable nutrients via the soil they grow in.
Here are some of my favorite picks:
Rutabaga
Available Fall through Spring
Fun fact: Rutabaga is actually a cross between a turnip and cabbage. Compared to classic roots like sweet potatoes or yams, it has a special zesty flavor that adds some zip to recipes.
Nutritional edge: Want to eat your way to a healthy immune system? One serving of rutabaga contains nearly 50 percent of your daily vitamin C recommendation and potent amounts of zinc and antioxidants. Rutabaga is a low-glycemic root that's abundant in protein and fiber, which can help prevent hunger spikes by providing sustained energy release.
Performance benefits: Whip up rutabaga fries (see recipe opposite page) with turkey meatloaf and a salad for a replenishing meal packed with calcium to promote bone health, aid in joint pain, and improve recovery.
Tip: Spiralize rutabaga for pasta, dice into soups and stews, or steam and mash with potatoes. Soak it in cold water for 1-2 hours before roasting to keep it crispy.
Golden Beets
Available Summer through Fall
Fun fact: This variety contains much of the same nutritional benefits as red beets, and they look beautiful paired together. Golden beets are naturally sweeter than their darker cousins, making them a nice complement to other vegetables.
Nutritional edge: Golden beets are packed with phytonutrients such as lycopene and flavonoids, as well as vitamins A and C, beta-carotene, folic acid, iron, and potassium—a powerful combination for hard-working triathletes that helps boost heart and kidney health.
Performance benefits: Load up to combat anemia and fatigue, and keep some on hand for those time-crunched weeks when you need help keeping energy levels high.
Tip: Juice beets and greens together, sauté, or spiralize/grate; try slicing fresh beets into salads.
Parsnip
Available Fall through Spring
Fun fact: Carrot meets parsley in this flavor-abundant root. Make a favorite dish something new by swapping parsnip for potatoes or carrots, and garnish with fresh herbs to spruce up the color and enhance flavor.
Nutritional edge: Mental acuity is often the last thing we address in our training plans, but it shouldn't be. If your goal is to improve neurological health, parsnip offers high amounts of potassium and folate, shown to help improve alertness and focus. Plus, this root veggie is a great source of manganese, shown to improve bone health.
Performance benefits: Reducing inflammation through proper nutrition is one of the simplest ways to aid in recovery. Parsnip has powerful anti-inflammatory properties that can also help reduce the risk of chronic illness.
Tip: Grill and serve with your favorite herb sauce or dressing, or roast with rainbow carrots for a colorful side dish.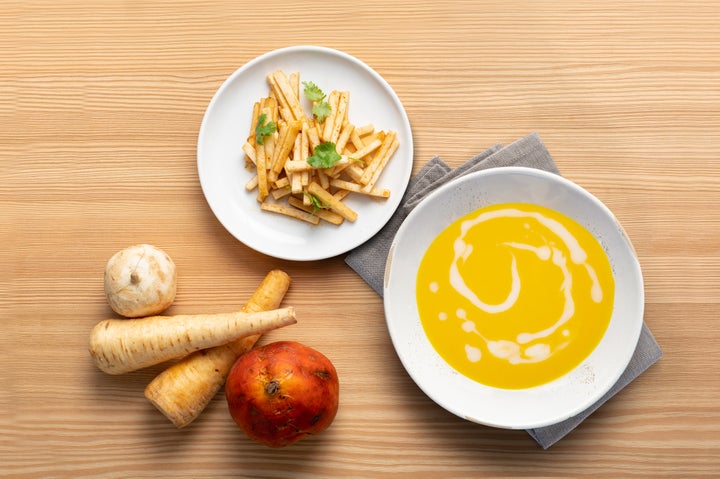 Recipe: Sweet & Spicy Rutabaga Fries
Ingredients
Serves 2-4
1 large rutabaga
2 T coconut oil
1 T maple syrup
1⁄2 T chili powder
1 tsp cumin
1⁄2 tsp garlic powder
1⁄4 tsp each: sea salt, black pepper, cayenne pepper
Preparation
Heat oven to 400 degrees. Prepare a large baking pan with non-stick cooking spray.
Cut the top and bottom of the rutabaga off, and peel the skin.
Cut the rutabaga into fries, and add to a large bowl with the rest of the ingredients; toss well.
Spread onto the baking pan, and bake for 45 minutes—flipping every 15 minutes. Once cooked, turn oven to hi-broil and broil on each side for 2 minutes—or until golden.
Optional
Garnish with fresh parsley or cilantro.
Recipe: Golden Beet & Ginger Soup
Ingredients
Serves 4
2 T canola oil
1 yellow onion, chopped
4 cups chopped golden beets
1 cup chopped parsnip or carrot
2 garlic cloves, chopped
2 T fresh ginger pureé
2 T maple syrup
4 cups low-sodium vegetable broth
2 1⁄2 cups coconut milk (from refrigerated section)
Salt and pepper to taste
Preparation
Heat canola oil in a soup pot over medium heat. Sauté onion for 5 minutes, add beets and parsnip or carrot, and sauté another 10 minutes.
Add garlic, ginger, and maple syrup, and sauté 1 minute longer, until fragrant. Season with salt and pepper.
Stir in broth and coconut milk, and simmer on low for 10 minutes. Remove from heat, and use an immersion blender or food processor to pureé the mixture smooth.