6 Ways To Upgrade Your Ice Cream
Ditch the fudge sauce and crushed Oreos and give your favorite dessert a nutritious twist with these smarter toppings.
Heading out the door? Read this article on the new Outside+ app available now on iOS devices for members! Download the app.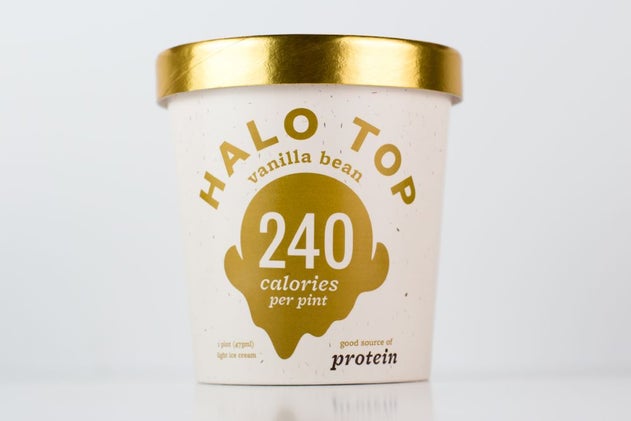 Backyard parties, long training days under bluebird skies and gazing at the stars are some of the many joys of flip-flop season. But few things can compete with the pleasure of luxuriating in a bowl of ice cream on the porch when sweater weather is a distant memory. While ice cream itself is never going to be categorized as a superfood like kale and chia seeds, if you ditch the fudge sauce and crushed Oreos for smarter toppings you can turn a bowl of decadence into something with a nutritious side, too. Here are the best things you can toss onto summer's ultimate treat.
Cold Comfort: Who says that ice cream needs to be a guilty pleasure? Each pint of Halo Top including classic flavors like Mint Chip and Vanilla contain no more than 280 calories. How can such a swoon-worthy subzero treat not bowl you over with calorie gluttony? By going easy on the cream and sneaking in items like milk protein and prebiotic fiber that have fewer waistline repercussions.
RELATED: 3 High-Protein Frozen Desserts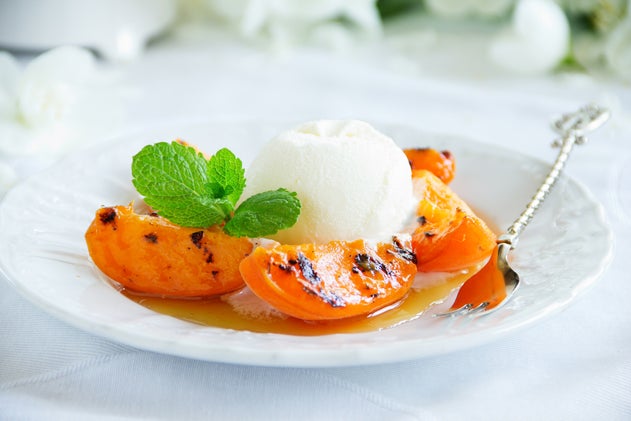 Grilled Peaches
Fruit is a no-brainer when it comes to healthy ice-cream toppings. But to take it up a notch, try piling on chunks of flame-licked peaches. When peaches are grilled, their sugars caramelize making them even more of a sweet summer sensation. Beyond making a bowl of ice cream a total taste bud party, peaches are a good source of vitamin C, a nutrient linked to improved fat-burning during exercise. Vitamin C is needed for the production of carnitine, a compound required for the oxidation of fatty acids by exercising muscles.
To grill peaches, slice the fruit in half, remove the pits and brush cut sides with a touch of oil. Place peaches, cut side down, on grill grate and heat until softened and grill marks appear. Chop and then place on your favorite ice cream.
RELATED: Four Ways To Use… Peaches

Pumpkin Seeds
Candy sprinkles are not exactly the healthiest way to add some crunch to ice cream. Instead, reach for a handful of roasted pumpkin seeds. The jack-o'-lantern cast-offs provide a medley of important nutrients for athletes including protein, essential omega fatty acids, bone-building vitamin K and magnesium. The white coats at Harvard determined that higher intakes of magnesium are associated with a lower risk for heart disease.
You can find roasted pumpkin seeds at most health food shops and bulk stores. Or look out for bags of SuperSeedz, which contain the verdant seeds in a number of ice cream ready flavors including Coco Joe and Maple Sugar & Sea Salt.
RELATED: 4 Energizing Trail Mix Recipes For On The Go

Banana Chips
Athletes have long gone ape over bananas, and now there is a delicious way to enjoy them on your frosty treat. In short, banana chips are made when the fresh fruit are very thinly sliced and then heated to remove moisture. The result is a crunchy, shelf-stable delight. Each serving provides much needed dietary fiber, along with potassium to help your muscles work at their maximum potential. To keep your added sugar intake in check, you'll want to hunt down a brand such as Bare that offers up banana chips options minus the extra sweet stuff. You can also stash a bunch in your jersey pocket for on-the-go fuel when you are pushing the pace.
RELATED – Loving Right Now: Bare Snacks Crunchy Banana Chips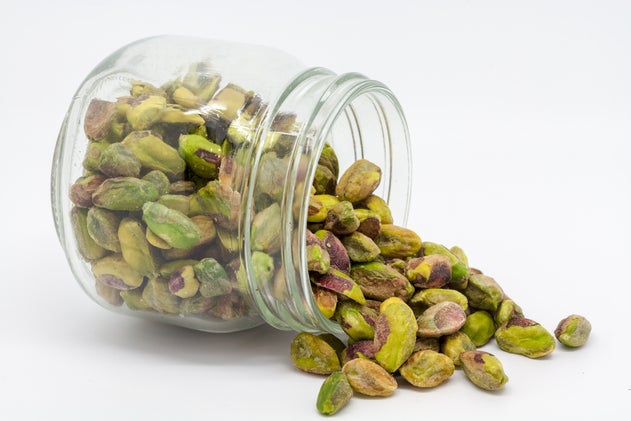 Pistachios
There are plenty of reasons to go nuts for pistachios when it comes to serving healthier ice cream. Namely, they are a good source of heart-healthy monounsaturated fat, protein, fiber and a range of vital minerals and vitamins including thiamin, copper and phosphorus. They are also a source of lutein, an antioxidant also found in leafy greens that has been found to improve eye health. And despite their calorie count, studies show that munching on nuts like pistachios won't contribute to weight gain if part of an overall calorie controlled diet. In other words, go ahead and sprinkle a handful of pistachios on your ice cream as long as the latter isn't a full tub's worth. Look out for bags of American-grown Wonderful Pistachios at most grocery stores.
RELATED: Pistachio Crusted Salmon With Mashed Sweet Potato Recipe

Cold Brew Coffee
If you have an itching for an ice cream float, look no further than the hipster craze of cold brew coffee. The term "cold brew" refers to grounds that are soaked in cold water for several hours and then filtered. Iced coffee, in contrast, is brewed hot before being chilled over ice, which can result in a watered down flavor. Recent research suggests that the payload of antioxidants in coffee can help in the fight against chronic diseases like certain cancers and heart disease. Also, prolonged brewing time and higher grounds-to-water ratio may lend cold brew coffee more of a caffeine jolt, which is a perk if you're looking to rev up your workouts. High Brew provides options like Mexican Vanilla and Dark Chocolate Mocha that are guaranteed to up your ice cream game.
For a perky float, place a scoop or two of vanilla or chocolate ice cream in a dish and pour in about 1/2 cup cold brew coffee. Add toppings as desired.
RELATED: 3 Race Morning Coffee Solutions

Muesli
Not just for breakfast, muesli is a great way to add quality carbohydrates to your ice cream. Most often consisting of some sort of combination of whole grains like oats, nuts, seeds, dried fruit and spices, muesli can go straight from bag or box to bowl of ice cream. Do so, and you'll benefit from energizing carbs, hunger-quelling fiber, healthy fats and body-friendly antioxidants. As a bonus, muesli often has lower sugar levels than many brands of granola and since it's less likely to be baked it may retain more nutritional firepower. Seven Sundays is a top-notch brand with many tasty flavors that go well with ice cream including Cocoa & Coconut and Vanilla Cherry Pecan. Another option on the market is Alpen, which makes a no sugar added muesli if you think your ice cream already has enough of the sweet stuff.