4 Ways To Use Citrus
Incorporating citrus—orange, lemon, grapefruit and lime—in your cooking is a great way to brighten up winter meals.
Heading out the door? Read this article on the new Outside+ app available now on iOS devices for members! Download the app.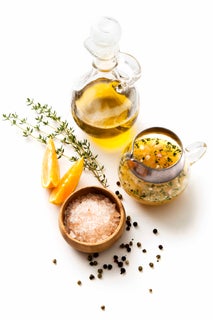 Incorporating citrus—orange, lemon, grapefruit and lime—in your cooking is a great way to brighten up winter meals, adding bold flavor without a lot of calories. Citrus contains flavonoids (which have cancer-preventing properties), improves circulation and helps keep cholesterol levels low. These fruits also boast healthy amounts of potassium and folate, although they are better known for having high amounts of vitamin C, an important antioxidant that promotes immunity, heals wounds and enhances iron absorption. Give one of these four citrus-centric recipes a try tonight.
Orange, Lemon and Herb Vinaigrette
This vinaigrette is so flavorful and easy to make, it is sure to become your go-to dressing for salads.
In a blender combine the juice of 1 orange, the juice of 3 lemons, the zest of 1 lemon, ¼ cup white balsamic or champagne vinegar, 2/3 cup olive oil, ½ tablespoon each freshly chopped rosemary and thyme, 1 teaspoon sea salt and ½ teaspoon pepper. Pour this into a sealable jar or container, and add 1 finely chopped shallot. Store in the refrigerator for up to two weeks (the citrus will naturally soften the shallot). Shake before using.
RELATED: (Healthy) Sweet Potato Salad Recipe

Blood Orange-Chile Baked Chicken
Spice up chicken with a savory-sweet marinade, all made in one dish for easy clean-up.
In a 9×13-inch baking dish, whisk together the juice and zest from 2 blood oranges and 2 limes with 2 tablespoons canola oil, 2 tablespoons low-sodium soy sauce, 1 tablespoon agave, 2 tablespoons freshly chopped cilantro and 1 tablespoon chili-garlic sauce. Slice 3 scallions and 1 serrano pepper (seeds removed), and add this to the mixture. Place 2 each bone-in, chicken breast, thighs and legs (optional) skin side down into the mixture. Let marinate for 20 minutes out of the fridge, or up to 2 hours refrigerated. Preheat oven to 425 degrees. Roast chicken for 15 minutes. Remove from oven; turn chicken over so the skin side is up. Spoon the marinade over the chicken and return to the oven for another 25–30 minutes, until the center of the chicken breast is 165 degrees on a meat thermometer. Serve chicken with the juices poured over the top.
RELATED RECIPE: Chicken Enchiladas

Lime-marinated Kale with Grapefruit, Avocado and Beets
Loaded with juicy grapefruit, tart pomegranate seeds, creamy avocado and hearty beets, this kale salad is as colorful as it is nutritious and delicious.
In an extra large bowl, whisk together the juice of 6 limes with 3 tablespoons olive oil, 1 tablespoon freshly chopped mint, 2 teaspoons agave, 1 teaspoon sea salt and ½ teaspoon pepper. Toss 5 ounces (about 6 packed cups) chopped kale and half a fennel bulb, finely sliced, with the dressing, and let marinate in the fridge for 30 minutes. Once the kale has marinated, move to a large serving platter or separate plates. Over the top of the kale scatter 2 small (or one large) steamed or roasted beets, the segments from 4 pink grapefruit, 1 large sliced avocado and ¼ cup pomegranate seeds.
RELATED: Why (And How) To Give Kale A Try

Slow Roasted Citrus Salmon
Baked slowly and tenderized with orange and Meyer lemon, this salmon will melt in your mouth.
Heat oven to 275 degrees. Slice 1 fennel bulb, 2 oranges and 2 Meyer lemons, and place them in the bottom of a 9×13-inch baking dish. Add 2 tablespoons olive oil, 1/3 cup dry white wine, 2 tablespoons fresh chopped dill, 2 tablespoons capers (optional), 1 teaspoon sea salt and ½ teaspoon pepper to the pan, and toss with the citrus and the fennel. Lay a 2-pound skinless salmon filet (ask for center cut) over the top. Cover with foil and let bake for 35–40 minutes until just cooked through (medium rare) or 45–50 minutes (well done). Serve the salmon with the fennel, capers and juices spooned over the top.
RELATED: Grilled Wild Salmon Recipe
Jessica Cerra is the owner of Fit Food by Jess, a private chef and catering company in Encinitas, Calif., and the co-founder of Harmony Bar. A former professional XTERRA triathlete, Cerra now races for Twenty16 Women's Professional Cycling Team.