4 Ways to Use … Spaghetti Squash
If you are looking for a lighter dish that is equally filling, this squash is a great alternative.
Heading out the door? Read this article on the new Outside+ app available now on iOS devices for members! Download the app.
This squash has become an increasingly popular substitute for traditional pasta because it is a less dense source of carbohydrates. In fact, one cup has about 40 calories and 7 grams of carbs, versus the 200 calories and 40 grams of carbs of regular pasta. If you are looking for a lighter dish that is equally filling, this squash is a great alternative. Plus, it's a rich source of fiber, vitamins A, B and C, and potassium.
Each recipe requires one 3- to 4-pound spaghetti squash that has been roasted or cooked in the microwave. To roast, place the squash in a baking dish, cut several holes in the top to release steam, and bake at 400 degrees for 45-50 minutes. To microwave, place on a large plate, cut several holes in the top and bottom, and microwave for 15 minutes, turning once halfway through. Let cool for 15 minutes, cut in half and scoop out the seeds, then proceed with the recipes.
Southwestern-Style Stuffed Squash
This spiced-up meal makes a large batch, so plan on enjoying leftovers.
In a large skillet, heat 2 tablespoons olive oil over medium heat. Add 1 yellow onion and 6 pieces turkey bacon (both finely chopped). Using a wooden spoon, stir consistently for about 8 minutes until the onion and bacon are golden. Add half (each) red bell pepper, poblano pepper and Serrano pepper (all seeded and finely chopped) and sauté another 5 minutes. Add 1 tablespoon (each) minced garlic and chili powder, plus 1 teaspoon salt and ½ teaspoon fresh cracked pepper and stir for 1 minute until fragrant. Stir in 1 cup fresh corn and 1 15-ounce can black beans (drained and rinsed). Turn oven to Hi-Broil and cover a baking sheet with foil. Place cooked spaghetti squash halves on the sheet, fill each half equally with the mixture from the pan, and top each with ¼ cup crumbled queso fresco. Place on the middle oven rack and broil for about 5–8 minutes, until the cheese is golden. Serve with a sprinkle of fresh cilantro.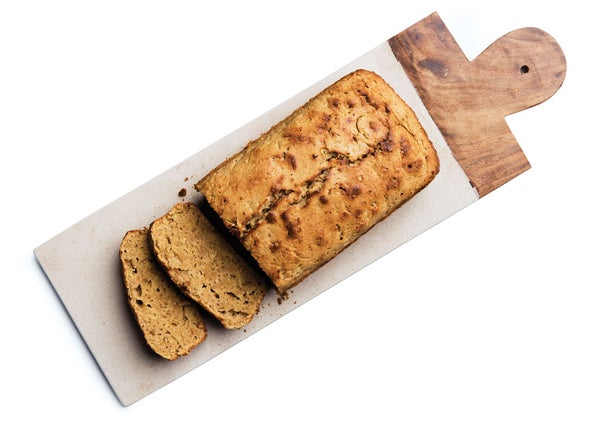 Spaghetti Squash Spice Bread
Customize this fresh take on zucchini bread by adding seeds, nuts, coconut or chocolate chips, and pack a slice in your jersey pocket for your next long training ride.
Preheat oven to 350 degrees. In a large bowl whisk together 2 cups whole-wheat pastry flour, ½ cup maple or coconut sugar, 2 teaspoons baking powder, 1 teaspoon cinnamon, ¼ teaspoon nutmeg and ½ teaspoon salt. In another large bowl mix together 2 cups finely chopped cooked spaghetti squash meat, 2/3 cup 1% milk, 1/3 cup melted coconut oil, 2 large eggs and 1 teaspoon pure vanilla. Add the wet ingredients to the dry ingredients and stir until thoroughly combined. Prepare a bread pan with non-stick cooking spray, pour the batter into the pan, and bake 50–60 minutes, until a butter knife inserted in the middle comes out clean. Remove from oven and let cool 10 minutes. Remove from pan and let cool another 20–30 minutes before serving.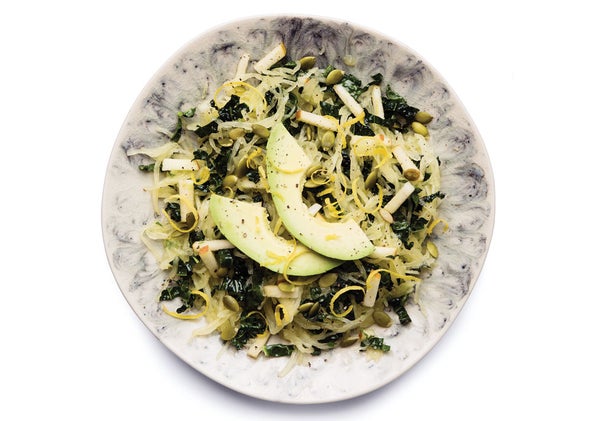 Squash Salad with Apple and Kale
Add some bright and fresh seasonal flavors into your fall menu with this salad, which can be served as a side dish.
In a large bowl whisk together the juice of 3 large lemons, zest from 1 lemon, 3 tablespoons olive oil, 2 tablespoons finely chopped fresh mint, 2 teaspoons agave or honey, 1 teaspoon sea salt and ½ teaspoon fresh cracked pepper. Remove the meat from the shells of one cooked spaghetti squash and add to the bowl along with 1½ cups kale (cut into thin strips) and 1 large apple cut into thin matchsticks. Toast ¼ cup pepitas in a pan over medium heat until golden brown. Top the squash salad with the toasted pepitas and thin slices of avocado.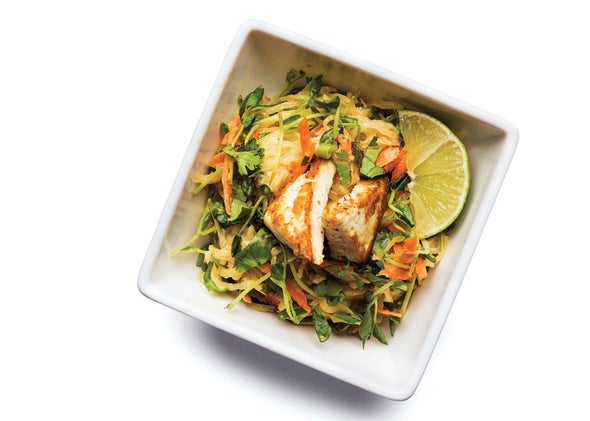 Peanut "Noodles"
This tasty Thai favorite is delicious served warm or chilled. For a complete meal try serving with roasted shrimp, baked tofu or grilled chicken.
To make the peanut sauce, whisk together ½ cup crunchy peanut butter, ½ cup light coconut milk, ¼ cup Asian ginger dressing and 1 tablespoon tamari or low-sodium soy sauce. Remove the meat from the shells of one spaghetti squash and toss with about half of the peanut sauce. The rest of the sauce can be stored in the fridge or used for extra topping for this dish. Once the squash has been mixed with the sauce, combine 1 cup bean or sunflower sprouts, 1 cup shredded carrots, 2 tablespoons (each) chopped fresh cilantro and green onion with the juice of 2 large limes. Serve this over the peanut "noodles."