4 Ways To Use… Persimmons
Explore this seasonal fruit with these four recipes.
Heading out the door? Read this article on the new Outside+ app available now on iOS devices for members! Download the app.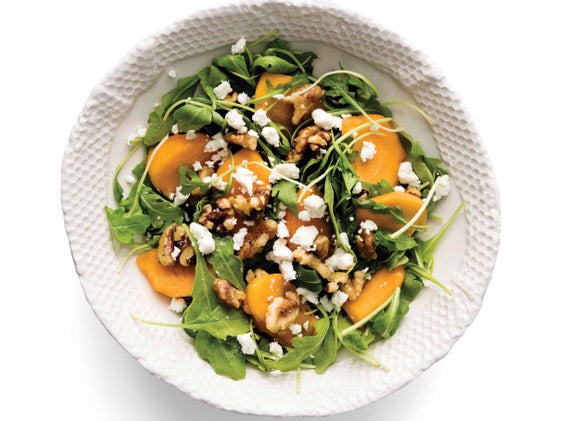 This crispy, sweet winter fruit comes in two hybrids: jiro (aka fuyu) and hachiya. The smaller jiro, resembling a tomato shape, is meant to be eaten before it turns soft. The hachiya, the longer heart-shaped version, should be enjoyed once ripe and soft. Persimmons contain powerful amounts of beta-carotene, helping to promote eye health, and they are also rich in vitamin C and phytochemicals, which boost the immune system and aid in recovery. Eating persimmons can also help maintain bone and blood health because they contain high levels of calcium and iron. Explore this seasonal fruit with these four recipes.
Persimmon, Walnut & Goat Cheese Salad
Unique enough to impress dinner party guests yet simple to make as a weeknight dish, this recipe yields a large, family-sized salad.
Add one 8-ounce bag arugula to a large salad bowl. Heat oven to 350 degrees. On a baking sheet toss 2/3 cup walnut halves with 1 tablespoon olive oil, 1 tablespoon agave or honey, ½ tablespoon cumin, ½ teaspoon sea salt and ¼ teaspoon fresh cracked pepper. Bake for about 8–10 minutes, tossing once, until lightly toasted. Set aside to cool. Peel, core and dice 2 jiro persimmons. In a small bowl, whisk together 2 tablespoons olive oil, 2 tablespoons champagne or white balsamic vinegar, 1 tablespoon agave or honey and ½ teaspoon sea salt. Toss the arugula with a conservative amount of the vinaigrette. Gently fold in the persimmons, walnuts and ½ cup goat cheese crumbles, and serve with the extra vinaigrette on the side.
RELATED: 4 Ways To Use… Sweet Potatoes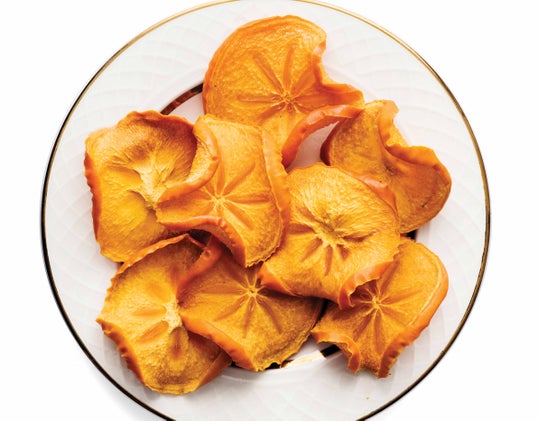 Dried Persimmon Rings
Dried persimmons make great ride and snack food. Add nuts for a creative trail mix or chop into oatmeal or yogurt to naturally sweeten up breakfast.
Preheat oven to 250 degrees. Place two baking racks onto two cookie sheets. Remove the stems from 6 jiro persimmons and cut into ¼-inch slices. Place slices on the wire racks and bake for 1½ hours for softer slices or 2 hours for chewier slices (the sides will start to curl up). Store in the fridge in a sealed bag or container.
RELATED RECIPE: Burrata, Grilled Persimmons And Marinated Figs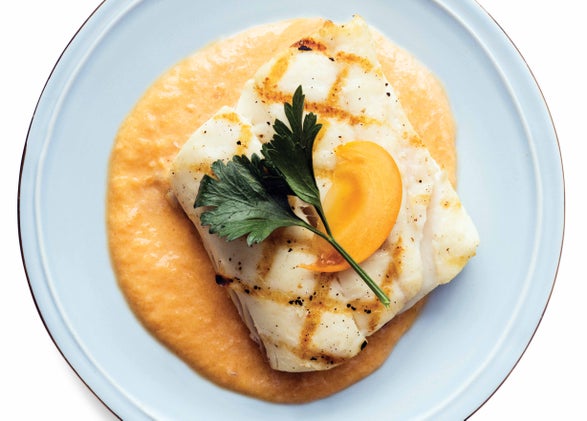 Citrus Persimmon Sauce
Brighten up tacos, grilled fish and chicken or roasted pork, or serve with oats, quinoa or yogurt for breakfast. Dollop on top of gelato, tarts or cakes to liven up dessert.
Remove the top leaf off 2 hachiya persimmons with a paring knife and scoop out the flesh with a spoon into a food processor or blender. Add 1 tablespoon plain 2% Greek yogurt and the juice and zest of 1 lime and half an orange, and blend for 30 seconds until smooth. Serve immediately, and store leftovers in a sealed container in the fridge for 2–3 days.
RELATED: 4 Ways To Use… Citrus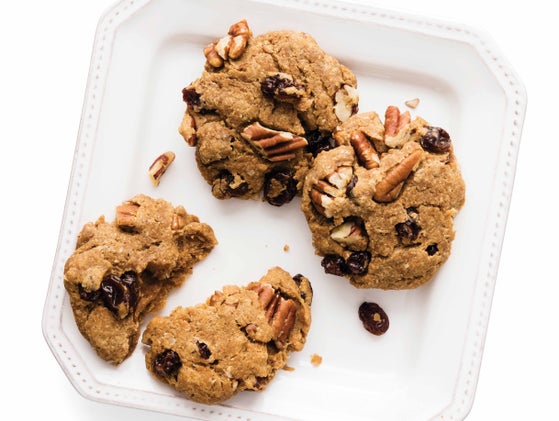 Persimmon Cookies
You won't believe how moist and delicious these cookies are. Full of spices nutmeg, cinnamon and cloves, they're the perfect homemade holiday sweet.
Preheat oven to 350 degrees. Remove the top leaf off 2-3 hachiya persimmons with a paring knife, scoop out the flesh with a spoon and purée in a blender or food processor. In a large bowl whisk together 1 cup of the persimmon purée, ½ cup softened coconut oil, 2/3 cup coconut or maple sugar, 1 egg and 1 teaspoon vanilla. In another bowl whisk together 2 cups whole-wheat pastry flour, ½ teaspoon (each) baking soda, baking powder, cinnamon, nutmeg and ground cloves and ¼ teaspoon salt. Mix in 1 cup (each) raisins and chopped walnuts or pecans. Drop by the tablespoon onto parchment-lined or greased cookie sheets (9–12 per sheet). Bake one sheet at a time for 12–15 minutes. Remove and let cool on wire racks.
RELATED: Meet 3 Triathlete Bakers
Jessica Cerra is the owner of Fit Food by Jess, a private chef and catering company in Encinitas, Calif., and the co-founder of Harmony Bar. A former professional XTERRA triathlete, Cerra now races for Twenty16 Women's Professional Cycling Team. Find 150 more of Cerra's recipes online at Triathlete.com/recipes.