4 Ways To Use … Cranberries
Colorful, bittersweet and full of health benefits, cranberries are a smart addition to your seasonal menu.
Heading out the door? Read this article on the new Outside+ app available now on iOS devices for members! Download the app.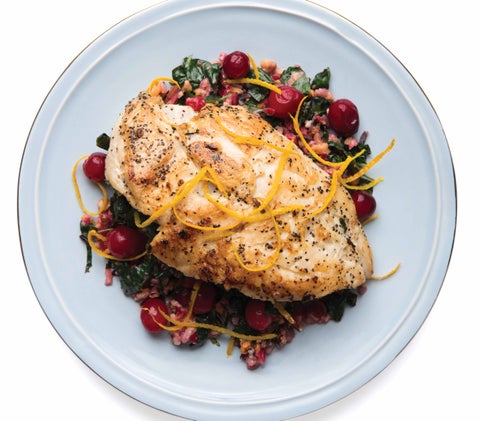 Colorful, bittersweet and full of health benefits, cranberries are a smart addition to your seasonal menu. Studies have shown they can help support the immune and cardiovascular systems, and the phytonutrients provide anti-inflammatory benefits. Opt for fresh cranberries, not ones processed with excess sugar, for these recipes.
Wild Rice, Cranberry and Goat Cheese-stuffed Chicken
Impress your guests or make a batch to have on hand for a no-fuss dinner during the week. Heat a large skillet over medium heat. Add ½ cup chopped hazelnuts and toast for 5–7 minutes, stirring consistently until golden brown. Remove into a medium-sized bowl. Add 1 tablespoon olive oil to the pan, along with 2 finely chopped shallots. Cook for 3–4 minutes (until golden), add 1 tablespoon minced garlic, 1½ teaspoons sea salt, and ½ teaspoon fresh cracked pepper and sauté another minute. Add 1 tablespoon olive oil to the pan with 4 cups (packed) chopped kale. Cook for about 5 minutes until wilted. Pour this mixture into the bowl with the nuts, along with 1 cup cooked (al dente*) wild rice, 2/3 cup chopped fresh cranberries, ½ cup crumbled goat cheese, 2 tablespoons chopped fresh parsley, juice and zest of 1 orange, and 1 tablespoon pure maple syrup. Stir until well combined. Season 4 boneless, skinless 6- to 8-ounce chicken breasts with olive oil, salt and pepper. Insert a sharp knife into the thick part of the chicken breast and cut about 3 inches down the side. Stuff the breasts evenly with the rice mixture, and place back into the skillet over medium-high heat (make sure the pan is very hot). Sear the breasts for 2 minutes per side, then lower heat to medium and cook about 6-8 minutes per side. Check that the breasts are cooked through. If not, cover and cook a couple minutes longer.
*Cooking the rice al dente will prevent it from over cooking and becoming mushy when it is cooked further with the chicken breasts.
RELATED: 7 Day Meal Plan For Triathletes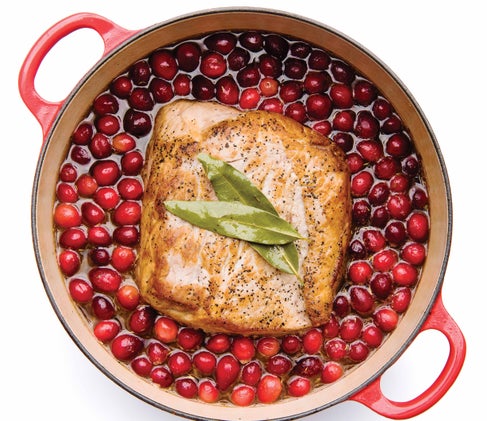 Cranberry Braised Pork Loin
Try serving this one-pot recipe over creamy polenta or make sliders topped with the extra cranberry sauce. Heat oven to 350 degrees. Generously sprinkle all sides of a 2-pound pork loin with salt and pepper. Heat 1 tablespoon olive oil over medium-high heat in a French or Dutch oven. Sear the pork loin on all sides until a golden brown crust forms. Remove pork to a plate, turn heat to medium, and add 1 large chopped yellow onion and 1 tablespoon olive oil to the oven. Using a wooden spoon, sauté for 5 minutes. Add 2 cloves minced garlic, 1 tablespoon chopped fresh thyme, and ¼ teaspoon ground cloves, and sauté another minute. Add the pork loin, and any accumulated juices, back to the oven along with 2 cups dry white wine, 2 cups fresh cranberries, ¼ cup apple cider vinegar and 2 bay leaves. Cover and place in oven for 30 minutes. Turn heat to 275 degrees and cook 3 hours longer, until meat is falling apart. Check occasionally, and if liquid is running out, add small amounts of water or chicken stock. Let rest 15 minutes before serving.
RELATED – One-Pot Wonders: 4 Hearty Recipes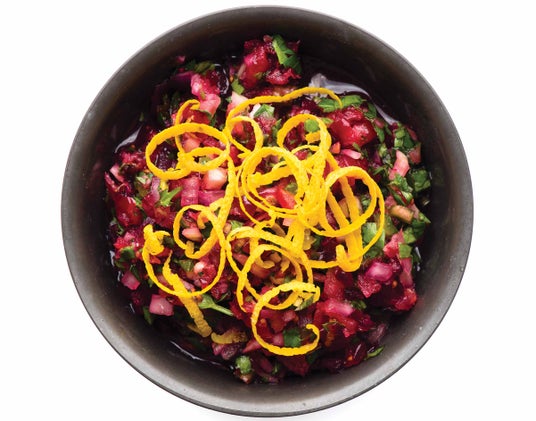 Spicy Cranberry-Fennel Salsa
This salsa is an easy addition to salads or wraps, served on tacos, or over chicken, pork, fish or shrimp. Add a 12-ounce bag of fresh cranberries to a food processor, and process until coarsely chopped. Pour the cranberries into a medium-sized bowl. Add 1/3 cup finely chopped fennel, 2 finely diced shallots (or ¼ red onion), 1 Serrano pepper (seeded and finely minced), 2 tablespoons (each) finely chopped cilantro and flat-leaf parsley, zest of 1 (each) lime and orange, juice of 2 (each) large limes and oranges, ¼ cup agave, 2 tablespoons brown sugar, ½ teaspoon (each) sea salt and pepper. Mix until combined and let marinate for 30 minutes in the refrigerator before serving. Store leftover salsa in the fridge.
RELATED – Fruitful Plates: 4 Melon-Based Recipes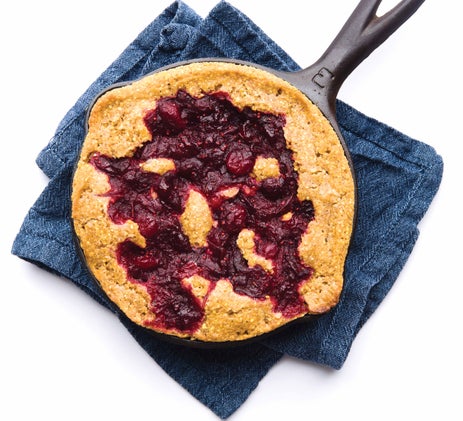 Cranberry-Rosemary Cornbread
Sweet and savory, this cornbread pairs well with spicy chili, smoky braised meats and steamy bowls of soup. Also turn breakfast up a notch by serving this toasted with poached eggs and turkey bacon. Heat oven to 400 degrees and prepare a 9×9-inch baking dish or 10-inch pie pan with non-stick cooking spray. In a large saucepan heat one 12-ounce bag fresh cranberries over medium-high heat. Add 1/3 cup pure (Grade A or B) maple syrup, 2 tablespoons (each) water and fresh lemon juice, 1 tablespoon finely chopped fresh rosemary, 1 teaspoon pure vanilla, and ¼ teaspoon sea salt to the pan. Stir consistently for about 5 minutes until the cranberries start to pop, remove from heat and let cool while preparing the cornbread batter. In a small bowl, whisk together ½ cup low-fat milk, ½ cup melted coconut oil, 1 large egg, and 1 teaspoon vanilla. In a medium bowl, whisk together 2/3 cup fine to medium ground cornmeal, ½ cup whole-wheat pastry flour, 2 teaspoons baking powder and ½ teaspoon sea salt. Add the wet ingredients to the dry and stir gently until combined. Pour the batter into the baking dish and spread out evenly with a spoon. Pour the cranberries and juice over the batter, and, using a butter knife, swirl the cranberries and juice into the batter. Bake for about 15 minutes until the top is golden brown, and the cornbread springs back when gently pressed. Let cool for 5–10 minutes before serving.
Cooking tip: If fresh cranberries are out of season or unavailable, you can replace them with frozen ones in any of these recipes. Just be sure to thaw them first!
Jessica Cerra is the owner of Fit Food by Jess, a private chef and catering company in Encinitas, Calif., and the co-founder of Harmony Bar. A former professional XTERRA triathlete, Cerra now races for Twenty16 Women's Professional Cycling Team. Find 150 more of Cerra's recipes online at Triathlete.com/recipes.