4 Holiday Side-Dish Makeovers
Our resident endurance sports chef Jess Cera gave four holiday side-dish faves a healthy makeover. Gobble them up!
Heading out the door? Read this article on the new Outside+ app available now on iOS devices for members! Download the app.
Root Veggie and Fresh Herb Mash
Root veggies are a satisfying source of complex carbohydrates with many anti-inflammatory and antioxidant benefits—you might just forget mashed potatoes ever existed.
Ingredients
2 large baking potatoes 2 medium rutabagas
1 medium celery root
2 large parsnips
6 cloves garlic, peeled
1⁄2 cup light sour cream
2 T olive oil or grass-fed butter 1 tsp salt
1⁄2 tsp fresh cracked pepper
3 T flat leaf parsley, freshly chopped
3 T chives, freshly chopped
2 T tarragon, freshly chopped
Directions
Using a vegetable peeler, peel the veggies, and dice into 1-inch pieces.
Place the veggies and garlic cloves in a large pot, and cover with water. Bring to a boil over high heat. Reduce heat to medium cook, partially covered, until soft, about 20 minutes.
Drain in a colander and return to pot, off the heat. Add the sour cream, olive oil or butter, salt, and pepper to the veggies and mash until desired consistency. Note: Use a food processor for a smooth purée.
Stir 2 T, each, parsley, and chives—and all of the tarragon—into the mash.
Scoop the mash into a serving dish and sprinkle the remaining 1 TBSP, each, parsley and chives on top.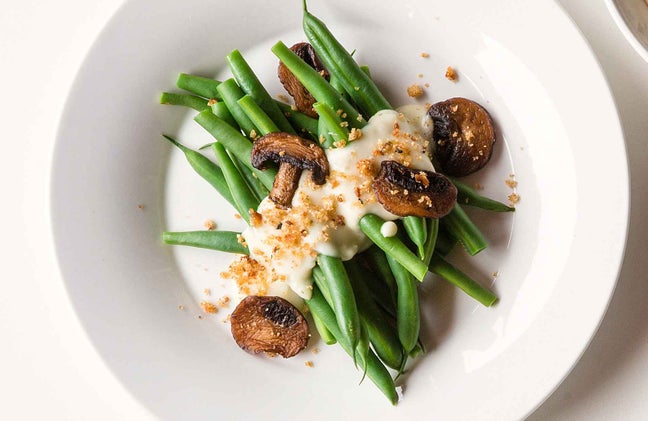 Green Bean Supreme
This recipe packs all the nostalgia of green bean casserole in a lighter and more nutrient dense recipe. Health note: Green beans are full of fiber, Vitamins A, C, and K—plus calcium and iron.
Ingredients
2 pounds green beans, ends trimmed
1 pound crimini mushrooms 3 T olive oil
3 shallots, finely chopped 2 garlic cloves, minced
1 tsp fresh thyme, finely chopped
3 T all-purpose flour
2 cups low-fat milk
4 ounces light cream cheese cup grated parmesan cheese 1 1⁄2 cups crumbled whole-grain bread
Directions
Heat oven to 450 degrees. Toss green beans and mushrooms with 2 T of the olive oil, and spread onto two rimmed baking sheets. Bake for 20-25 minutes, tossing once, and rotating racks until browned.
Meanwhile, in a large sauté pan over medium heat, cook the shallots (seasoned with salt and pepper) with the remaining TBSP of oil for 7-8 minutes, until golden. Add the garlic and thyme and cook another 1-2 minutes.
Add the flour and stir to coat the mixture. Using a whisk, mix in the milk and let bubble, stirring consistently, for 3-4 minutes until it begins to thicken. Then add the cream cheese and parmesan and stir until everything is thoroughly combined.
Heat the broiler. Pour the green bean and mushrooms into a large baking dish (prepared with non-stick cooking spray). Top with the cheese mixture, and stir to combine.
Sprinkle the breadcrumbs over the top, spray with non-stick spray, and broil for 3-5 minutes until the breadcrumbs are golden. Let stand 10 minutes before serving.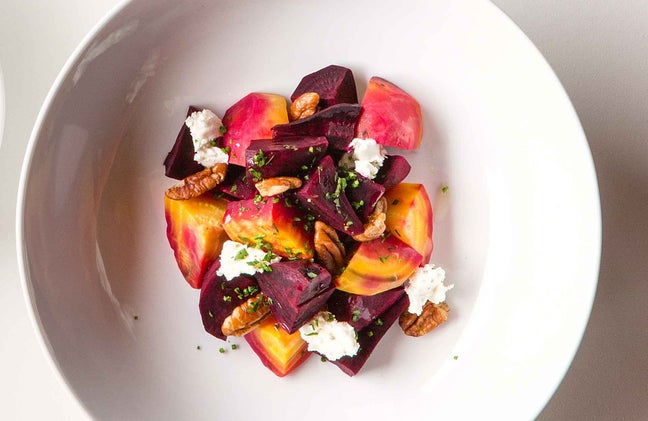 Plating: Chef Mikel Anthony, Photo: Sam Wells
Caramelized Beets
Swap out that sugary, buttery glob of sweet potatoes. Beets offer loads of B vitamins, iron, and improved circulation. Citrus and pure maple syrup caramelize the beets creating a satisfying, brilliant flavor.
Ingredients
1 pound golden beets 1 pound red beets
2 T olive oil
2 T fresh orange juice 1 T maple syrup
2 tsp freshly grated lemon zest 2 tsp freshly grated orange zest 1 tsp freshly chopped oregano 1 tsp freshly chopped thyme
3⁄4 tsp sea salt
1⁄2 tsp freshly ground pepper 2 T fresh lemon juice
cup crumbled goat cheese (optional)
1⁄4 cup pecan pieces (optional)
Directions
Place rack on lower third of the oven, and heat to 450 degrees. Using a vegetable peeler, peel the beets, and dice into 1-inch pieces.
In a bowl, whisk together the rest of the ingredients, excluding the fresh lemon juice, goat cheese, and pecan pieces.
Toss the beets in the mixture, and then spread evenly onto a rimmed baking sheet. Roast for 20-25 minutes, tossing once, until the beets are golden and tender.
If using the pecans, toast for 7-8 minutes in a pan over medium heat, consistently tossing to ensure they don't burn.
Remove the beets from the oven, and toss with the fresh lemon juice.
Arrange the beets on a platter with the goat cheese and pecans over the top. Garnish with fresh herbs, if desired.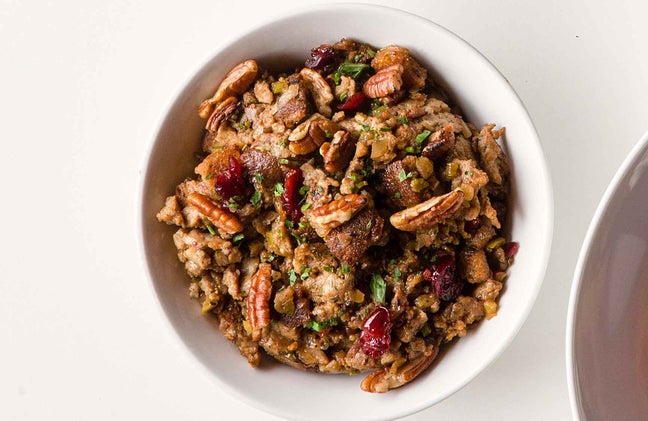 Turkey Sausage and Apple Stuffing
A few simple modifications turns stuffing into a dish loaded with veggies, apples, and fiber-rich multi-grain bread, without sacrificing flavor.
Ingredients
1 pound multigrain bread, cut into 1-inch cubes
3 T olive oil
8 ounces spicy Italian turkey sausage*
1 yellow onion, diced
1⁄2 cup fennel or celery, diced 4 cloves garlic, minced
2 Granny Smith apples, diced
cup toasted pecan pieces
cup dried cranberries
2 T fresh Italian parsley, finely chopped
2 tsp (each) fresh sage, thyme, rosemary, finely chopped
3 cups chicken broth
*Substitute with 12 ounces shitake or crimini mushrooms for vegetarian/vegan option. Use same cooking method and sauté until golden.
Directions
Heat oven to 400 degrees. On a rimmed baking sheet, toss the bread with 2 T of the olive oil. Bake for 7-8 minutes until golden, tossing once. Remove to a large bowl.
Remove the sausage from the casing, and cook in a sauté pan over medium heat, until browned, using a wooden spoon to break apart the sausage. Add the sausage to the bowl with the bread.
In the same pan, add the olive oil, onion, and fennel or celery, and sauté until golden. Add the garlic and apples, and sauté another 5 minutes. Remove this mixture to the bowl.
Add the pecans, cranberries, and herbs to the bowl, and toss until well combined.
Pour the mixture into a 9×13-inch baking dish, then pour the chicken broth over the top. Cover with foil and bake for 20 minutes. Remove foil, drizzle the top with olive oil, and bake uncovered for 15 minutes longer.