4 Healthy Winter Breakfasts
Cozy up with your loved ones and savor the flavors of the season (without breaking your calorie budget), starting with breakfast.
Heading out the door? Read this article on the new Outside+ app available now on iOS devices for members! Download the app.
Cranberry-Walnut Quinoa Pancakes
Pack your pancakes with protein and texture by adding quinoa and walnuts to the batter. Tart cranberries not only make these cakes pop with color and holiday flavor but also add healthful plant compounds known to support the cardiovascular and immune systems. Serve these up fresh with warm maple syrup, or make a batch to have on hand for breakfast in a snap.
Bring 2/3 cup quinoa and 2/3 cup water to a boil in a small pot. Turn down heat, cover and let simmer until the water has absorbed (the quinoa will be al dente). Remove from the pot and let cool on a plate. In a saucepan, add 1 cup fresh cranberries and ¼ cup water. Cover and let boil for about 5 minutes. Drain the water and let cranberries cool on a plate. In a medium bowl, whisk together 1½ cups low-fat buttermilk, 1 egg, 1 egg white, 3 tablespoons agave and ½ teaspoon pure vanilla extract. In a large bowl, whisk together ¾ cup whole-wheat pastry flour, ½ cup all-purpose flour, 1½ teaspoons baking powder, ½ teaspoon baking soda, 1 teaspoon pumpkin pie spice, ¼ teaspoon salt and ½ cup chopped walnuts. Make a well in the dry ingredients and add the wet ingredients, stirring gently until well combined. Stir in the quinoa and cranberries until thoroughly incorporated with the other ingredients. Pour 1/3 cup batter for each pancake onto a lightly greased hot griddle or nonstick skillet. Cook 2–3 minutes, or until tops are covered with bubbles and edges look golden. Turn using a large spatula, and cook 2–3 minutes longer, or until lightly browned on the bottom.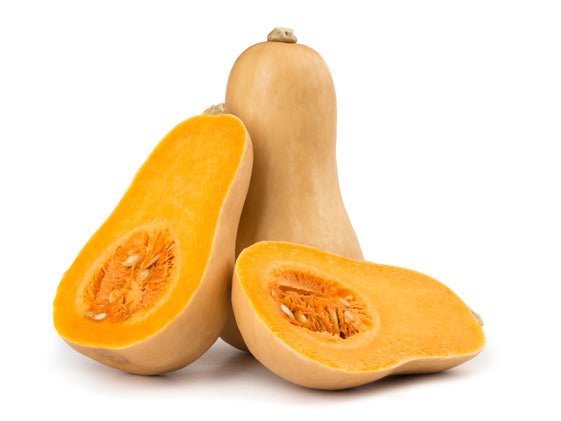 Butternut Squash and Kale Strata
This filling, flavorful recipe is ideal if you need to feed a lot of people. One serving of butternut squash contains about 25 percent of your daily vitamin C. It's also loaded with vitamins A and E, plus kale is rich in antioxidants, making it ideal for immunity and recovery. Both have high fiber content, providing a breakfast that will sustain your appetite throughout the morning.
Preheat oven to 425 degrees. Prepare a 9×13-inch baking dish and a large-rimmed baking sheet with non-stick cooking spray. Evenly spread 4 cups of whole-grain bread cut into ½-inch cubes (can substitute gluten-free bagels) in the bottom of the baking dish. Spread 4–5 cups butternut squash, diced into ½-inch pieces, on the baking sheet and toss with ½ tablespoon olive oil and ½ teaspoon salt. Roast the squash for 5 minutes. Toss and roast for another 5 minutes, leaving it a bit firm. Turn the oven down to 375 degrees. Remove the squash from the baking sheet and place in the baking dish with the bread. In an extra large sauté pan, cook 5 pieces diced turkey bacon over medium-high heat, until browned. Remove the bacon from the pan and scatter directly over the bread and butternut squash pieces in the baking dish. Without washing the pan, turn the heat to medium and add ½ tablespoon olive oil, 2 diced shallots, ½ tablespoon finely chopped fresh thyme, ½ teaspoon each salt and pepper. Sauté for about 5 minutes, until soft. Add 4 packed cups chopped kale to the pan and cook until wilted, and all the moisture is cooked out. Pour the mixture over the bread cubes and butternut squash in the baking dish. In a medium bowl, whisk together 8 eggs, 4 egg whites, 1 cup 1% milk, and ½ cup grated Parmesan cheese. Pour this mixture over the ingredients in the baking dish. Using a spoon, push the mixture down into the bread so the bread starts to absorb the eggs and milk. Let sit for 20 minutes, if time allows. Sprinkle 1/3 cup slivered almonds over the top. Bake at 375 degrees for 40–45 minutes, until the strata puffs up and the top is golden. Check the center with a knife to make sure it is baked through. Let cool for 10–15 minutes before cutting.
Note: Unsweetened almond or coconut milk may be substituted for the 1% milk, but be sure to increase baking time by 10–15 minutes.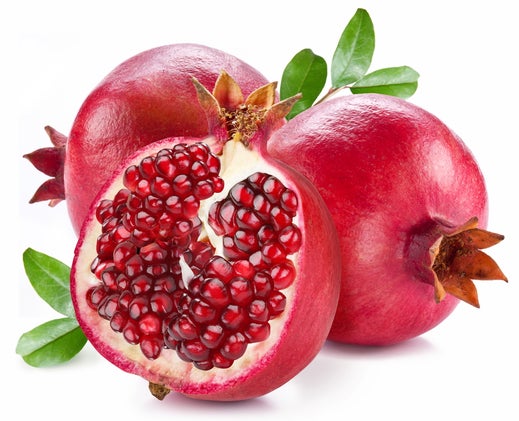 Persimmon and Pomegranate Fruit Salad with Toasted Coconut
This fruit salad may have seasonal ingredients, but it's so colorful and refreshing you will want to make it all year. It makes a tasty addition to any festive breakfast, or the perfect snack or light breakfast served up with Greek yogurt or granola.
Remove the core from 3 large Fuyu persimmons, then slice into thick slices, leaving the skin on. In a large bowl, toss the persimmons, 3 blood oranges (segments separated), 3 kiwis (peeled and sliced width-wise) and 1/3 cup pomegranate seeds with the juice of 1 lime. Serve with ½ cup toasted coconut flakes (unsweetened if available) and ½ cup chopped toasted pecans over the top.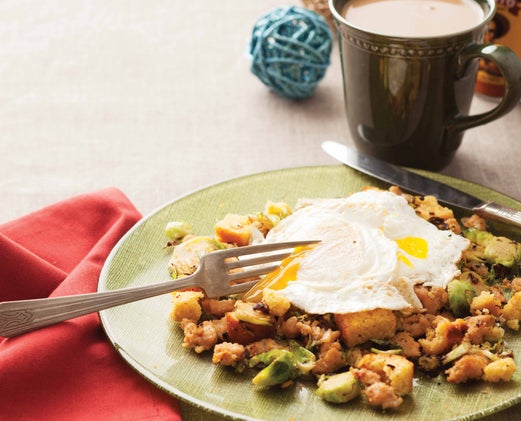 Cornbread and Brussels Sprouts Hash
Turn these classic holiday dinner ingredients into a hearty, satisfying breakfast or brunch. Brussels sprouts are full of fiber, vitamin C and vitamin K, which helps support bone health.
Remove 2 large turkey sausage links from casings into a large, deep skillet over medium-high heat. Cook for 10 minutes, until browned, continually breaking apart with a wooden spoon. Remove from the skillet and let rest on a plate. Using the same pan (do not wash), add ½ tablespoon olive oil and lower the heat to medium. Add half a yellow onion (finely diced), ½ teaspoon each salt and pepper and cook for 10 minutes until soft and golden. Add ½ tablespoon olive oil to the pan, along with 2 cups shaved or thinly sliced Brussels sprouts, ½ tablespoon minced garlic and 1 teaspoon each finely chopped fresh thyme and fresh rosemary. Bring the heat to medium-high again and sauté for 10 minutes, until the Brussels sprouts start to brown. Turn the heat down to medium, adding 2 heaping cups corn bread pieces (look for stone-ground or whole-grain cornbread, or cornbread mix) and sausage to the pan. Cook for about 5 minutes, stirring consistently, until the mixture is heated through. In a separate nonstick skillet, cook 4 large eggs over easy or over medium, and serve on top of the hash. Serve with your favorite hot sauce.