4 Creative Ways to Get Your Fill of Spring Greens
Heading out the door? Read this article on the new Outside+ app available now on iOS devices for members! Download the app.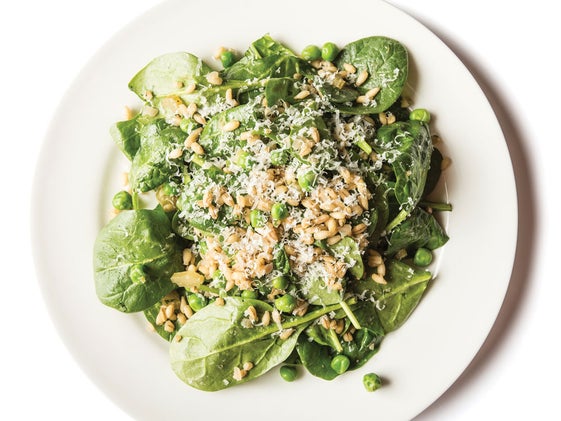 Asparagus, spinach and artichokes all hit their peak right now, filling up markets with fresh, vibrant shades of green. Add a powerful dose of cramp-busting magnesium to your diet with these four flavorful verdant recipes. By Jessica Cerra
Spinach Farro Risotto
Try farro, an Italian grain loaded with iron, fiber and protein, for a healthy twist on risotto.
Ingredients
2 T olive oil
1 shallot, finely diced
1 celery stalk, finely diced
1 cup farro*
½ tsp, each, salt and pepper
½ cup white wine
2–4 cups low-sodium chicken stock
1 5-ounce package spinach
2 cups fresh or frozen peas (removed from pod, if needed)
2 T fresh mint, finely chopped
1 T fresh lemon juice
½ T fresh lemon zest
2/3 cup freshly grated Parmesan
*Farro can found in the health-foods aisle or specialty store. Can substitute barley.
Directions
Heat oil in a large saucepan over medium heat. Add the shallot and celery, and sauté for 5 minutes. Add the farro, salt and pepper, and toss with the celery and shallot. Stir in the white wine, and let cook until it's absorbed. Add the chicken stock, ½ cup at a time, stirring consistently, until the farro is tender (the amount of chicken stock and cooking time will vary by farro brand, so reference the package instructions). Remove from heat and stir in the spinach, peas, mint, lemon and Parmesan. Let sit for 5 minutes before serving.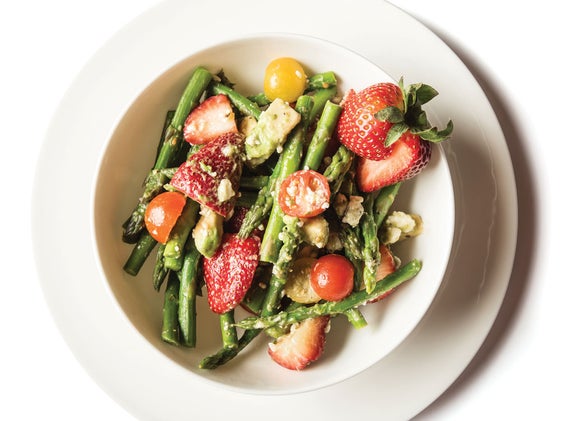 Asparagus & Strawberry Salad
Simple and clean, this salad is a beautiful burst of both color and flavor.
Ingredients
1 pound asparagus, ends trimmed, cut in half
3 cups strawberries, quartered
3 cups heirloom grape or cherry tomatoes, halved
2 avocados, diced
1/3 cup crumbled Gorgonzola or bleu cheese
¼ cup extra virgin olive oil
2 T, each, fresh lemon and orange juice
1 tsp, each, lemon and orange zest
¼ tsp, each, salt and pepper
Directions
Bring a large pot of salted water to a boil, and cook asparagus for 2 minutes. Immediately transfer to a bowl of ice water to cool. Drain thoroughly. In a large bowl, gently toss asparagus with the other ingredients until well combined.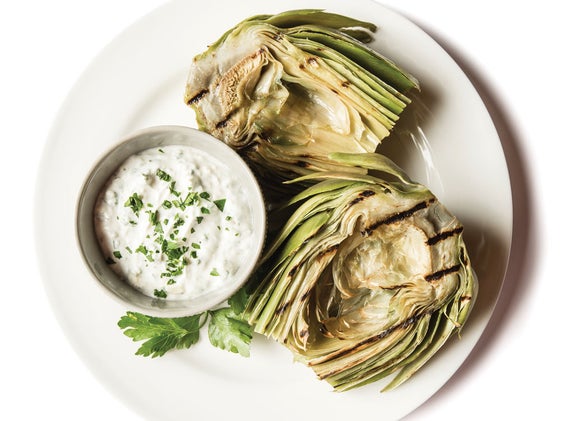 Grilled Artichokes with Lemon-Yogurt Dipping Sauce
Elevate the texture and flavor of fresh artichokes by grilling them. Serve as a hearty snack or side dish with this bright, creamy dipping sauce.
Ingredients for artichokes
4 artichokes
2 lemons
2 T olive oil
2 cloves garlic, minced
½ tsp, each, salt and cracked pepper
Ingredients for dipping sauce
½ cup 2% Greek yogurt
1 clove garlic, minced
1 T chives, finely chopped
½ T flat-leaf parsley, finely chopped
1 T fresh lemon juice
1 tsp lemon zest
¼ tsp, each, salt and pepper
Directions
Fill a bowl with cold water and the juice of one lemon. Cut the rough tops off the artichokes and discard. Cut artichokes in half and place in the water. Bring a large pot of salted water to boil. Remove the artichokes from the cold water and place in boiling water 10–15 minutes, until they begin to soften. Heat grill to high.
Meanwhile, in a small bowl, combine the juice of the other lemon with the olive oil, garlic, salt and pepper. Remove the artichokes from the boiling water and blot with a paper towel to remove excess moisture. Brush with the lemon-garlic mixture and place on grill. Grill for 4–5 minutes per side, brushing a second time with the mixture before turning. Whisk together all of the dipping sauce ingredients in a bowl and serve with the grilled artichokes.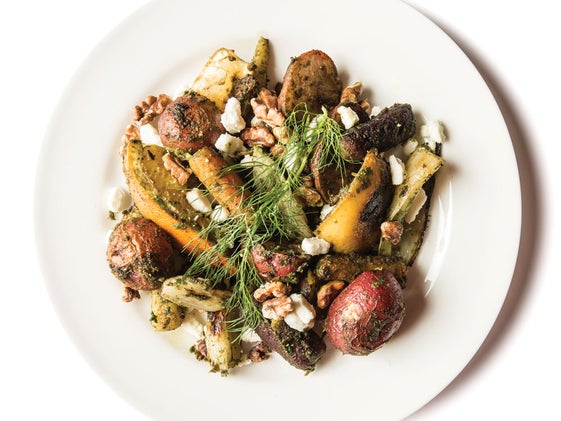 Roasted Veggies with Spinach Pesto
Fresh, nutty spinach pesto pairs nicely with warm roasted veggies and a pop of citrus. Keep the pesto on hand for eggs, sandwiches and pasta, too.
Ingredients for pesto
2 cups fresh spinach
½ cup fresh basil
½ cup plus 2 T chopped walnuts
¼ cup extra virgin olive oil
3 cloves garlic
¼ tsp, each, salt and pepper
Ingredients for veggies
10–12 multi-colored baby carrots (or 3 cups chopped heirloom carrots)
2 fennel bulbs, quartered and fronds chopped
2 cups baby red potatoes, halved
1 orange and lemon, each, quartered
¼ cup crumbled goat cheese (or feta or ricotta salata)
Directions
Heat oven to 350 degrees. Spread the walnuts on a baking sheet and toast for 7–8 minutes. Remove and let cool. Turn oven up to 425 degrees. Combine the spinach, basil, walnuts (reserving 2 tablespoons), olive oil, garlic, salt and pepper in a blender until smooth. In a large baking dish, toss the carrots, fennel bulbs (reserve fronds), potatoes, orange and lemon with about 1/3 cup of the pesto. Roast for 25–35 minutes, tossing several times, until the veggies soften and have a golden crust. To serve, toss with more pesto, sprinkle with the cheese, reserved fennel fronds and walnuts.
Jessica Cerra is the owner of Fit Food by Jess, a private chef and catering company in Encinitas, Calif., and the co-founder of JoJé Bar. A former professional XTERRA triathlete, Cerra now races for Twenty16 Women's Professional Cycling Team.