4 Classic Slow-Cooker Recipes Get a Healthy Makeover
Heading out the door? Read this article on the new Outside+ app available now on iOS devices for members! Download the app.

We gave four classic slow-cooker recipes a healthy makeover. Toss the ingredients into the magic pot, and get stoked for a post-workout, melt-in-your-mouth flavor explosion.
*All recipes can be cooked for 3-4 hours on high or 6-8 hours on low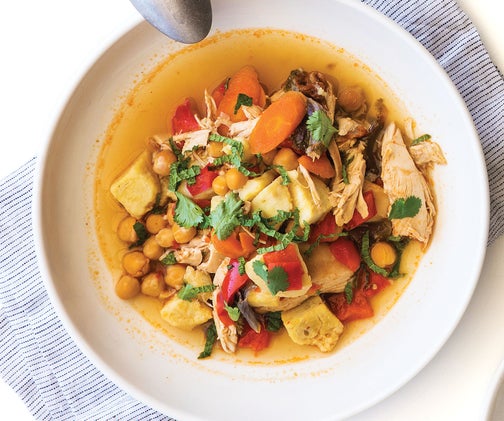 Moroccan Chicken, Garbanzo, And Yam Stew
This nutrient-dense stew is packed with veggies, fiber-rich carbs, and lean protein. Come home to the smell of delicious Moroccan spices, and pack this feast to go for lunch the next day.
1 small yellow onion, thinly sliced
2 garlic cloves, finely minced
1 1⁄2 tsp cumin
1⁄2 tsp each, cinnamon, salt, and pepper
1⁄4 tsp ground nutmeg
2 yams, peeled and diced
2 carrots, peeled and diced
1 red pepper, diced
3 packed cups kale, finely chopped
15-ounce can garbanzo beans
1 rotisserie chicken, meat removed and shredded
2 – 32-ounce boxes chicken broth (or bone broth)
1 tsp harissa
In a slow cooker, toss all of the ingredients (broth and harissa excluded) together until well-coated with the seasonings.
Pour the chicken broth over the mix, and let cook.
Stir in the harissa before serving. May be served with fresh chopped cilantro or parsley over the top.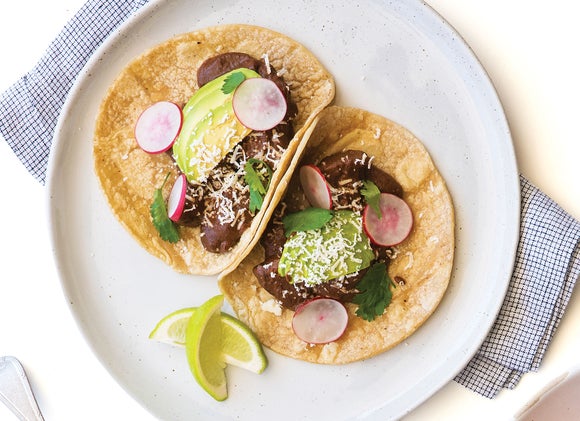 Pork Mole Tacos
This recipe makes a typically complicated dish a cinch. The pork's rich flavors make tacos, burritos, tostadas, or salads stand out.
1 cup stout beer
15-ounce can crushed tomatoes
2 small/medium poblano peppers, stemmed and seeded
1⁄2 cup toasted almonds
1⁄4 cup toasted sesame seeds
3 garlic cloves
1 T dried oregano
1 tsp each, salt and cinnamon
1⁄2 tsp pepper
1⁄4 tsp allspice
3-4 pounds boneless pork chops, fat trimmed
2 ounces bittersweet chocolate
Corn tortillas
Optional Toppings: avocado, cotija cheese, lime wedges, sliced radish, cabbage slaw
Combine all ingredients except pork, chocolate, and tortillas in a food processor or blender, and pour sauce into the slow cooker.
Bury the pork chops in the sauce.
Once cooked, remove the pork chops, and shred with a fork.
Add the chocolate to the sauce, and stir until melted.
Stir the shredded pork back into the sauce.
Heat tortillas in a pan, and top with mole and desired toppings.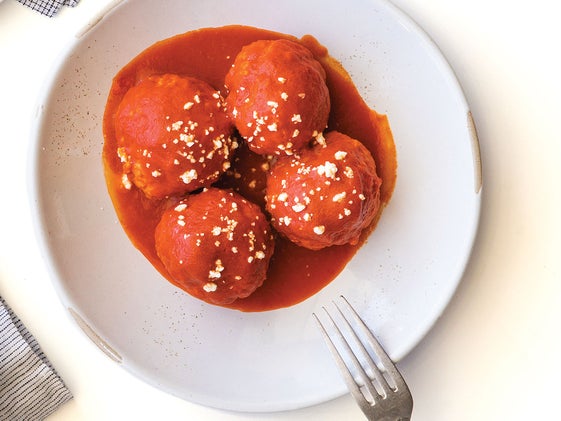 Greek-Style Turkey Meatballs
Tender, flavorful meatballs, in a unique and zesty red pepper sauce are a fresh twist to an old classic. Serve this dish with a large Greek-style salad to get the most out of delicious spring veggies.
Roasted Red Pepper Marinara
3 T olive oil
1⁄2 yellow onion, diced
2 carrots, peeled and diced
2 garlic cloves
32-ounce can crushed tomatoes
16-ounce jar roasted red peppers, drained
6 basil leaves
1⁄2 tsp each, salt and pepper
Meatballs
20 ounces 93-percent lean ground turkey
1⁄2 yellow onion, grated
2 garlic cloves, finely minced
cup sun-dried tomatoes, finely chopped
1/3 cup Mediterranean herb feta cheese
1⁄4 cup at leaf parsley, finely chopped
3 T ketchup
1⁄4 cup whole wheat breadcrumbs
1 egg, beaten
1 tsp dried basil
1⁄2 tsp dried oregano
1⁄2 tsp red pepper flakes (optional for spice)
1⁄2 tsp each, salt and pepper
Combine the marinara ingredients in a food processor or blender, then pour the sauce into the slow cooker.
Gently combine the meatball ingredients in a large bowl. Roll meatballs to desired size and place in the slow cooker, cover in sauce.
Serve with a fresh Greek salad and tabouli, couscous, or grilled pita.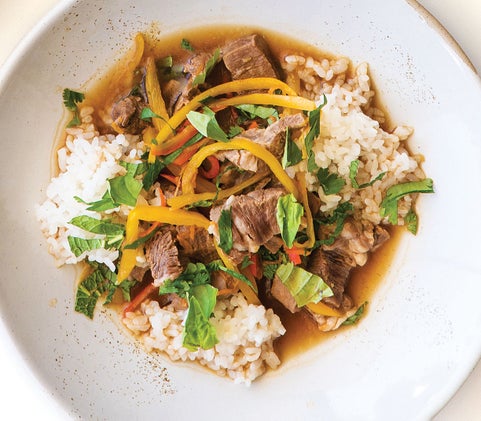 Vietnamese Beef
Create a rich Vietnamese Pho in your own kitchen. Loads of fresh veggies and herbs brighten up this hearty beef broth.
3 cups low-sodium beef broth (or bone broth)
1⁄4 cups fish sauce
4 shallots, finely sliced
3 Thai chilies, finely sliced
1 T ginger puree
2 T pure maple syrup
Zest of 3 limes
3 pounds sirloin steak, fat trimmed
1 cup shredded carrots
1 red pepper, very thinly sliced
1 yellow pepper, very thinly sliced
1⁄2 cup fresh lime juice
1/3 cup each, fresh mint and basil, finely chopped
1⁄4 cup fresh cilantro, finely chopped
Combine the first seven ingredients in a slow cooker.
Add the sirloin steak to the slow cooker. Once cooked, remove the steak and shred with a fork.
Add the shredded steak, carrots, peppers, lime juice, and herbs back to the slow cooker, and stir to combine. Serve with rice or rice noodles.