Six Tips For Top Nutrition While Traveling
There are always challenges associated with leaving home for an event—and eating properly while on the road is one of them.
Heading out the door? Read this article on the new Outside+ app available now on iOS devices for members! Download the app.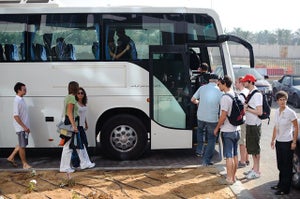 Triathlon is a global sport, and travel for the triathlete can be exciting, but there are always challenges associated with leaving home for an event—and eating properly while on the road is one of them. When you're racing close to home the nutritional considerations may be just a matter of getting things right for a day or two, but when you're traveling further afield, nutrition can become more complex. Here are six tips for triathlete travelers.
Stay loose: One of the most valuable lessons I have learned is to remain flexible. Too often triathletes get caught up in feeling they need a particular kind of cereal or snack for their pre-race breakfast or a specific type of pasta at a set time the night before their race. I am all for having a routine and food that works for you, but stay loose and do the best you can with what you have. I once had to eat a pre-race dinner in the Netherlands that consisted of two Milky Ways and a packet of chips. Probably not the ideal meal, but they were calories and I figured they would get me through the race (and they did). To avoid putting yourself in such a situation, research your destination online to learn about the restaurants and supermarkets may be near you and what sorts of food they offer.

Moderate your intake: Some of the most common nutritional challenges encountered during travel include meeting changing energy needs and maintaining healthy nutrition. When traveling to a race you are likely in your taper, which means your energy requirements are lower. Travel foods are usually terrible: High-calorie, low nutritional-value fast foods dominate airports and gas stations, and a big mistake is to let yourself get so hungry that these seem like good options. So, whenever possible, take your own food with you: Sandwiches, tinned fruits, bananas and sports bars are all conveniently portable.

Drink up: Staying hydrated is crucial during air travel, so carry your own water and other fluids (even if that requires purchasing it after the security checkpoint). Also research the climate and the altitude of your destination, as these factors will affect your hydration status.

Ease the adjustment: When flying across time zones, try to do your best to time your meals to correspond with your arrival destination, but without skipping or doubling up meals. Fiber-rich and fresh foods help get your digestive system back to its natural circadian rhythm and feeling comfortable for race day.

Mind your hygiene: Food safety and hygiene can be one of the biggest concerns for all travelers, but for the athlete tainted food is doubly devastating. I have experienced much misery in this department. Sometimes, even when you carefully follow all the usual traveler guidelines for food safety and precaution, there is a bit of luck—good and bad—involved in what sorts of bugs you encounter. When I fly somewhere new for a race, I always use caution when it comes to drinking local water, and I aim to maintain healthy gut bugs through good nutrition and the use of active yogurt cultures or probiotic tablets such as acidophilus. If you are heading overseas and deem it necessary to drink bottled water, it is always a good idea to confirm that it is spring water and not just filtered local water.

Save the experimentation: One final point to remember when traveling for a race is that you are traveling for a race. While it is great to enjoy new things, just remember what you are there for—you may be cursing yourself during the final stages of the run if you get too carried away with local delicacies. Perhaps save that trip to the French patisserie or local street market until after the race.
Whenever you are traveling, making an effort to plan and research your nutrition options pays off, as do a little bit of common sense and personal restraint combined with a healthy dose of luck, a good deal of flexibility and a sense of adventure.