Kona Kitchen: Fueling Race Week on the Big Island
An inside look at what it takes to fuel the sport's top pros in their IMWC lead-up.
Heading out the door? Read this article on the new Outside+ app available now on iOS devices for members! Download the app.
There is only one thing arguably more exhausting than completing the Ironman World Championship in Kona: working the event. For the last four years, I've been the personal chef for the Cervélo Team at Kona—the perfect blend of my two careers as a professional cyclist and chef. The days in Kona are rigorous for the staff and pros. Staff members begin their day between 3 a.m. and 6 a.m., where they are responsible for anything from photo shoots with athletes to running the expo booth. Athletes are busy with photo shoots and interviews, managing their social media, engaging with other competitors, course preparation, and fine-tuning—plus finding a way to rest and stay nourished in the crazy Kona heat and humidity. This is where our "safe house" provides a unique environment for our athletes. Free from the eyes and ears in town, the pros are welcome to relax at the house any time, any day, and enjoy nutritious meals. They'll phone ahead to let me know whenever they'd like to join us for breakfast, lunch, or dinner. Most years, we host different athletes on different evenings. A staff favorite is Canadian Thanksgiving night—last year I made the entire classic Thanksgiving spread, including bread and pumpkin cheesecake made from scratch. It was a super fun night for everyone, even James Cunnama came for dinner, before he cracked the top five on race day.
A Day in the Life of a Kona Chef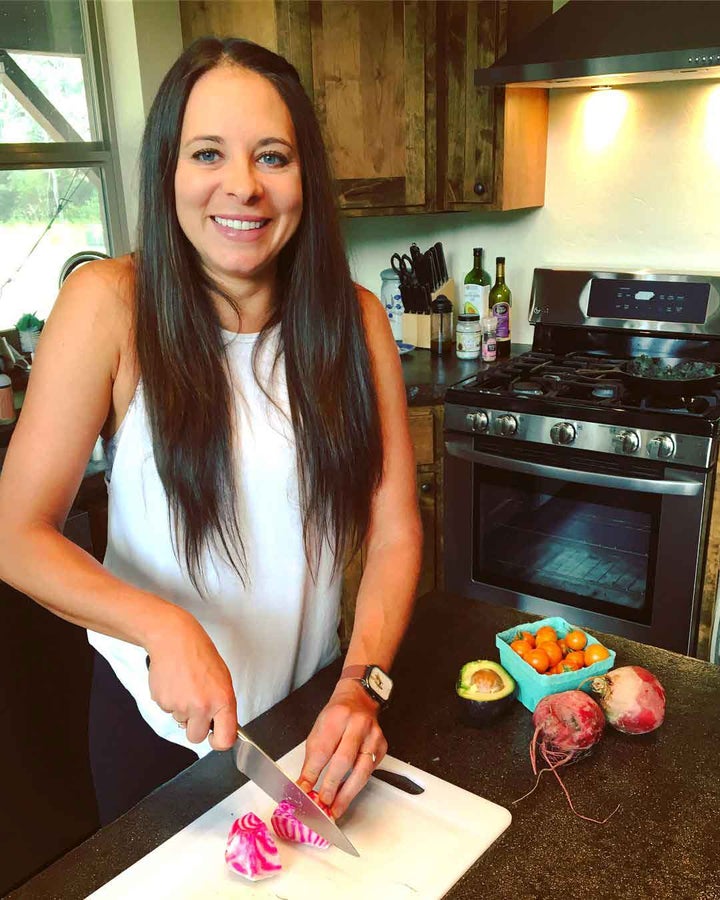 I begin my day around 6 a.m., where I make coffee and start breakfast, which usually consists of an egg dish, fresh fruit, pancakes, muffins, or banana bread. The team's favorite breakfast is avocado toast with poached eggs, arugula, and chili oil.
After cleaning the kitchen, I need a burst of activity to keep me going during the long day ahead. Depending on timing, I do a two-hour ride from the safe house, or I jog for 30 minutes and do some bodyweight exercises and core work.
When the staff or pros are at the house for lunch, I like to do a "make your own bowl" format. I set up bowls of rice, quinoa, sweet potatoes, roasted veggies, beets, salmon, steak, greens, sprouts, avocado, nuts, seeds, and sauces. I'm big on not wasting food, so leftovers from the previous night's dinner often make an appearance.
On the days when staff or athletes are at the Ironman Expo, I pack coolers with snacks and lunches and deliver food to the site. The pros communicate with me about which days they need lunch delivered, so I can prepare meals based on their nutrition needs. Lunch deliveries include peanut-shrimp wraps, pesto and roasted veggie quinoa with shredded chicken, and my famous two-pound turkey BLT (plus guac) sandwiches. Snacks include veggies with hummus, cold cuts, cheeses, nuts, dried mangos, fresh fruits, and of course my JoJé bars.
After lunch, I either hit the shops for groceries or start prepping dinner. Menu planning starts weeks before Kona—the island is incredibly busy leading into the race, so daily shopping isn't ideal. On many nights, we host partner companies, so I will have up to 30 people to cook for. Having a daily action plan and managing my time is crucial because I'm a one-chef show.
Here are my two most popular Kona recipes for you to try in your own kitchen, or at the race.
Sesame Seed Crusted Hawaiian Ahi with Papaya and Ginger Israeli Couscous
Ingredients
Serves 4
4 cups arugula, finely chopped
2 1⁄2 cups cooked Israeli couscous
1 heaping cup chopped Hawaiian papaya
1⁄2 cup green apple, cut into thin strips
2 T fresh chopped mint
2 T fresh chopped basil
3 T extra virgin olive oil
2 T fresh grated ginger
Juice and zest of one orange and lemon
1/3 cup roasted, salted macadamia nuts, chopped
4 Hawaiian ahi steaks (1 1⁄2 pounds)
1⁄2 cup white sesame seeds
1⁄4 cup black sesame seeds
1 T canola oil
Preparation
Add the arugula, couscous, papaya, apple, basil, and mint to a large bowl.
In a blender, blend the olive oil, ginger, citrus juice, and zest with a sprinkle of salt and pepper. Add this mixture to the bowl with the couscous, and toss until combined.
Serve the couscous salad with roasted macadamia nuts over the top.
Season the ahi with salt and pepper. Toss the sesame seeds together on a separate plate.
Dredge the ahi in the sesame seeds to coat both sides.
Heat the oil in a large skillet or cast-iron pan over high heat. Place the ahi in the pan, and sear until the sesame seeds are golden, about 1 minute per side.
Slice the ahi at an angle, and serve with the couscous salad.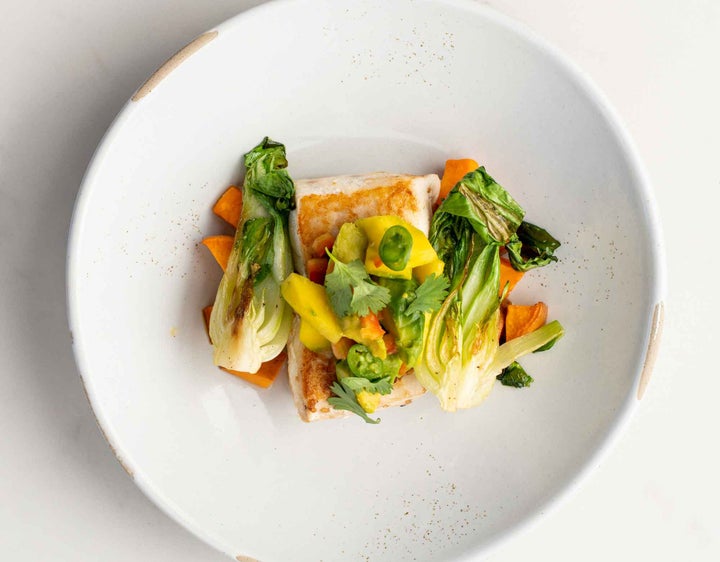 Grilled Ono with Mango Salsa, Baby Bok Choy, and Roasted Purple Potatoes
Ingredients
Serves 4
1 large mango
1 small avocado
1⁄2 red bell pepper, finely diced
2 T freshly chopped cilantro
1 tsp Serrano pepper (seeds removed), minced
1 T orange zest
1 tsp lime zest
2 T freshly squeezed orange juice
1 T lime juice
2 large purple sweet potatoes, diced with skin on
8 baby bok choy, halved
1 1⁄2 pounds ono
Preparation
Cut the mango along the pit to remove each side. Cut the avocado, and remove pit. Score the insides of all the halves into small cubes. Use a spoon to remove into bowl.
Add the red pepper, cilantro, Serrano pepper, and orange and lime zest/juice. Season with salt and pepper; toss gently to combine.
Heat the oven to 450 degrees. Toss the sweet potatoes with olive oil, salt, and pepper, and spread on a roasting sheet. Roast for about 15 minutes, tossing once, until a golden crust forms.
Heat the grill to medium. Toss the bok choy and ono with a small amount of olive oil, salt, and pepper. Rub the grill with oil, and then grill the bok choy for 1-2 minutes per side, until charred. Remove to a plate, and then grill the ono for 3-4 minutes per side.
Serve ono with mango salsa over the top.