Winter Wear: ROKA Pro Thermal Jersey
Heading out the door? Read this article on the new Outside+ app available now on iOS devices for members! Download the app.
When they launched in 2013, ROKA had the goal of making the best wetsuit on the market. The brand was quickly adopted by many triathletes, including top professionals. From that strong beginning, ROKA quickly branched out making goggles, swimming and racing apparel. In 2015, the brand diversified even more, launching a line of cycling specific clothing. Starting with bib shorts and jerseys, the line has grown to include a full range including vests, arm warmers and the Pro Thermal Jersey tested here.
Long sleeve jerseys are a go to staple in the fall and winter months. They provide comfort and warmth in a range of temperatures. On chilly days they can suffice by themselves. As the temperature drops, you can simply pull on a vest. And when the thermometer really plummets, you can add a jacket over the top for another layer of protection. As such, a good, versatile long sleeve jersey is a must for any triathlete training in cool to cold climates.
The Fit
The basics of the Pro Thermal are a solid beginning. The thermal fleece used inside on the front and arm panels have a soft feel and do well at keeping out the cold. The entire back panel uses a slightly lighter fleece to allow for better heat management. The fit is relatively slim, particularly through the shoulders and arms. Personally, I prefer jersey to fit more snug than loose, so I had no issue.
The collar height and diameter was a good for me. This is critical for a cold weather jersey as a tall collar helps keep the drafty cold out, especially when in the aero bars. But make it too tall, or too slim, and it becomes an annoyance. ROKA found the sweet spot for this critical detail.
The drop tail at the back keeps you completely covered, again, even when riding the TT position. ROKA also added a gripper material along the inner back seem to help keep the jersey in place. When loaded with a vest, some bars, a phone, a pump and keys, anything that helps keep the back in place is a welcome addition.
You can certainly load up this jersey as there are a total of six pockets. Reflective piping and accents are spread across the back of the jersey, but are not quite enough to be called a true safety feature.
The Test
With our unseasonably warm fall, this jersey started to be in heavy rotation later in the season and was worn through a range of temperatures. I used it on commutes and long weekend rides, mostly on the flat terrain east of Boulder. On days when I knew the temperature wouldn't rise to the point of even considering arm warmers, the Pro Thermal found it's way to the top of my list. Around 55 I felt like the Pro Thermal was enough to keep me warm. When needed, I would add a vest to add warmth to my core and extend it's range.
The wind is a big factor for me in deciding what to pull on for a ride. In Colorado, a cold wind off the Front Range can cut through clothing and chill you more quickly than a colder temperature. The Pro Thermal is solid when the wind kicks up, but without a wind blocking barrier, the wind does get through the fleece. So consider what the wind will be like before you head out.
One feature I liked was the length of the sleeves. Many long sleeve jersey fit great on a road bike, but hunched over in the aero position they can leave your wrists exposed. Maybe ROKA thought of this, as they would have to assume that triathletes would make up 99% of their market, or maybe it's coincidence, but either way, this jersey is great for the TT position. Nothing is worse than having exposed wrists on a cold winter ride.
I also used it on cold days, as in below freezing, with a thermal jacket over it. This is where the insulating properties of the fleece lining come through. With a wind stopping outer shell, the Pro Thermal is left to simply keep you warm while pulling away perspiration.
Which leads me to it's wicking properties. The lighter fabric on the back makes a big difference. It allows much of you heat to be dissipated, keeping your from soaking the jersey then freezing in it. I did a few long threshold efforts to work up a sweat, along with a few short rides through the mountains before they were coated with sand and the Pro Thermal kept me as dry as any other jersey I've worm.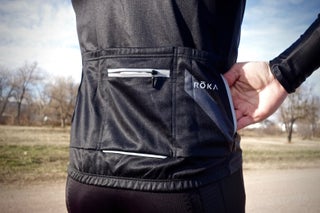 Next we come to pockets. And there are six of them. Three deep pockets in the rear to hold items you want easy access to. On the outside of the center and right rear pocket are zippered pockets to hold those things you absolutely have to take with you but don't want to lose. On the inner left back side of the jersey is an internal sleeve pocket to hold your phone or other device. For those that do listen to music, a headphone loop at the collar will keep the wires from tangling up. Now you may think that's overkill, and it may be, but it doesn't compromise the jersey either.
I'm a fan of the zippered pocket for a jersey like this for one main reason- security. As mentioned above, I often tucked a vest in the pocket for a bit of insurance, and like most of you I do carry a phone with me as well. On nearly every ride I am reaching in the back to grab the vest, put away the vest, or grab my phone to 'gram a highly stylized pic of my ride. Without a zipper, I typically tuck any "unloseables", like keys and cash into the left pocket as I tend to favor the center for vests/gloves and the right for my phone and nutrition. This way, I have less of a chance of reaching back and having a valuable item spill out. With a zipper, I don't have to worry about it.
In fact, on a day when I went riding with another jersey and didn't have a zipper, my car keys were left on the side of the road when I took off my jacket. Had I been wearing the Thermal, I would have used one of the zippered pockets for my keys. Thankfully I was able to retrieve my keys, but not after adding another 30 minutes to a ride that left me cold and miserable.
Of course style is a matter of personal preference, but I like the subtle graphics and muted grays and black of the jersey. All black is too boring, so the gray collar and graphics on the sleeve break it up enough without being loud or too flashy. The ROKA logo does appear three times on the garment, but they are placed far enough apart from each other to not seem egregious.
The Verdict
ROKA's Pro Thermal is as good as any jersey from the top level apparel brands out there. This is no small feat since there really are only a handful of companies that can claim to have a legitimate crossover in the cycling and triathlon worlds. And given their relative youth, it's a great product for a first go at making cycling specific clothing. My only nitpick would be I would to see a bit more reflectivity in the Pro Thermal. While I like the dark colors, for commuting home at dusk, more reflective elements would up the safety factor. At $150, it falls inline with other top end brands.
Long sleeve jerseys are a necessity for the cold weather cyclist. As a thermal layer, or as a stand alone piece on those hope-filled warmer days, the Pro Thermal jersey from ROKA does the job as well as anyone.